After the Main Stage, it's the Float Den Lobby! And after the Float Den, it's the Late Night Funktion! In a city that exuberates as much vivacity throughout its afternoon hours as it does its evening hours, an opportunity to dance at every given moment is absolutely mandatory. As they have always done in the past, the streets of New Orleans have graciously provided us with the good times once again!
There are many times in which after-parties get sadly overlooked, but we can promise you that this is one you don't want to miss. The Howlin' Wolf will play host exceptional artists throughout three nights to ensure your night out doesn't end until the next morning. These aren't the official BUKU after-parties, but it's hard for us to imagine a more legit lineup than the one Capital Crown, Pass The Good Entertainment, Sweet Science Radio & SOMA Entertainment have put together right here.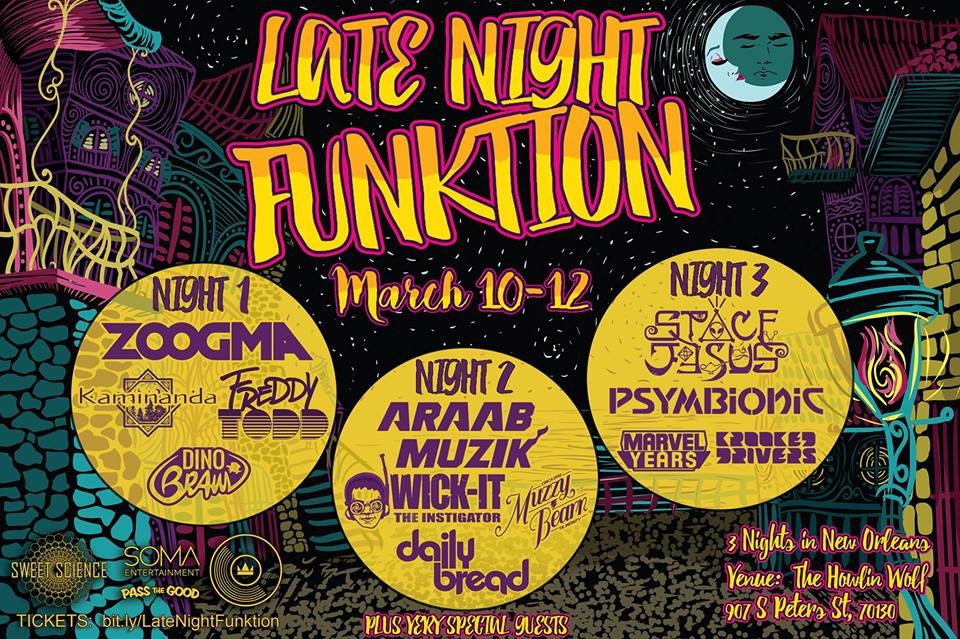 Here at ThisSongSlaps, we love to hook our readers up with awesome prizes. Therefore, we figured that giving away a pair of tickets to one of the most lit after hours events we've seen in a brick would be following suit! If you've already got your BUKU pass (and even if you don't) then why not enter our contest to give you and a friend an opportunity at these free tickets; it's literally that simple! Plus, let's be real – going back home or to your hotel room after the Festival ends is most definitely never the move.
Be sure to visit BUKU's social accounts and their website to grab your tickets and for all other important info. We're three weeks away, BUKrewe!
Buku Music + Art Project Facebook/Twitter/Website
Comments
comments