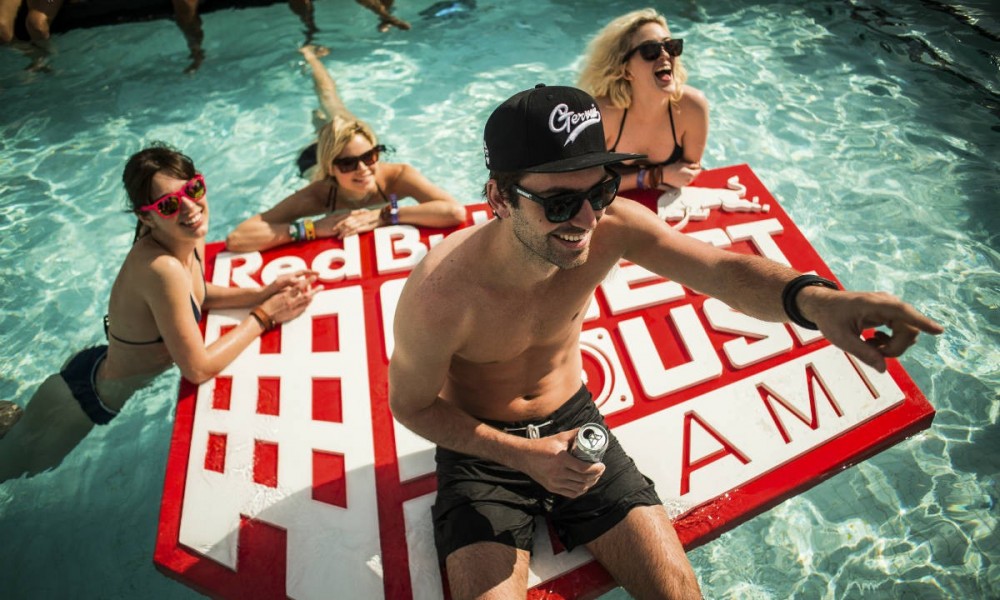 There are hundreds of shows and parties happening during Miami Music Week. How then, will you ever decide on which ones to go to? Well, we have a list of 13 parties you need to hit beyond the obvious Ultra Music Festival! We have organized these shows by day of the week to make it easy for you.
WEDNESDAY MARCH 16th
To kick it off, we go to our homies Slander & NGHTMRE Presents GUD Vibrations that is taking place at The Hangar. It is crazy how fast these two groups blew up. Man they have done some damage over the last year, all well deserved. Check out that lineup. 4B, Party Thieves, Ghastly, and even 305 local Lookas. Not one to miss out on.
Slander & NGHTMRE's GUD VIBRATIONS at The Hangar | Tickets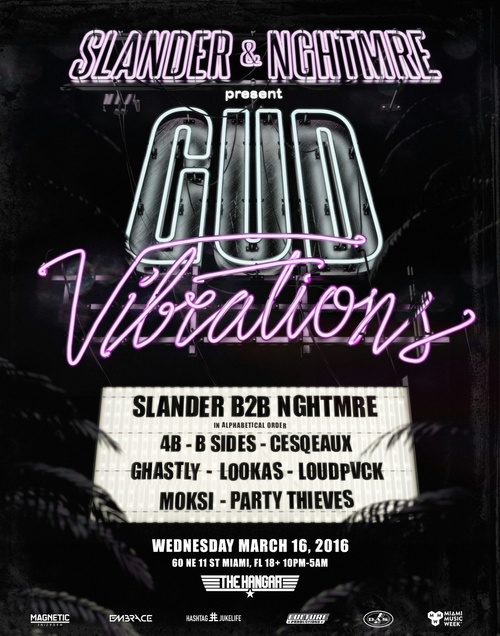 Dash Berlin & New World Punx. What more could you ask for on a Wednesday night on the beaches of Miami? These guys are going to be bringing out the feels along with some special guests. I wonder who it will be. Only one way to find out! Grab your tickets below.
Dash Berlin & New World Punx at SLS Hotel | Tickets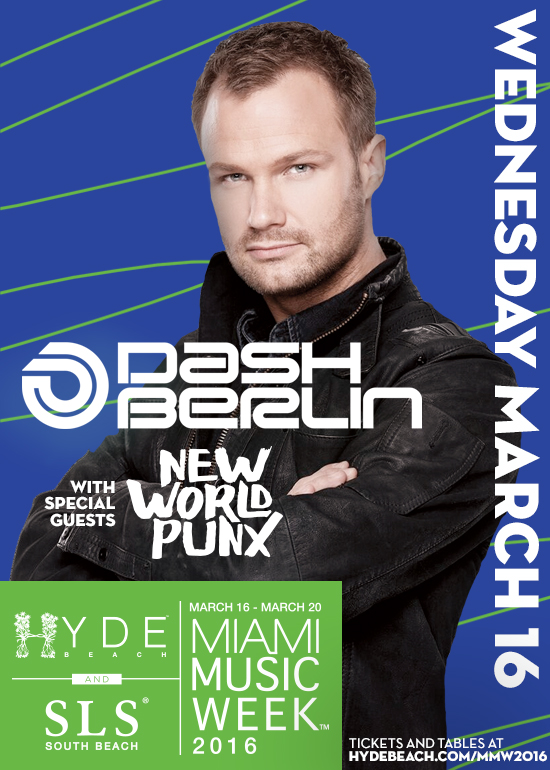 Hardwell, who was voted the number 1 DJ in 2013 and 2014, launched his label Revealed Recordings back in 2010. Six years later he is topping the charts around the world, selling out tours, and highlighting the producers of the next decade. Miami Music Week is not complete without a family Revealed party at Nikki Beach. The lineup is stacked so grab your tickets and let's dance until the moon comes up.
Revealed Miami 2016 ft. Hardwell, Dannic & More at Nikki Beach | Tickets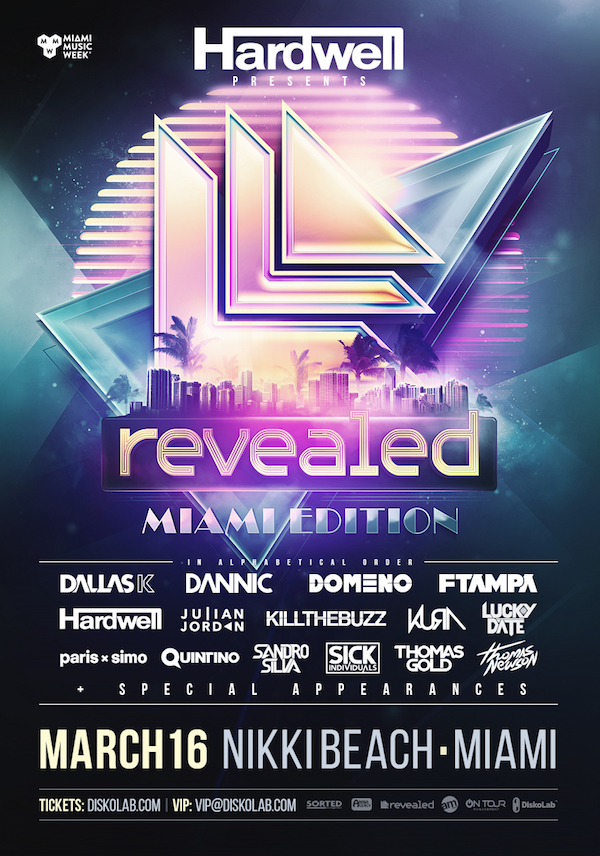 Grammy nominated German producer Robin Schulz has been riding high on a wave of continuous hits that seems to never end. His singles light up the radio waves for months on end and seeing him in Miami will be a dream come true. You can expect to see TSS at this event. Join us by grabbing your tickets below.
Robin Schulz Sugar Pool Party at Delano Beach Club | Tickets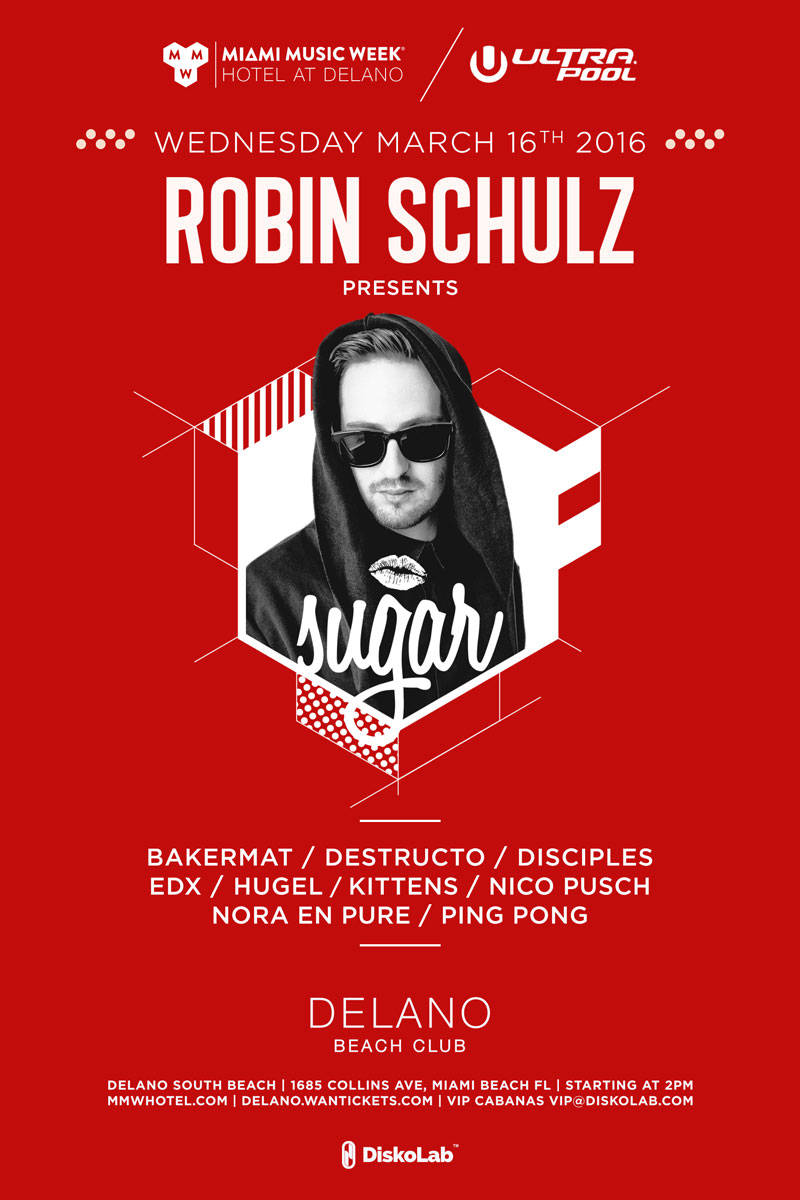 THURSDAY MARCH 17th
You tell me Oliver Heldens is playing in Miami and I will be in attendance. You tell me the lineup includes Zeds Dead, Martin Solveig, and Michael Calfan and I will be doing backflips all the way there. Nothing much to add to this event besides missing it will be your biggest regret of your life.
Oliver Heldens at Hideout Day Club | Tickets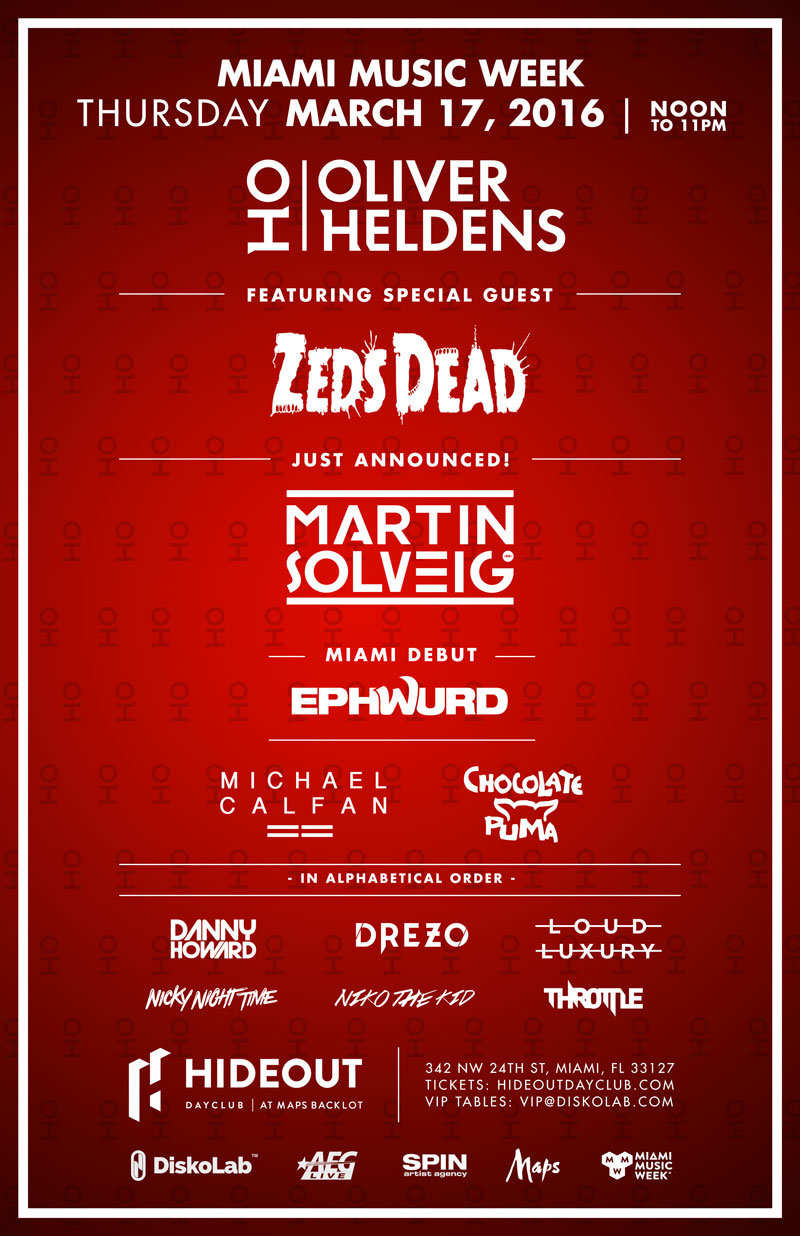 After 20 years of Dim Mak it has come down to this one massive event. An all day, all night soiree of beach goers and party animals. A lineup that will have your mother interested and your younger college brother having some serious FOMO over. Grab your tickets today.
Dim Mak's 20th Anniversary Party at Nikki Beach | Tickets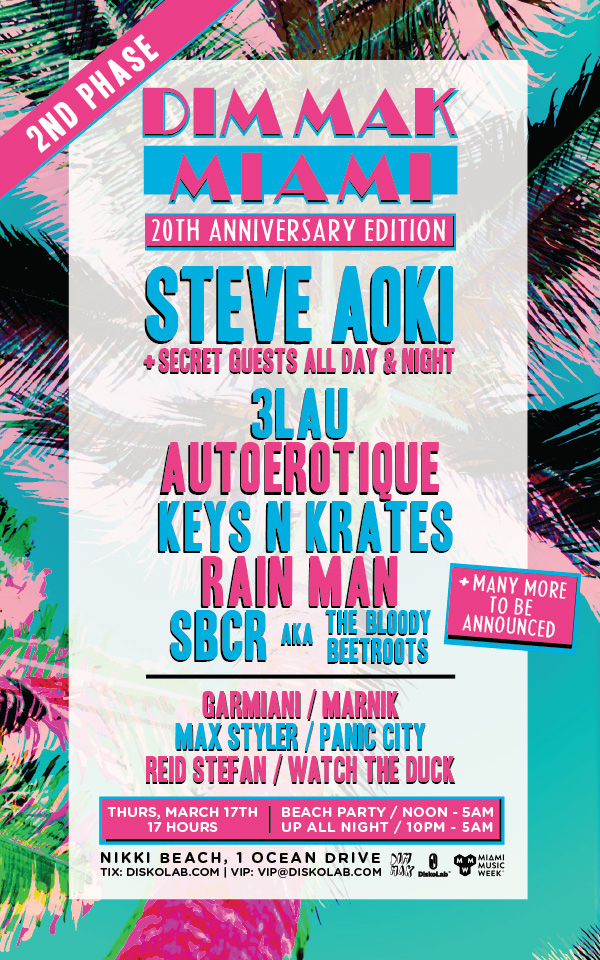 I am running out of things to say but Above & Beyond deserves your attention. With a lineup that includes back to back sets from Audien vs. Arty, Moon Boots vs. Wisternoff, and Yotto vs. Grum there is no way you want to miss out. Imagine the sun setting behind you as you are surrounded by smiles and warm dancing bodies. You look up and see Paavo staring right into your soul. The lights flicker and everything in your life stands still. He smiles as he brings in your favorite song. A moment you will never forget. See you there!
Above & Beyond at RC Cola Plant | Tickets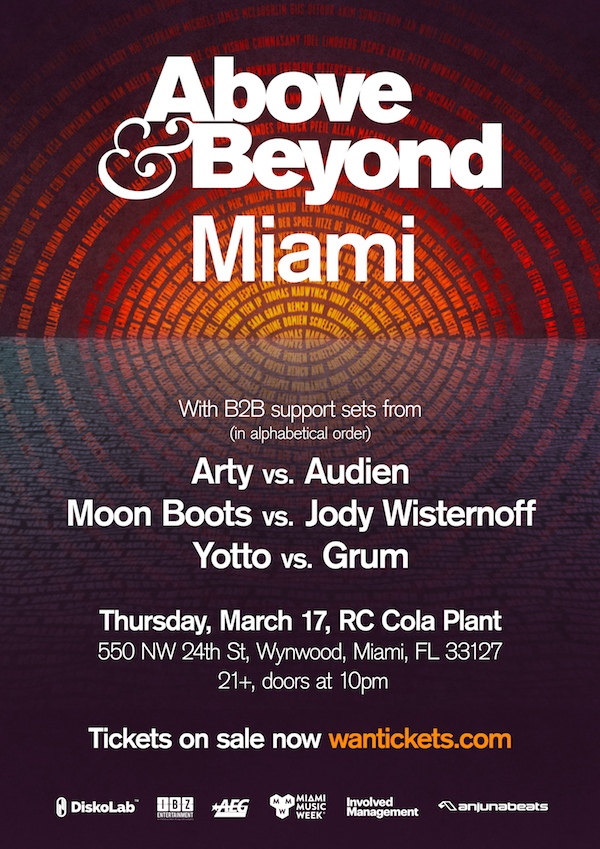 At a venue that has a rich history of the best Miami has to offer Sweat It Out! is looking to raise the bar higher than ever before. I am new to the Miami music scene but whoever put this together needs a raise. Gorgon City, Amtrac, What So No, and many more. Be there!
Sweat It Out! at Shelbourne Hotel | Tickets
Bro it is Disclosure at Story Miami. Late night club scene with a great atmoshphere. Close your Thursday here after being out and about for the day. Tickets below.
Disclosure at Story | Tickets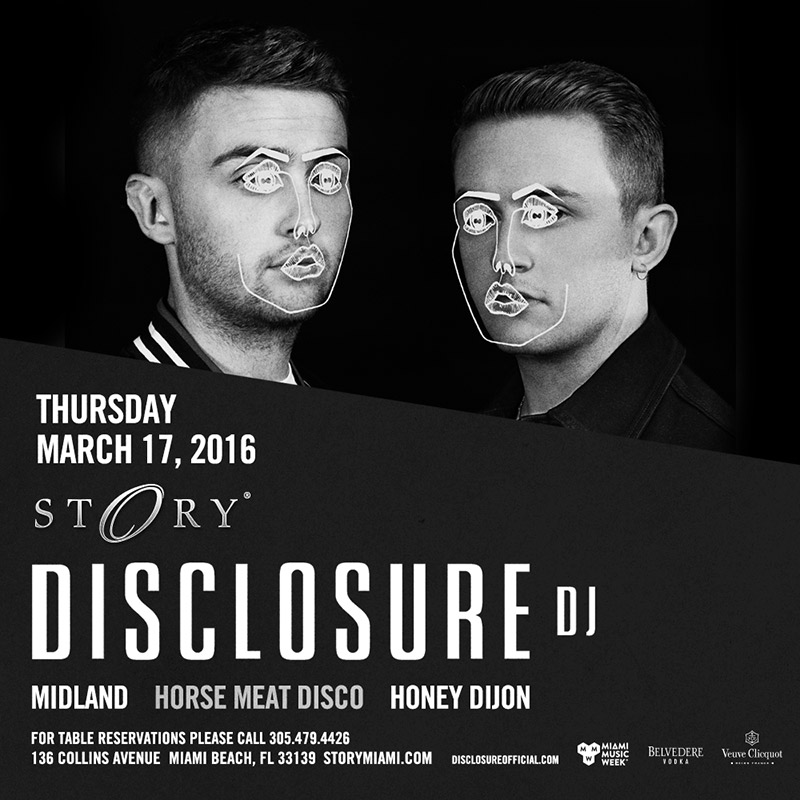 FRIDAY MARCH 18th
If you arrived on Wednesday like our crew you will probably be feeling it right about now. Guess what? You have No Xcuses because EDX is the first up to kick off your incredible weekend in Miami Beach!
EDX, who is easily one of my most streamed electronic acts on Spotify, is bringing his No Xcuses Tour to Miami. He is also bringing his friends who we love including: Nora En Pure, Croatia Squad, Bakermat, and the one and only The Magician! Check out the full lineup below and grab your tickets before they sell out.
EDX's No Xcuses at Set Nightclub | Tickets
French producer Klingande will be bringing out all the stops this year. A live show on the beaches of Miami has bucket list check box fill in here writing all over it. Lineup features the likes of Autograf, Moonboots, Goldroom and many more.
Klingande Playground Pool Party at Delano Beach Club | Tickets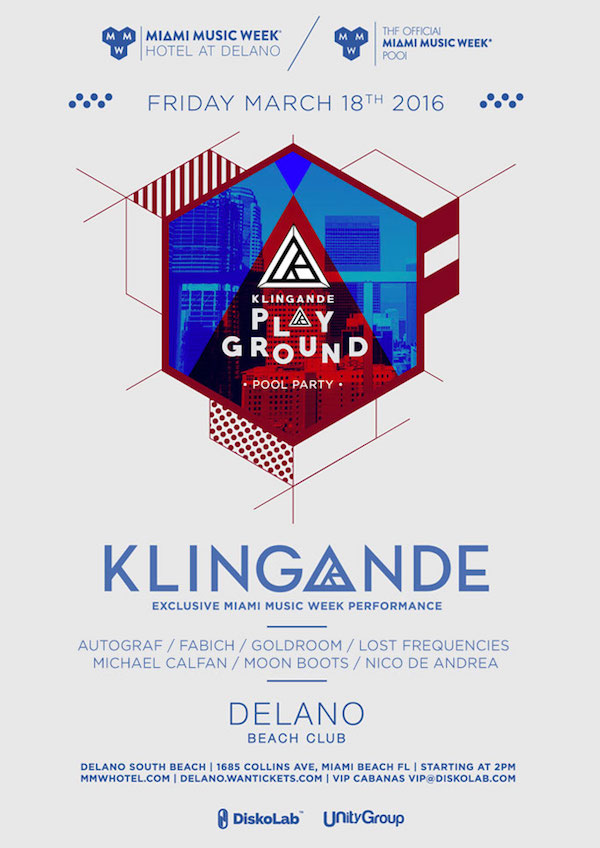 Spotify teamed up with Proximity for personally the best event all week. These guys over at Proximiy have been pushing the limits and from the looks of the lineup you will see why I give them this lavish praise they so richly deserve. Check our earlier post to see who the special gue5t may be!
Proximity vs electroNOW (Spotify) at National Hotel | Tickets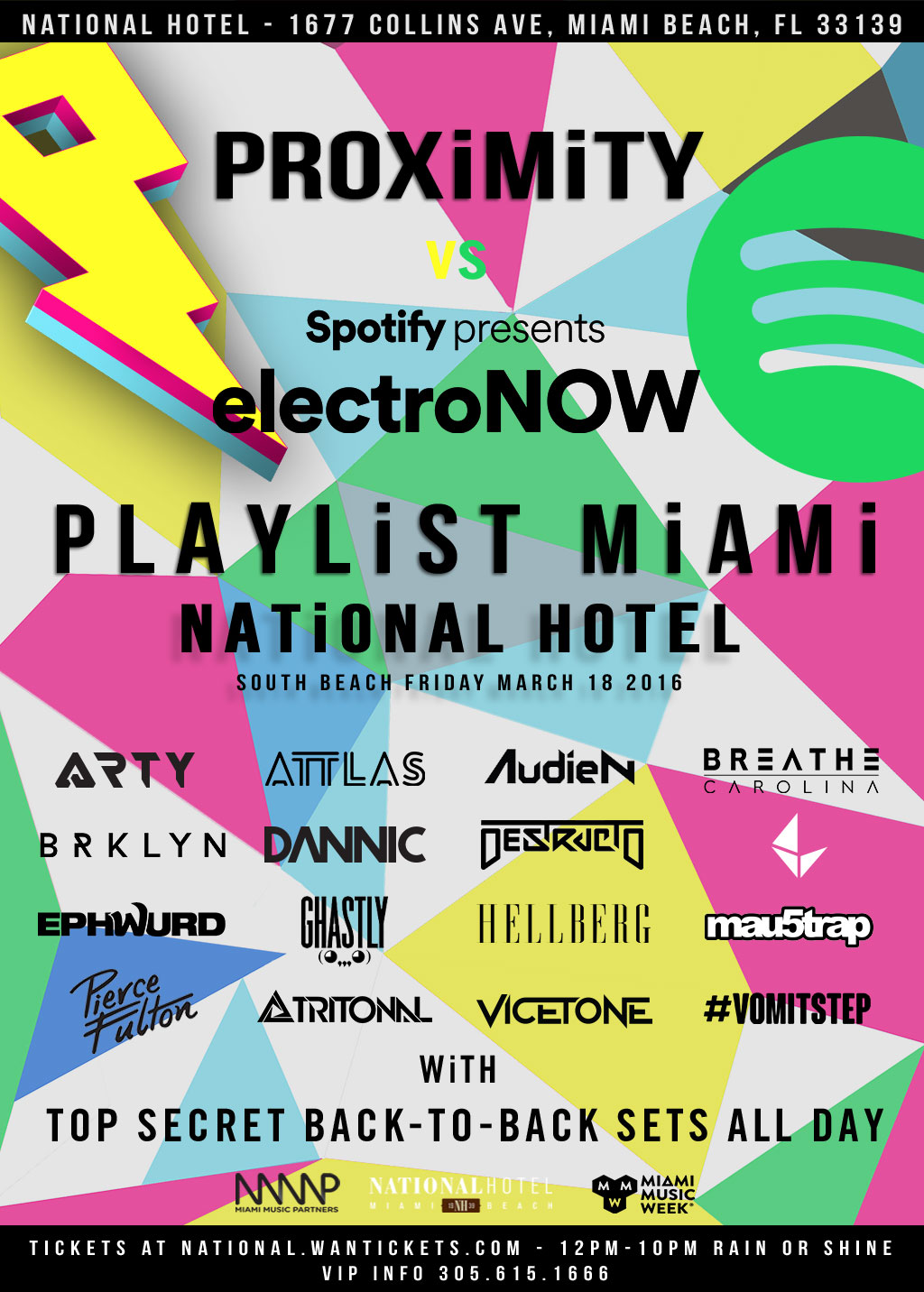 Quite possibly the most entertaining duo in the electronic scene, The Chainsmokers are set to rock one of Miami's hottest nightclubs, E11even. This place boasts 20,000sq. ft with all the state of the art technology. After you hit day 1 of Ultra you are going to want to get cleaned up and head to this show. Don't wait though, tickets will sell out.
The Chainsmokers at E11even Nightclub | Tickets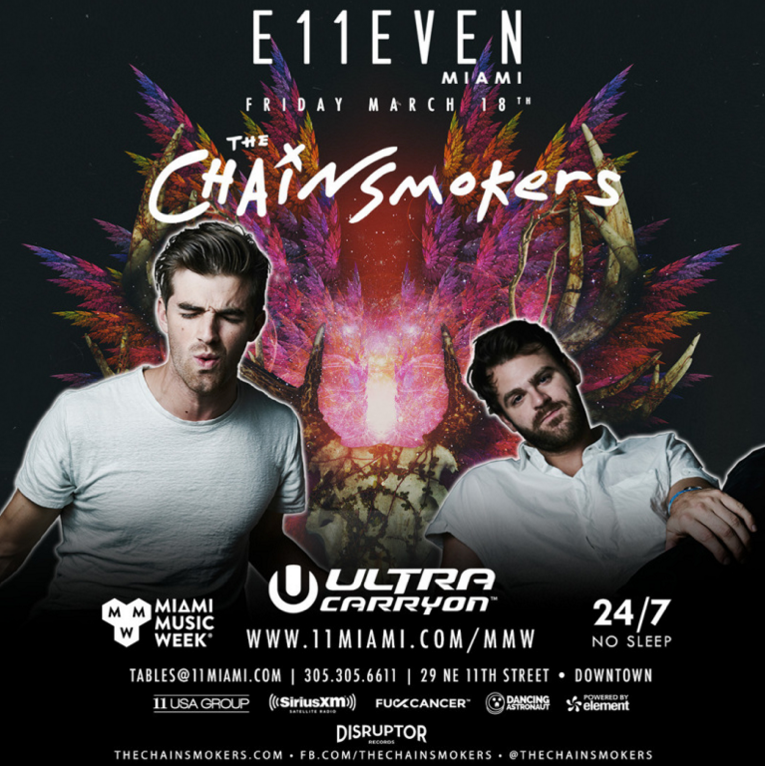 Looking for more of an underground type of night while also staying on the beach side? HARD Miami has your name written all over it. With a lineup that boasts some unique acts you are going to an eventful night. Cop those tickets quick because they going to disappear soon.
HARD MIAMI at Cameo Nightclub | Tickets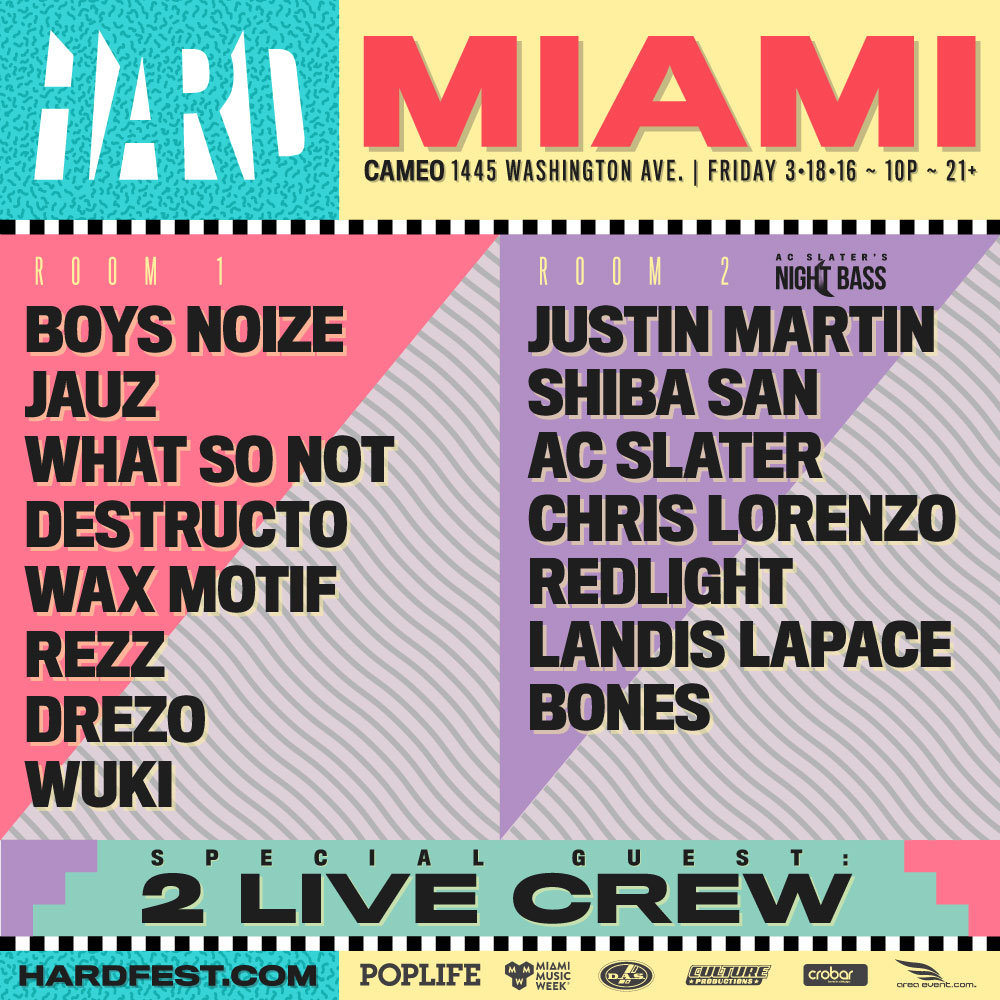 Martin Garrix in a nightclub on the beaches of Miami? Sign me up! Martin will be throwing down a massive set that will shake the walls of Story. This event is on the beach side so if you looking to stay closer to that area at night this event is ideal for you. Tickets will go quick.
Martin Garrix at Story Nightclub | Tickets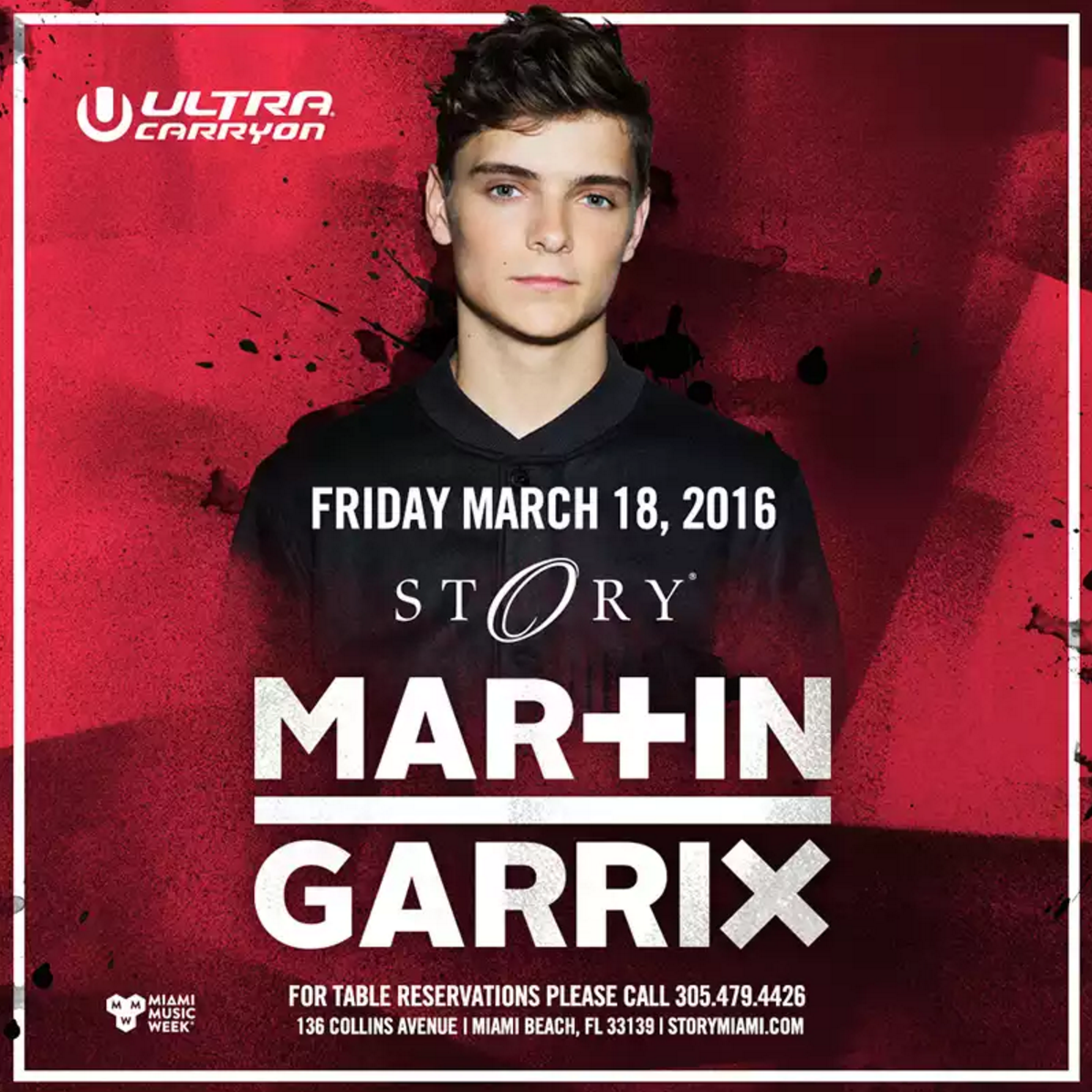 SATURDAY MARCH 19th
Dada Life is bringing the Dada Compound to South Beach. This actually might be the most chaotic (in a good way) pool party of the week. Only event I would put up against it is that Borgore one. Fortunate for you that takes place on Sunday so you can hit both. See you there!
Dada Life Rave Spa at Raleigh Hotel | Tickets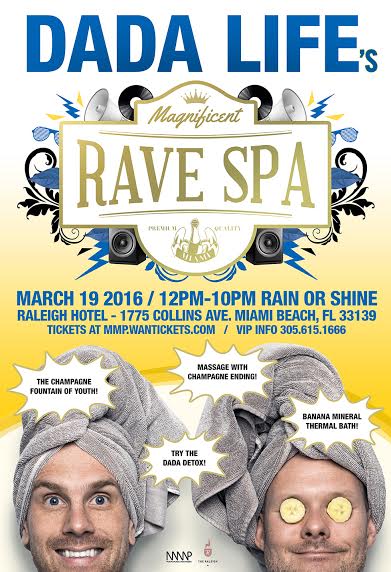 The bad boys are back in Miami and the setting couldn't be better. Shelbourne Hotel continues to feature some incredible lineups this year and I might be giving them the gold medal for MMW venue if this keeps up. Grab your tickets below and let's boogie!
Sunnery James & Ryan Marciano at Shelbourne Hotel | Tickets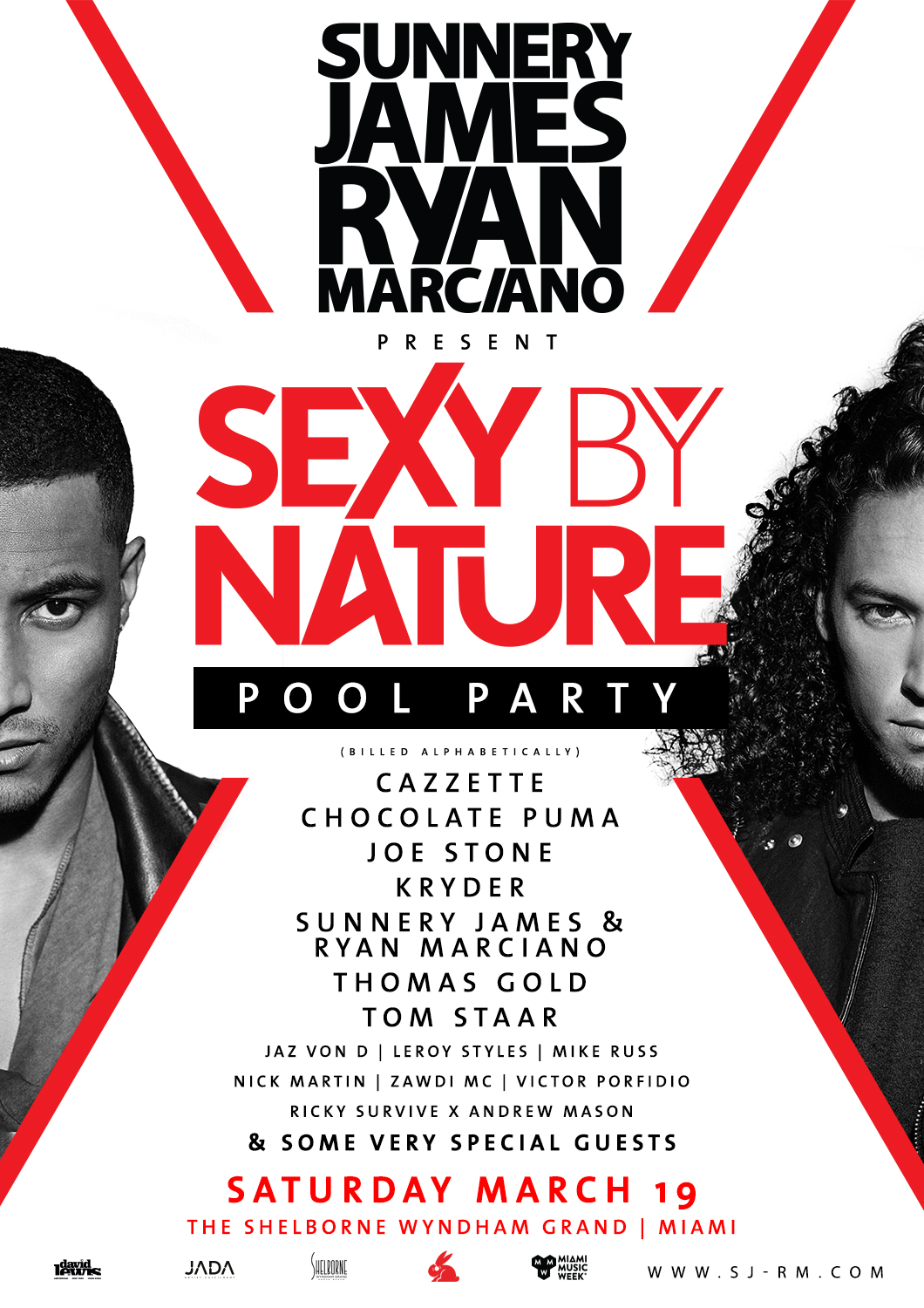 Nicky Romero is bringing out the whole Protocol Family for this one. This is the only MMW show Nicky is playing so if you are trying to see him and not going to Ultra, this is your chance. Lineup includes Deniz Koyu, Florian Picasso, Arno Cost, and more.
Nicky Romero & Friends at ICON Nightclub | Tickets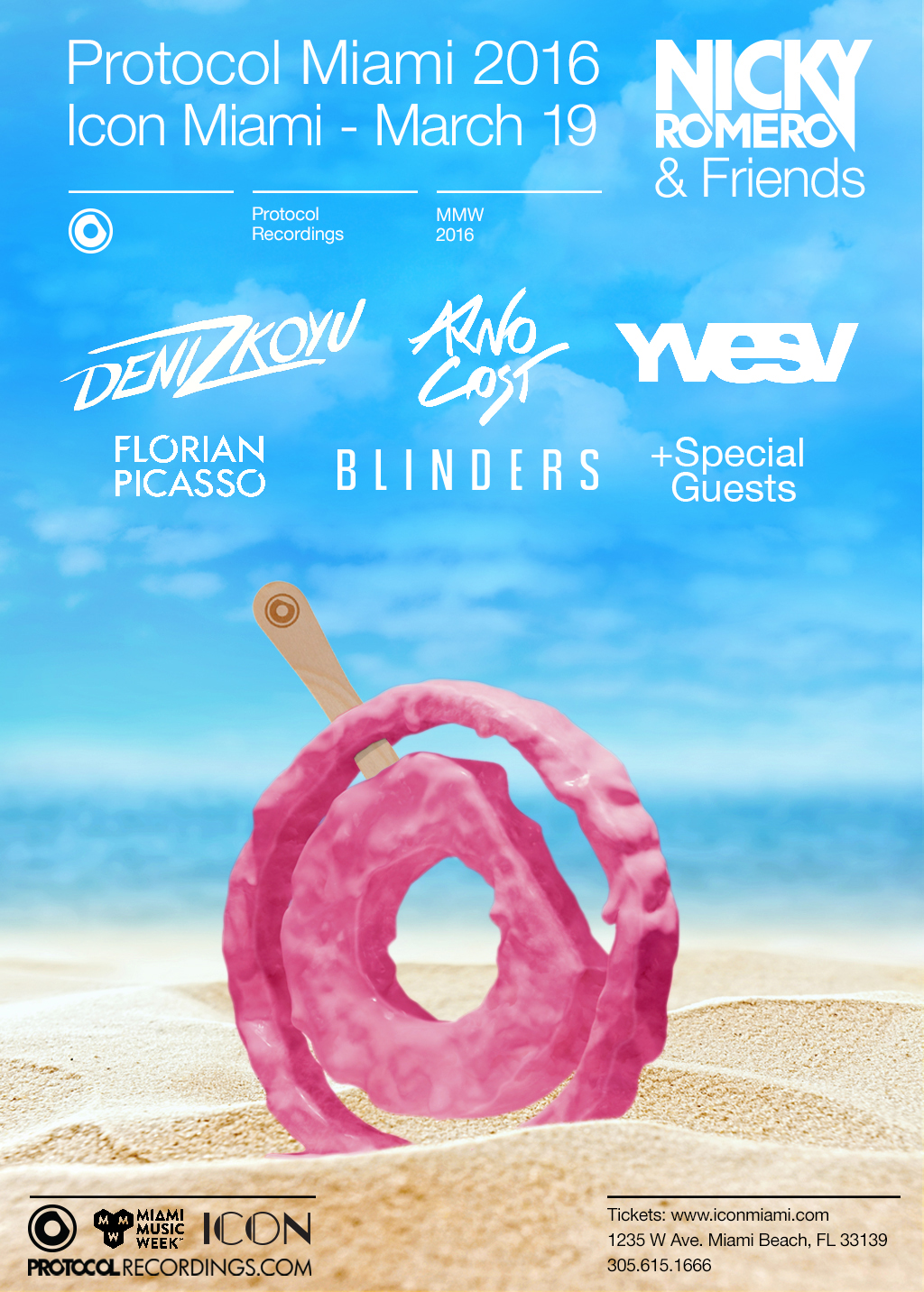 The homie Kapslap is joining the Nervo girls at Wall nightclub for one unforgettable night on the beaches of Miami. Looking for a good time and a great atmosphere? This is the event for you.
Nervo and Kapslap at Life Rave Spa at Raleigh Hotel | Tickets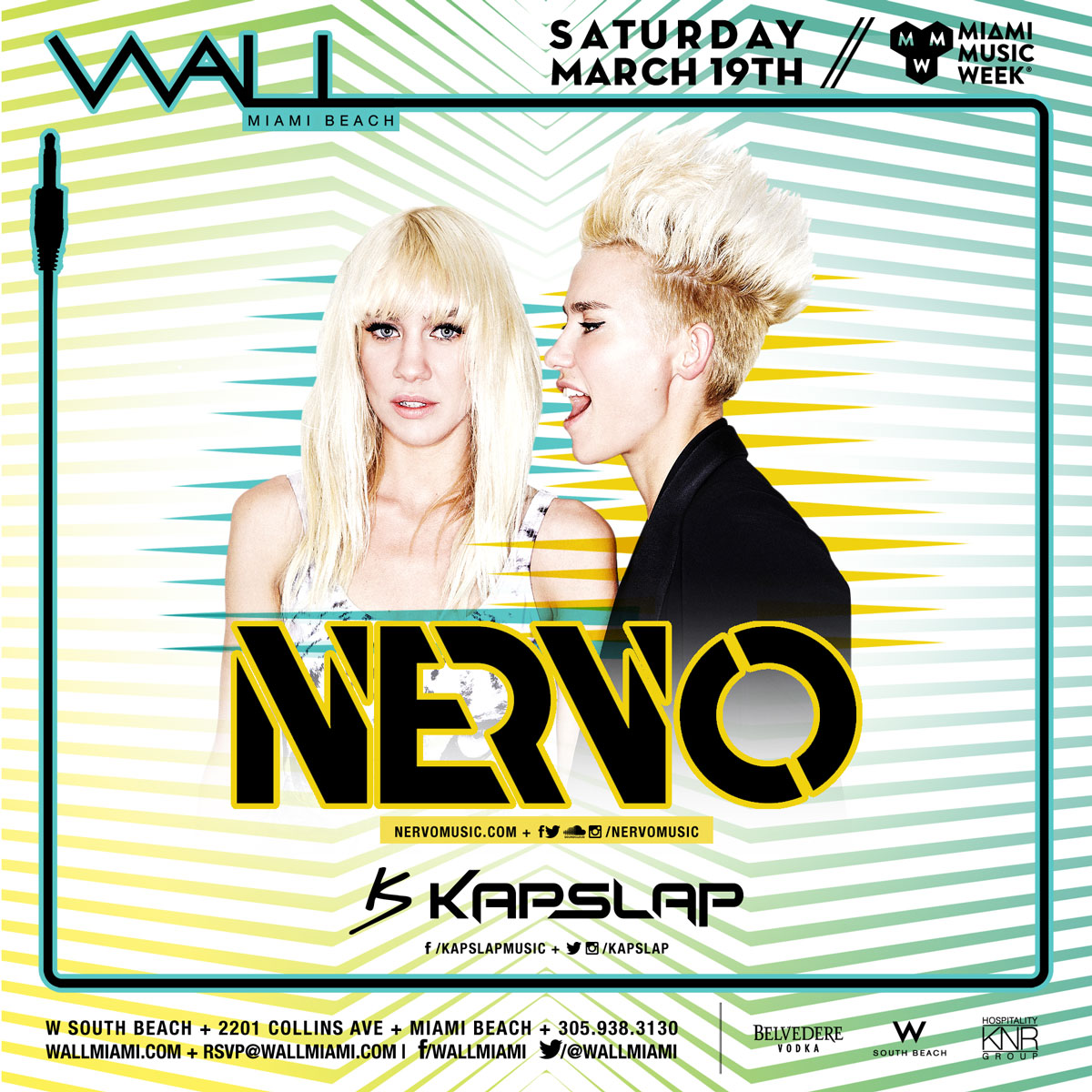 What a time to be alive. Calvin Harris at LIV nightclub is only for the elite. The cream of the crop who are looking to pull out the big bucks in order to see the DJ who makes more than anyone on the planet. Support from a promising act who goes by the name of Generik.
Calvin Harris at LIV | Tickets
SUNDAY MARCH 20th
If you are still alive on Sunday (and that is a big if) there is only one place you should be, Borgore x Jagermeister Pool Party! This lineup includes Getter, Styles & Complete, Party Thieves, GTA, JayKode, Borgore along with some other artists who will make this easily the most lit pool event of the week. Tickets sold out last year in record time. Don't miss out.
Borgore X JagerMeister Pool Party at National Hotel | Tickets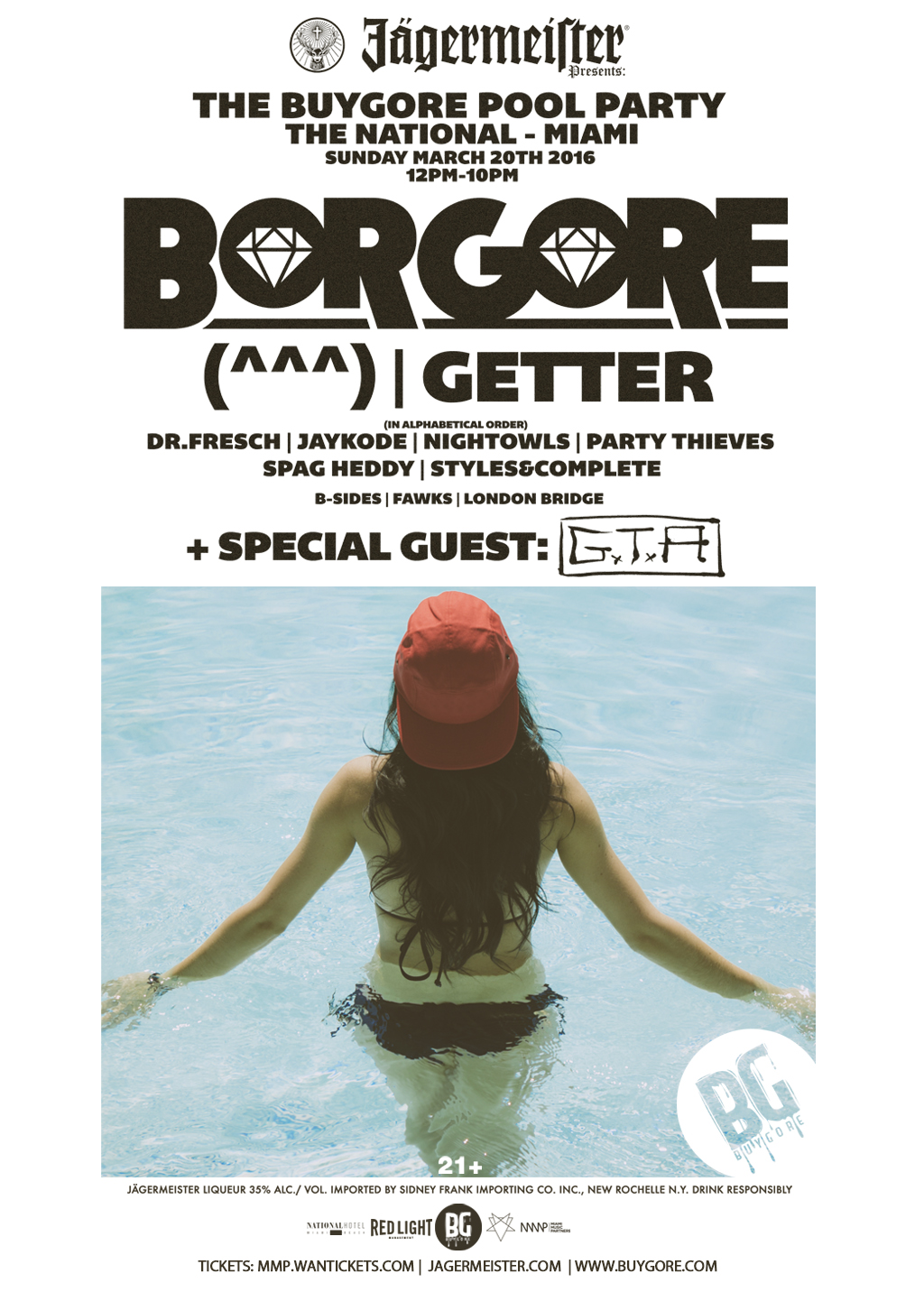 Axtone, label launched by Swedish House Mafia member Axwell, is set to have one hell of a pool party at Delano Beach Club. Grab your tickets below.
Axtone Miami Pool Party at Delano Beach Club | Tickets
Comments
comments