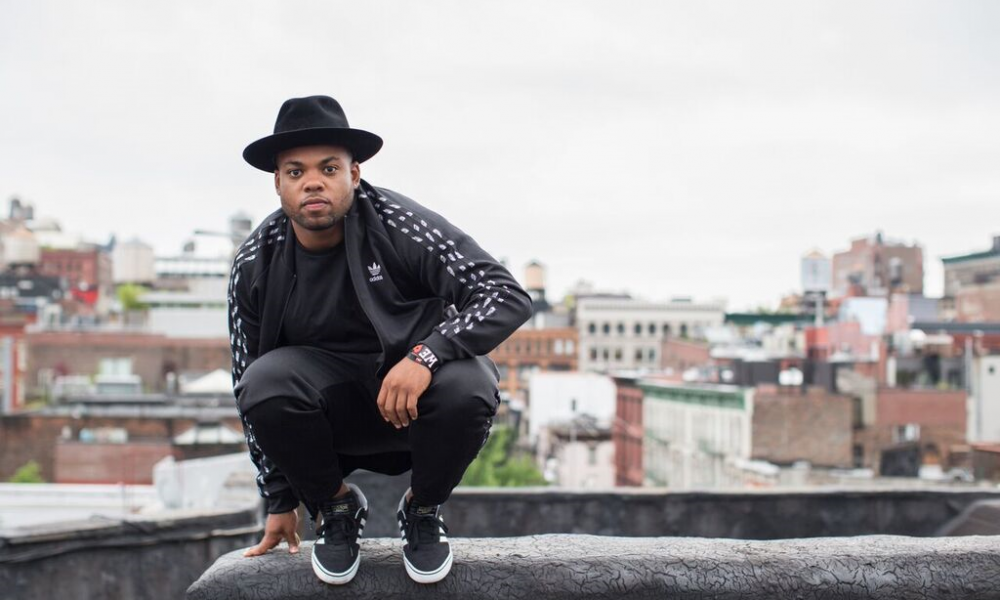 There's more to TJ Mizell than the legacy of his father. While the path that Jam Master Jay paved with Run DMC for the Hip Hop Industry is massive and a poignant time in its history, his son is looking to change the game and make his own marks for our generation.
It's 2016 and the age of the DJ is thriving. While most of today's DJs have adapted to the new found technology and rely heavily on visual production set ups for a source of entertainment, there are still those who incorporate the old with the new and embrace the turntables as an asset to create an atmosphere that can only be found between the deck and the architect. TJ Mizell is one of them and he's bringing it back like it never went out of style.
To say music runs in TJ's blood would be putting it mildly, but contrary to popular belief his dad was not the one to directly introduce him to the decks. Growing up his first instruments included guitar, bass, and the violin and it wasn't until a couple game changing concerts and college that his attention was grabbed by the turntables.
"I started going to Warped Tour and seeing DJs and thinking 'Oh shit, this is dope.' Of course that was always in my lineage. I always saw it as my dad's thing though."
However, his love affair with turntablism grew and he soon attended the Scratch Academy in New York which was founded in 2002 by his father. It was here he learned the fundamentals and aesthetics of mixing, scratching, and music production. So while he may not have directly taught TJ, Jam Master Jay was able to pass on his passion to his son and help feed his hunger to learn more.
"It was his vision to have a place where me and my brother could flourish and a bunch of other kids could flourish from."
And flourish he did. It was after he uploaded to YouTube a dope routine he did on the sidewalk of New York to his remix to A$AP Rocky's "Pesos" that he went viral and caught the attention of the A$AP Mob and eventual tour mate A$AP Ferg.
"We met at a Drake show on the Nothing Was The Same Tour at Barclays and Drake brought out the Mob. We were back stage in the green room and A$AP Ferg and I just started talking. He was like 'I want you to be my DJ.' Two months later he hits me up and asks me if I have my passport and I said, 'Yeah' and he said 'We're going to Poland in 2 days.' Ever since then its been dope chemistry and we've built a lot on the road."

Poland was just the beginning though. Since then TJ has toured on
The Full Flex Express
with A$AP Ferg alongside huge acts like Zeds Dead, Jack U, and Mija, as well as G-Eazy for his
When It's Dark Out Tour
, with Ferg which just wrapped up in the US this past week. To say each held their own vibe would be putting it mildly as The Full Flex Express Tour was soley traveling by train across Canada which opened up a whole new creative haven for all artists aboard.
"At one point we were on that train for 40 hours with no telephone service or anything.We were in such a desolate area- but at the same time we had a studio car, a DJ booth, a chill area, a lounge, and I was on this train with the world's illest DJs that I've looked up to for ages. Honestly, it was the illest shit ever to be able to just watch Skrillex work. There was also a studio so everyone was kinda working on their own thing. We made "New Level" on that train. We sat down and played that beat and went in. I'll always remember that."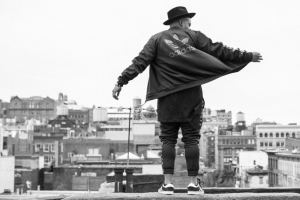 The most dynamic thing about TJ though is his ability to flip between tour DJ and his own act. Besides supporting Ferg, he also plays his own sets that showcase his diversity and talent. He wants to be the one to show you a record first and be the flame that ignites the rest of your night. TJ is bringing back the importance of what it is to be not only be the mastermind behind the atmosphere, but the creator that brings the turntables to life. With each one of h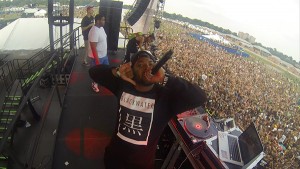 is sets he proves that the chemistry between the needle and vinyl is a relationship that cannot be replaced or recreated even with the advancements in technology. It's an organic movement. It's in the moment. It's music at its rawest form.
"I feel like more people should see that these turntables could be instruments. I think people look at them and think you can't do much, but that's not true. These are instruments and I feel like if more people take that idea and focus on that, the creativity, live djing would be through the roof."
So whether he's making beats or making memories, TJ Mizell is creating a name for himself and digging his roots deeper and deeper into the industry. In addition to being Ferg's tour DJ and feeling out different types of music to find his own sound, TJ has also started a label called Dope Roots with friends and talented artists Lenny Emery, DJ TGUT, and DJ Rhetorik. There's no telling where the music is going to take TJ Mizell, but I can tell you he's going to leave his own imprint wherever he goes. His father would be proud.
For all those who want to check out TJ you can catch him this weekend at Shaun White's Air & Style alongside Ferg at the L.A Coliseum February 20th. You can buy tickets here.
**quotes in bold are from TJ Mizell
"Follow" TJ Mizell: | Facebook | Twitter | Soundcloud |
Comments
comments