The last time I stepped foot on the Coliseum grounds was for Electric Daisy Carnival in 2010. Little did I know I'd find myself 6 years later for yet another unforgettable weekend of musical shenanigans and memories to last a lifetime. The unique thing about Air & Style however was its ability to blend two different worlds together for once bad ass festival. Thanks to Shaun White the Coliseum saw artists and athletes collide and provide entertainment for sports and music lovers alike.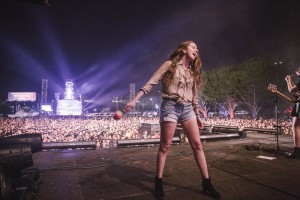 From A$AP Ferg to HAIM to A-trak to J Cole, Day One had a variety of genres and sounds to choose from. The best part was that the set times were scheduled so that you never had to worry about conflicting times or running from one stage to another(which by the way if you needed to, they were so close it wouldn't have mattered.) For me this also meant checking out bands I had never seen before and opening my eyes to new songs I never knew I liked. It also allowed me the opportunity to check out the snowboard qualifying rounds and instill a new found respect for these skilled boarders. While I didn't get to go to the top, it doesn't take a rocket scientist to know that this drop was massive and the gap a little knee shaking.
J Cole wrapped up the night with an incredible performance performing tracks from all of his albums and of course a favorite from the one and only Notrorious B.I.G.
Day Two also proved to be a beautiful day. Southern California couldn't have asked for better weather or a better line up. While parking was a little rough to find without posted signs, Big Grams absolutely smashed their set and Rudimental laid down some insane instrumentals and good vibes that had everyone forgetting their troubles. The snowboarders also took the ramp and showed off their best skills proving who is number one. Incubus c
losed up the night with a set that could be best described as raw and rocking.
Overall I'd say this festival did it's best to provide a little bit of everything for everyone. This even encompasses their food choices which gave you options from all over the world. They also
included smaller side stages with DJs from local radio stations and booths to rock out to and beer gardens to sip and relax in.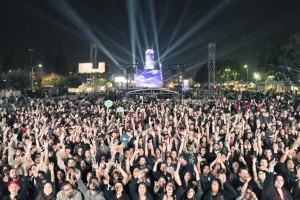 For those who are looking to be outside and think outside their typical box, I'd highly recommend Air & Style. It offers a look into not only snowboarding, but to music of all genres for all music lovers. Here's to keeping our fingers crossed to next year.
Comments
comments