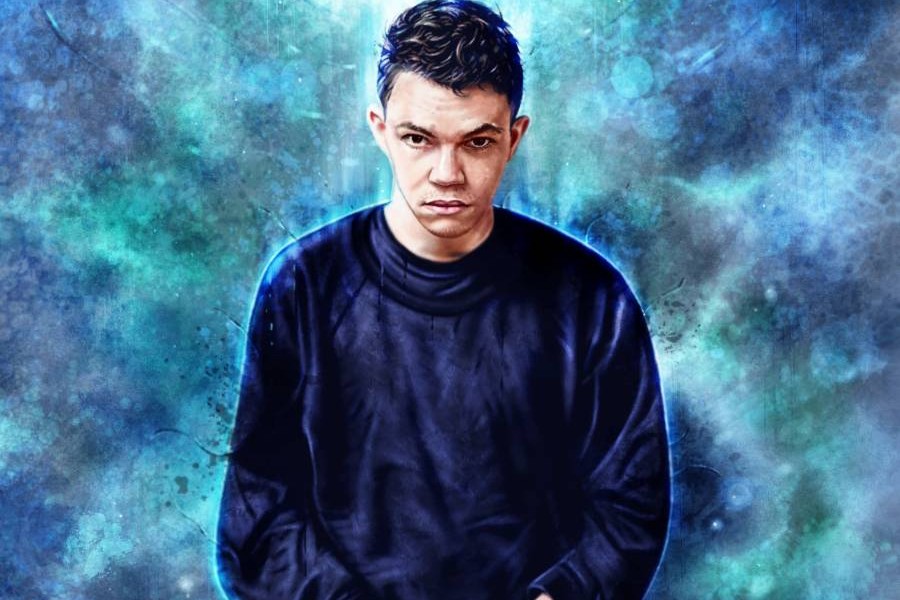 Our latest premiere comes from a promising 21-year-old producer who is sure to take his career to the next level this year. Oxblood is Chicago native (currently studying in upstate New York) who's first piece of work of 2016 drops tomorrow, his How Long Is Forever EP.
Not only do we have the exclusive full stream of his EP, but we had the opportunity to chat with him so the world could get to know him a little better. Check it out!
Oxblood – How Long Is Forever EP |
TSS: How did you come up with the name Oxblood?
Oxblood: It was my senior year of high school. I was trying to find a belt to match the shoes I was going to wear. I asked my dad for help, and he went into his closet and pulled out this maroon-brown leather thing and said, "here, this is oxblood, it goes with everything." I thought, "that's a great stage name for a musician," and it made sense with what I was trying to accomplish musically– to be able to work in any genre, collaborate with any artist, and make music that can soundtrack a variety of situations.
TSS: Who or what introduced you to electronic music?
Oxblood: I mean…if we wanna go waaaay back, it was probably Dance Dance Revolution or hearing Darude "Sandstorm" when I was like five years old or something. The first dance music I really went out and listened to on my own volition was Justice– it seems to be that way with a lot of producers I've talked to, Justice or Daft Punk. I saw the video for "D.A.N.C.E." on MTV Europe during a trip to Israel when I was younger and I remember loving the song and the animation. The Bloody Beetroots' Romborama, Justice's † and Does It Offend You, Yeah?'s self-titled debut were pretty seminal and influential albums of my early teenage years. I started reading dance music blogs when I was fourteen or fifteen– huge shout-out to Vacay Vitamins, Avenge The Virgins, Gotta Dance Dirty and all the little DJs time forgot who made blog-house such a creative and egalitarian time.
TSS: When did you realize you wanted to take producing seriously?
Oxblood: I went to Spring Awakening in 2013 and honestly it blew my mind. Porter Robinson, Calvin Harris, Krewella and Excision were all on the line up and it was one of the best shows of my life! I will never forget when I was watching Calvin headline, and all of a sudden the whole arena went dark and quiet and he dropped this special VIP of "Feel So Close" that opened up with just the piano chords… and then Soldier Field got bathed in beautiful changing lights, and fireworks launched up into the air, and everybody around me started making out. It was that moment when I realized I wanted to do this for the rest of my life– DJing, putting on shows, sweeping floors, I didn't really care, I just had to be involved in electronic dance music in some capacity, whatever capacity I could.
TSS: How did this "How Long Is Forever" EP come together?
Oxblood: So after that summer I started composing a lot of originals but I didn't really feel comfortable putting any of them out. They were good, but not head-turners, you know? I didn't think they were special or represented any sort of cohesive artistic vision. At around the end of 2014 I finally finished a four-track EP that I was satisfied with. I sent it to my friend DJ Jerry Jones, whom I had met on Twitter and stricken up a friendship with. He was hosting a show on East Village Radio at the time. I wanted his feedback on the songs. He was really blown away by the fourth song on the EP, which was "How Long Is Forever" and asked if I had any plans for it. When I said no he asked if he could put it out on a label he was starting, Gold River Entertainment, which was named after his mix show.
Over the course of 2015 we finessed the final product into what you are hearing or perhaps watching today. I wrote "Queen of the Stars" in between February and April of 2015. We got Phil Moffa to mix it down who is an insane genius. He does a lot of co-production and engineering for The Martinez Brothers and Seth Troxler. Then we brought Sinden and The Svens on-board to remix it! I love their touches on the track. Really takes the track to a different realm.
TSS: You're a Chicago native currently studying in NY, does the NYC nightlife inspire you in any way?
Oxblood: I actually study in upstate New York, in the Hudson Valley region, so I don't go clubbing very often. I go into the city two or three times a semester, though, and I did a pretty cool pre-professional program in International Relations through my school over the summer of 2014 during which I lived in the Upper East Side. I really like Output! It's the only club in New York that feels like some of the clubs I went to in Berlin– Output reminds me of Chalet a lot, all they need is a cool garden. I haven't been to Good Room or Bossa Nova Civic Club but I've heard very good things.
To be totally honest my experience with dance music has never really been a "clubbing" experience, it was always me sitting in front of my computer trawling through music blogs trying to find new sounds and fresh grooves. Music blogs have been a much bigger inspiration to me than any physical listening environment.
TSS: What can fans expect from Oxblood in 2016?
Oxblood: I've got another EP coming out on Gold River in late spring. I'm working on some songs with Eric Leed, who is a really cool DJ I met through us mutually releasing songs on Brooklyn Fire. I've got some stuff upcoming with my label-mate Mikey Dollaz. I've got some other big collaborations I don't want to talk about yet, but trust me, they're BIG collaborations. Time is the great elucidator. All will be revealed.
"Follow" Oxblood: | Facebook | Twitter | Soundcloud |
Comments
comments