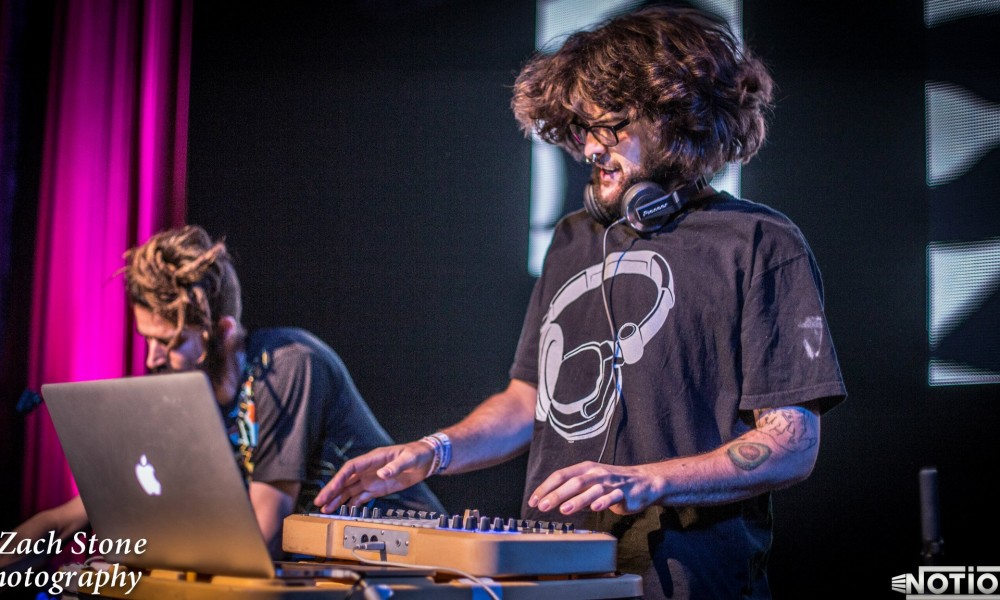 Here at TSS, we love all kinds of bass music, and are proud to premiere "Trill Clinton." Mr. Bill & Tha Fruitbat, who are frequent collaborators, have really outdone themselves on this track, which almost veers into trap territory mixed with the amorphous vibes both artists are known for.
This is the seventh installment in Mr. Bill's Corrective Scene Surgery series, where he is releasing tracks one at a time with comic book artwork (courtesy of Funilab) that will eventually come together into an overarching story – check out the full series here. With track titles like "Harmonica Lewinsky" and "Trill Clinton," we can only imagine what's coming next from Mr. Bill.
Check out "Trill Clinton" below, and read our interview with both artists below.
Mr. Bill & Tha Fruitbat – Trill Clinton | Bandcamp |
TSS: You guys have collabed before. How did you meet?
Mr. Bill: We just met online, I msg'd Evan on Facebook one day I think and we started chatting, and from there we did a few online collabs, then I did a US tour in 2012 and we met in person, followed by Evan doing an AU tour in 2013 I think, since then we've just been mates I guess, doing collabs all the time, brewing up potions and shit…
Tha Fruitbat: Met Bill online in 2011, he messaged me on Facebook, I had been bumping his tunes so was happy that he reached out. We started chatting about audio stuff then did a few collabs via dropbox, we did our first collab in person in Oakland, ca. in 2012. Toured AUS. with Bill in 2013 and have been good buddies ever since and now have catalog of dope tunes we've worked on.
TSS: What inspired the crazy sounds going on in this track?
Mr. Bill: The comb filters in Serum, basically! Oh, and schjonez.
Tha Fruitbat: This is the third or fourth iteration of the original idea which was maybe going to be a future/footwork/neurotrap kind of thing.
TSS: Tell me about the artwork. What inspired the comic book style? Is there an overarching story to the Corrective Scene Story imagery?
Mr. Bill: There will be an overarching story to the CSS imagery, but you'll kinda have to wait and interpret it in your own way :D It's all made by Funi, and I guess what was the inspiration for it can really only be answered by him. He may have mentioned it in his Untz interview when we released Fehon, I'm not sure.
Tha Fruitbat: I did not have too much input into the artwork, love it though fasho, if you notice it's Bill and I working late at the office, done by master artist Funi.
TSS: If you each had to give a synopsis of the other's sound and what you like about it, what would you say?
Mr. Bill: I'd say, I really like the way Evan deals with sound-design. He always keeps it real classy and old-school (for lack of a better word). Never really trying to get on that new EDM buzz or something, which is awesome. Quite often he does things that inspire some ideas out of me that I never thought I'd think of, which is a great thing in collaborative territories.
Tha Fruitbat: Bill is an all around master in the studio, his sound is very clean and high tech while at the same time being extremely musically sound which always inspires me to create something that is mad next level.
TSS: What's next in the pipeline for each of you?
Mr. Bill: More CSS releases & trying go get my live show with KJ Sawka & the inflatabill off the ground :D
Tha Fruitbat: I have an ep coming out on Muti Music soon, also a tune coming out on the new Wakaan Records(Liquid Stranger's Label) comp, possibly an ep as well, also a slew of collabo eps's with various artists from here and abroad that are almost finished.
"Follow" Mr. Bill: | Facebook | Twitter | Soundcloud |
"Follow" Tha Fruitbat: | Facebook | Twitter | Soundcloud |
Comments
comments