The dirty south is host to some of the best festivals in the United States; be it an up and coming or already well established, it can be found here! The music scene in ATL is booming and has been for a hot minute now so you can expect to see lots of big names popping up at events in and around the city. You might assume that since it is Atlanta the niche for most of these shows is hip hop. One festy in particular has cemented itself in the ranks because of its inclusion of not only hip hop but every other genre as well. SweetWater 420 Fest has grown into one of my favorite events over the years and for good reason.
This years lineup is something serious and hands down the best one to date. What festy do you know that has Kid Rock and Ludacris on the same bill? Two completely different performers but two legends none the less who have hits upon hits. One aspect of this lineup that has me boosted is The 420 Disco; a high-energy dance music experience that spotlights some of todays dopest producers. The stage boasts the most electrifying audio-visual experience in the city featuring incredible lasers and visuals, cryogenics and live interactive performers. Paper Diamond, Son Of Kick and Minnesota (to name a few) will all be there to assure all your bass-related needs are fulfilled.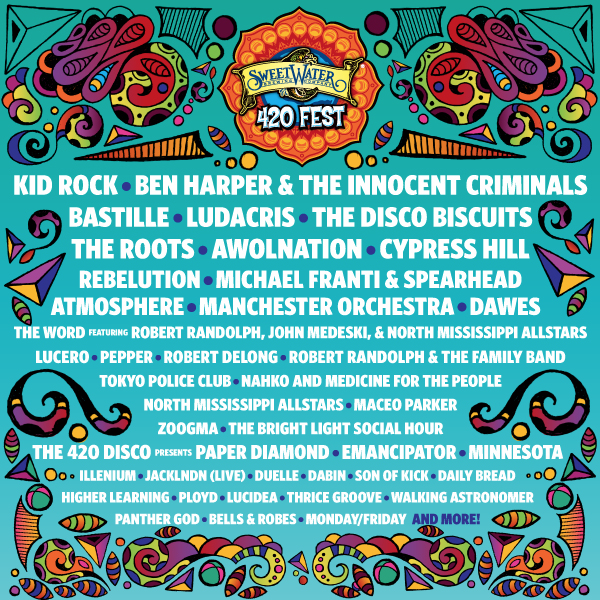 I love the steady progression from them year after year, to me it is a very obvious sign that a festival is doing everything right. Their identity remains true to its roots and you know what to expect when you buy tickets; good music and good beer! Everybody knows a good beer becomes a better beer when paired with the right munchies. Atlanta is a big city, odds are you won't have time to grub at all of the bomb local eateries but don't fret we got the fix. The Food Village will save you the stress by bringing all of the cities dankest food trucks and restaurants to one spot. April 22nd-24th (too bad 4/20 falls on a Wednesday this year) save the date because you will not want to miss out. Three day passes are still available for the sweet price of $110 after service fees, shipping and all that. Drop a like/follow on their socials and peep the site for all other necessary info!
SweetWater 420 Fest Facebook/Twitter/Website
Comments
comments