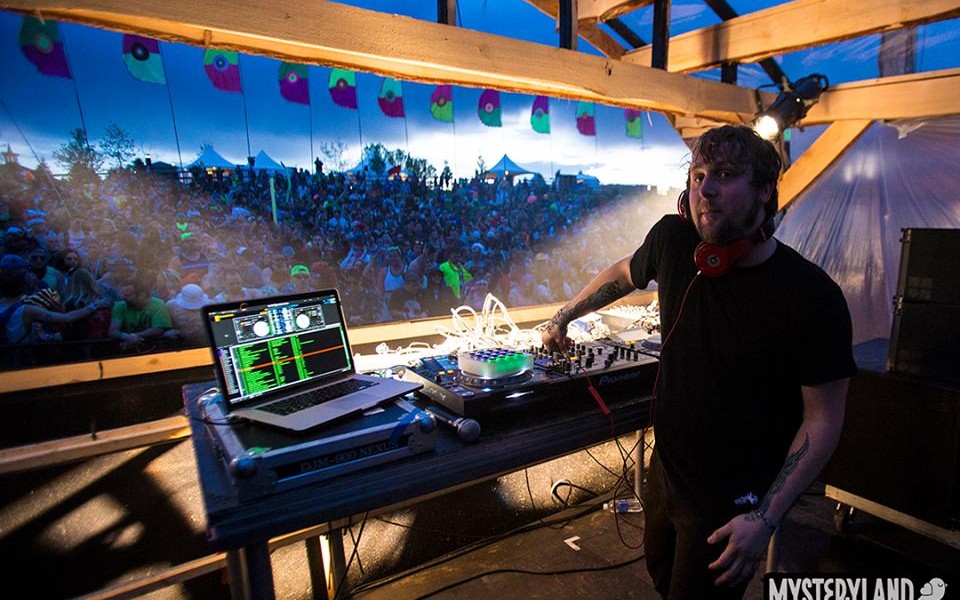 We at TSS have been obsessed with Figure ever since our beginnings years ago. At his most recent co-headlining show with Lumberjvck at Ruby Skye in San Francisco, I had the pleasure of chatting with the man, otherwise known as Josh, himself. Originally from Indiana, Figure shared with me how a small fear of horror movies eventually transformed into an obsession that sparked the creation of the consistently popular "Monster Series." Having been in the scene since 2009 and heavily praised for his heavy, filthy, headbanging bass, Figure continues to prove that he can provide so much more with his latest album "Gravity."
In this tell all interview, we find out more about this eclectic producer as we mentally prepare for his upcoming tour with Excision. Read more to find out all the gnitty gritty details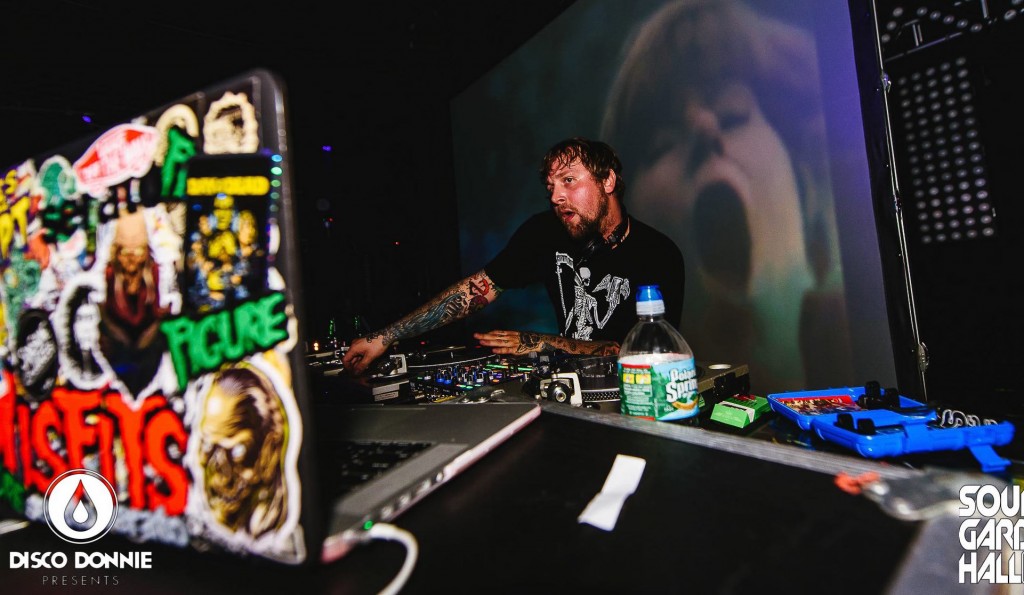 TSS: So who is Figure? How'd you get your name, and how'd you start producing/djing?
FIGURE: My name came when I used to do graffiti, when my name was "Action Figure." I was doing djing and graffiti at the same, but when I started getting in a bit of trouble with graffiti, I decided to just stick with djing and use the name "Figure." This was around when I was 16 or 17.
TSS: Your "Monster Series" is consistently popular with every release. What inspired you to create this series, especially one with such a unique sound that also includes horror movie samples?
FIGURE: It's something I've always grown up on. I didn't know until I was older, but my Dad used to run three haunted houses while simultaneously djing, which is how my Mom met him. These three haunted houses were the only ones out of six I went to around the city I lived. I've never even met my Dad, which makes it even crazier that I was only going to the haunted houses that he was running. I was just obsessed with these haunted houses, it was like our connection even though I didn't know him. That really played a huge role into it.
Then, when I'd spend the night at my cousins' house, all they'd do was play scary movies. They absolutely terrified me…I would even go as far as to think that my life was over whenever I'd watch them. But somehow, I started becoming obsessed with them. It's not an artistic effort I make to include them, it's just something I literally live day in and day out, all I fucking care about. So it transferred to the music that way.
TSS: Your latest album "Gravity" features 17 songs. My favorite thing about the album is how it has influences from different genres ranging from electro to trap, but all still have that heavy, bass backbone. How was your experience creating such a diverse and epic album?
FIGURE: It felt completely natural. There's this thing when you get put in a corner for a certain sound. For instance, with monster, I only do it one time a year in October. The entire rest of the year, I put out normal music that's not themed unlike in October. However, I noticed that this was always popular, and I started thinking 'Maybe I should be doing something more memorable then that, like, with a theme!' So I started thinking of a sci-fi type thing and just ran with it.
I wanted to make beats, like in 'Gravity' there are literally like three of them with just hip hop beats. I wanted to make something that I would want to listen to if I wasn't an electronic fan. It's for everyone, and I wanted to make something that my friends who don't understand what I do could listen to the whole thing and see the peaks and valleys. In the end, I made it for myself, but just wanted to show people that I could make a well rounded album with different ideas.
TSS: In the album you included an intro, interlude, and an outro. What was your reasoning behind this?
FIGURE: I wanted to write a story. It's definitely not done. The intro is actually completely live. My friend Kevin, who I grew up with, and I did it. It's pretty much as live as a band at a show could get. All the filters, pianos, everything is live. We recorded it and once we finished said 'We're done, that's it!' I mixed it then mastered it, and that was it.
The outro is actually three years old. It's for this new project I'm working on with a rapper named Cap 1. We were doing this hip hop record, which is almost done now. I made it, but it didn't quite fit. I was going back and forth, and eventually listened thinking 'This fits somehow…this is some chapter that got ripped out before the book was finished.' So I re-edited it, put it back in, and it worked. It was a nice ending to wrap it all up and just made sense to me.
TSS: If you had to pick, what was your favorite song to work on in 'Gravity' and why?
FIGURE: I could say the "obvious" answer, aka the banger that I love and made, but "Check Your Movements" is probably really my favorite. It's this held back, glitch-hoppy thing, which is something I grew up on. It's semi-chicago, ohio stuff. I was stoked he even emailed me back. I just had this beat and really wanted him to be on it, becoming super attached to it. It sounded fucking great, and that was my vibe. I wasn't trying to make a banger. He rapped on it, and it fit so perfectly.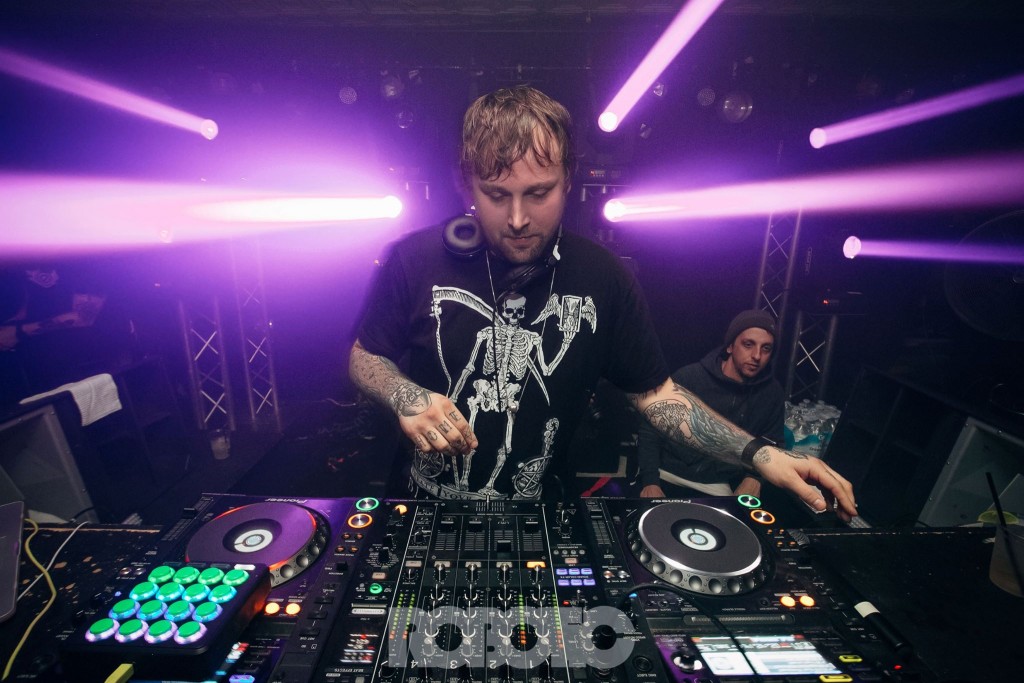 TSS: You're a self proclaimed mixer nerd and I hear you have the new Pioneer DJM-S9 2-Channel DJ Mixer. How is it?
FIGURE: It's amazing!! I'm like, scared of it because it's so good. The cross fader works faster than I do, which normally I need the cross fader to catch up with my fingers. Now it's the other way around which is crazy. I practice certain routines, and it already sound better because I feel more comfortable with it. It's a step up, something new. All the big dogs in my world, which are like Craze, Qbert, and all these people, they're using it. These are people I look up to, not EDM producer dudes but turntablist. They were all reviewing it saying, "This is it!!" So I had to buy it. I was sooo loyal to my mixer beforehand, and normally I don't talk so fondly about mixers, but this thing is a game changer. You can't make a better turn table, only improvements…and this is THE improvement that was needed on the two channel turn table scratch mixer. I bring it everywhere I go. It takes a lot of effort dragging it around the airport, but I'm super attached to it.
TSS: In 2016 you're going on tour with Excision! What are you most excited about this tour, and what are you doing to prepare for it?
FIGURE: I don't know what to do to prepare for a tour like this to be honest. I've done bus tours before, but touring with Jeff…he does massive stuff. He's a grown man about things, so I know I'm going to have to prepare for it well. Every picture he posts of his shows I'm like "Jeez!!" I've been trying to get on one of his tours for three years, and this time he pushed for me to be on this specific tour. And finally, it worked out. On top of it, Bear Grillz is on it too, and he's also one of my good friends as well as one of Jeff's good friends. It's going to be crazy, and I'm super stoked to be spending time on the road with some great friends. It's going to be awesome to build a bigger audience too, hopefully if they love Jeff, they might love me too!
TSS: What else can we expect from Figure in the upcoming new year?
FIGURE: I have an EP about half done. I can't say where it's going to be released on quite yet, but it'll be out in the middle of the Excision tour. After that tour, I'll be heading off to some other countries to play. By the time that ends, festival season will come around…and then my next tour after that! Lots of touring, so that's going to be awesome. But mostly the next EP that I'm working on is going to be coming out, and fair warning, it's going to be all over the place. Some people might love it, some people might hate it…but I love it and that's all that matters. There's a song at 128 BPM, one 140, one 190…it's not a dubstep EP, it's not an electro EP…it's a mixture of everything, and show that I can do a little bit of everything while having fun with it. I don't wanna just do heavy shit, I think I've proved that by now. I've always been stoked when making music, but this EP especially is making me excited. There's gonna be vocalists, and all around different vibes. When I show my judgemental, non EDM listening friends who prefer indie or rock the EP, they've actually been liking it saying stuff like, "This is fucking cool man! The other shit…that was okay…but this is tight!!" [laughs] That's what I want, something that everyone will like, even if you don't like EDM.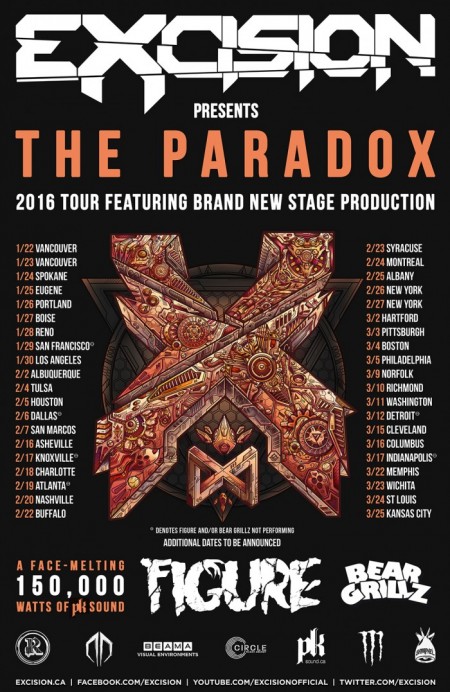 Click HERE to purchase your tickets to The Paradox tour to see Figure as well as the rest of the epicness.
"Follow" FIGURE: | Facebook | Twitter | Soundcloud |
Comments
comments