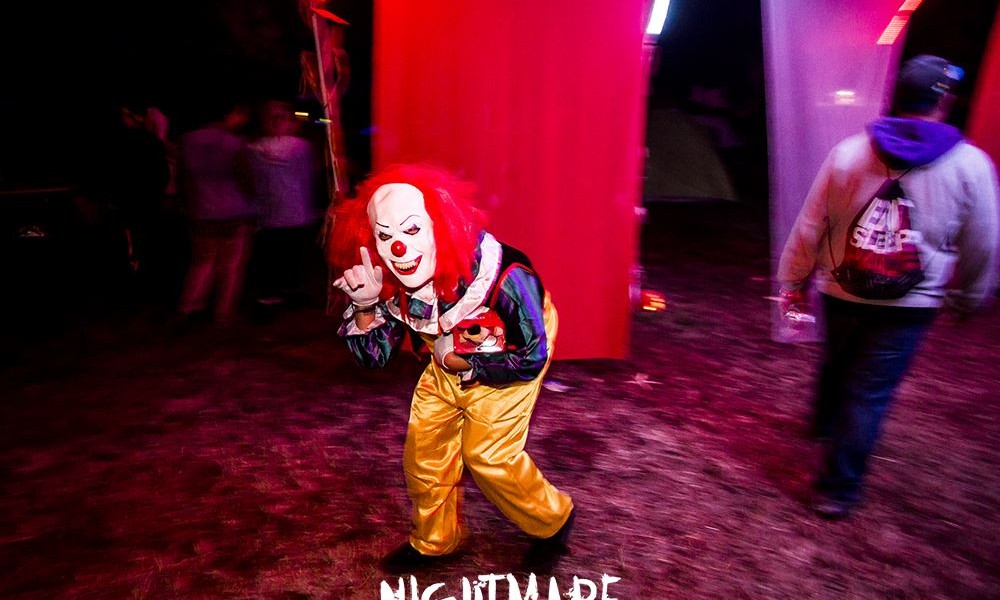 This years annual Halloween party thrown by Badass Raves, Nightmare Festival, was one to remember (or at least I keep trying to remember). The sixth gathering returned to the place it has called home for the last few years, Camp Ramblewood. If you weren't lucky enough to have been in attendance for this insane weekend don't worry I'm here to fill you in on all of the madness that went down.
One of the main things I always salute Badass for is their forever on point and always intense light setup. I mean seriously if you've been to a larger event thrown by these guys then you know that basically one word sums it all up, lasers! Beyond even just the lighting the general stage production is super tight. From the entrance all the way to the back wall you would see different kinds of halloween decor and even dancers decked out in different costumes. The fact that the stages were indoors was also mad helpful because although it wasn't super cold during the day, nights out there were freezing.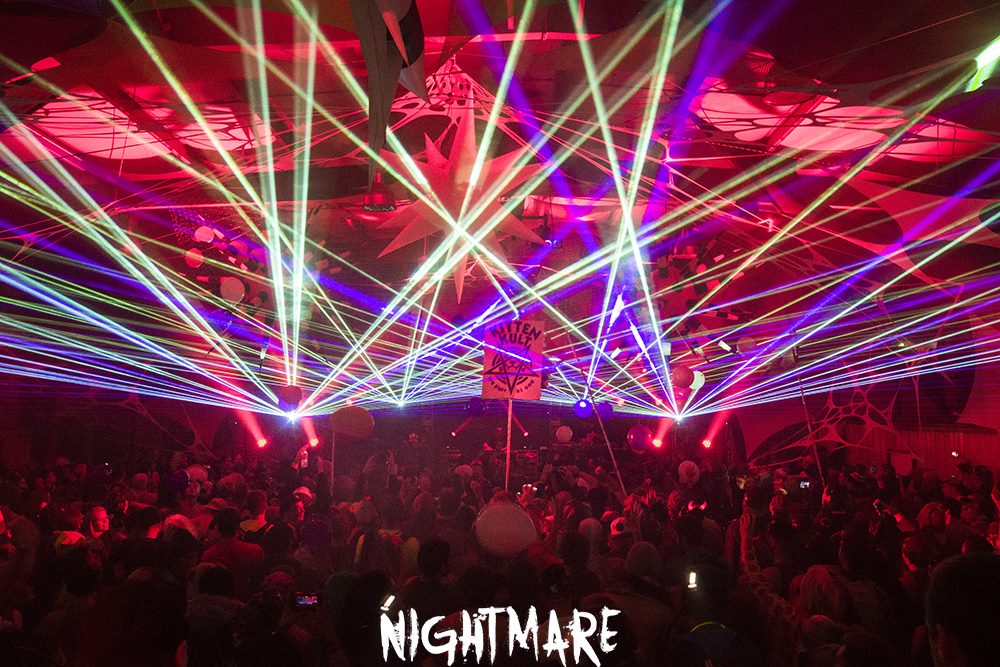 What keeps me leaving these events with a smile and always coming back? The people! Never have I ever been to such a homie festival and this is the ambience all of their events come with. I can honestly say that I didn't get any bad vibes from anybody the entire weekend or any time I have been here for that matter. That's saying a lot too considering at most larger festivals you usually have those few types who will take you out of your element or even just catch you off guard with some over the top unnecessary antics. Here you will find the exact opposite, at Badass events everyone is like family. The general feel of the weekend was happy and fun with everyone looking out for one another. I always meet tons of dope people and make lots of awesome connections that last for much longer than just a weekend.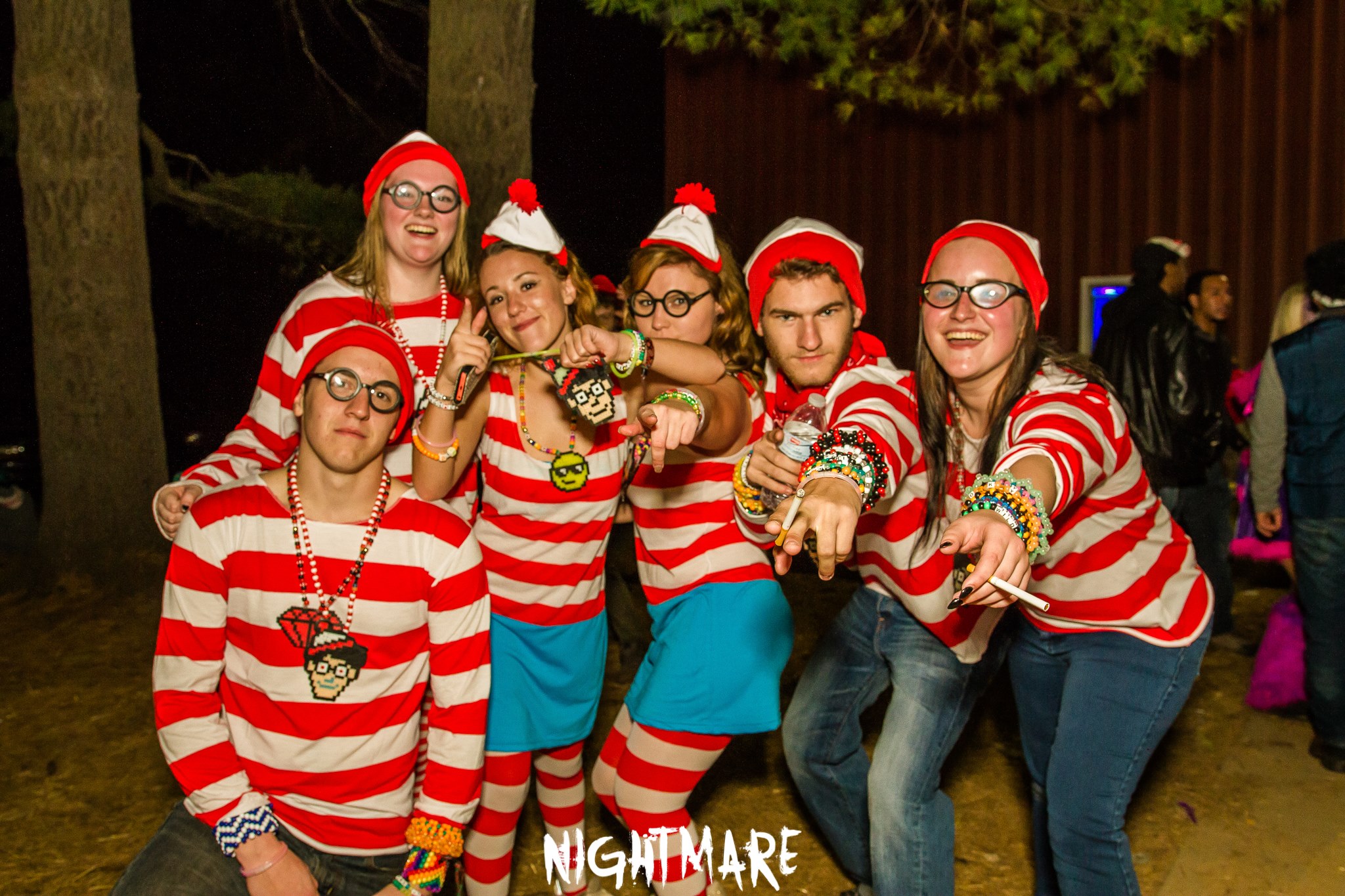 My least favorite thing about a lot of festivals is the struggle of trying to find good camping while also accommodating your whole group of friends. You might be wondering what the solution to that dilemma is and I'll tell you, its quite simple. CAMP WHERE EVER! I get it, I know that this can not be done everywhere but I have to say its a huge relief rolling up with your squad and knowing you can put your tent somewhere in the cut, close to the johns (lol) or basically anywhere else your soul desires. I was pretty surprised myself at how big the venue actually was once I started exploring, so many different nooks and crannies to find.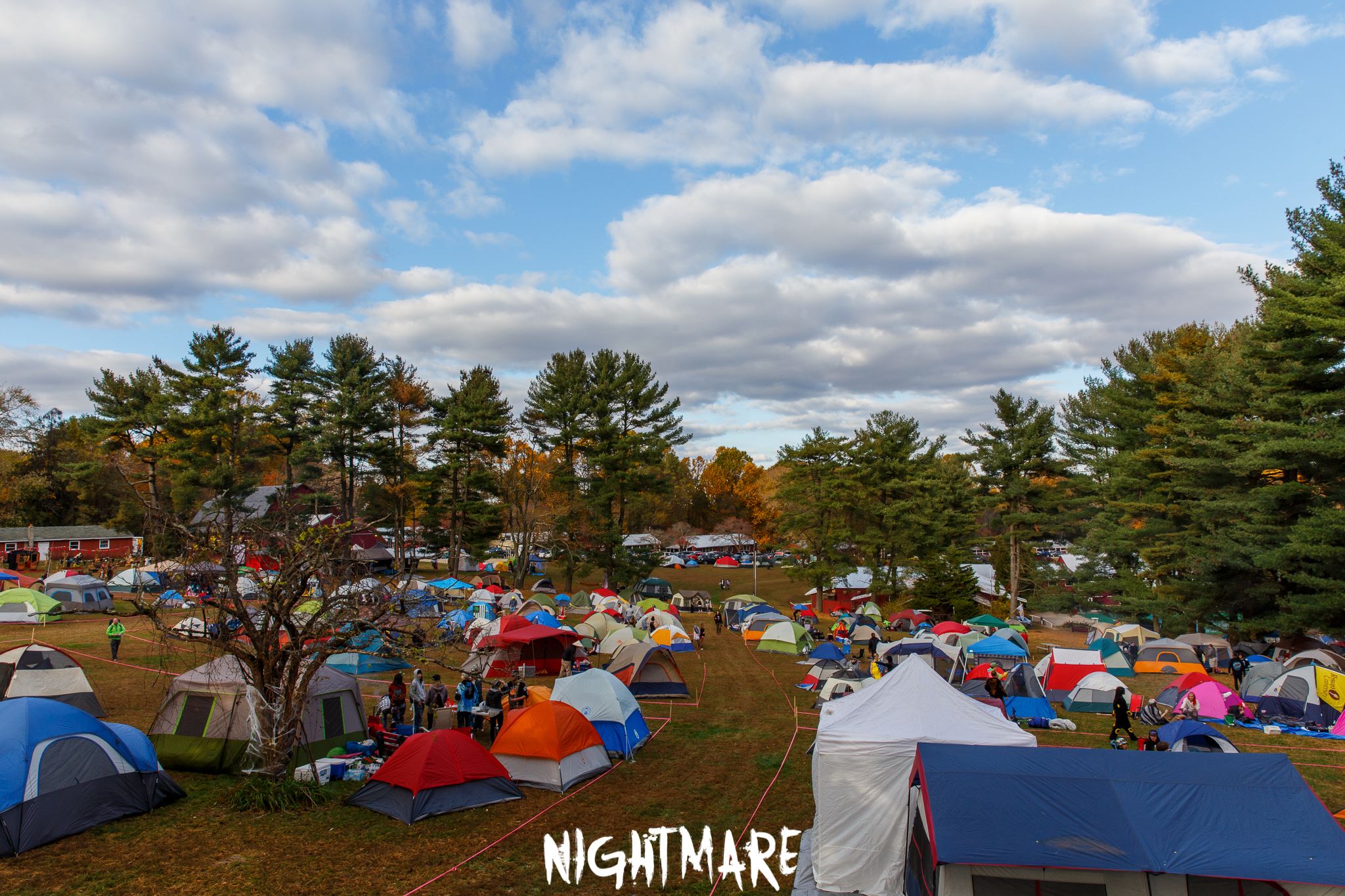 Of course Nightmare packed a stellar lineup from top to bottom but there was one extra special name that made lots of peoples weekend. Figure, figure, figure! I can not stress enough how grateful me and most in attendance were to have been blessed with the return of Terrorvision to Camp Ramblewood for the second year in a row. What a spectacle it was seeing the homie bring the grime on Halloween night.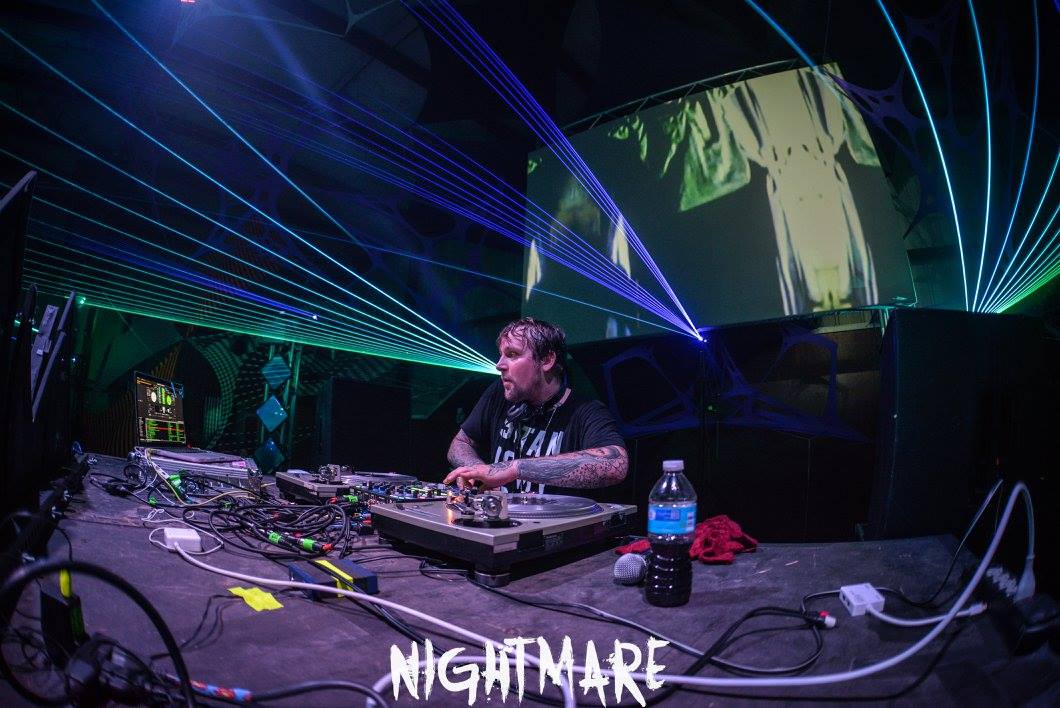 I have a keen liking for all people who respect and do their best to care for our Mother Earth; many things here caught my eye and I feel like it would be wrong if they went unmentioned. To start it off before I even arrived on site I saw a contest online which rewarded whoever turned in the biggest bag of cigarette butts at the weekends end with two passes to Dreamscape 2016 & Big Dub 2016. Sounds kind of raunchy at first but both of those festys are a good ass time not to mention it is a win/win; keep the venue clean plus you get a chance at free tickets. Another thing I noticed is something that I have seen at other camping festivals but was still good to see; people walking around with trash bags to see if you had anything needing to be thrown away at your campsite. They made it convenient and cool to keep the venue clean, mad respect for the "no trace" initiative.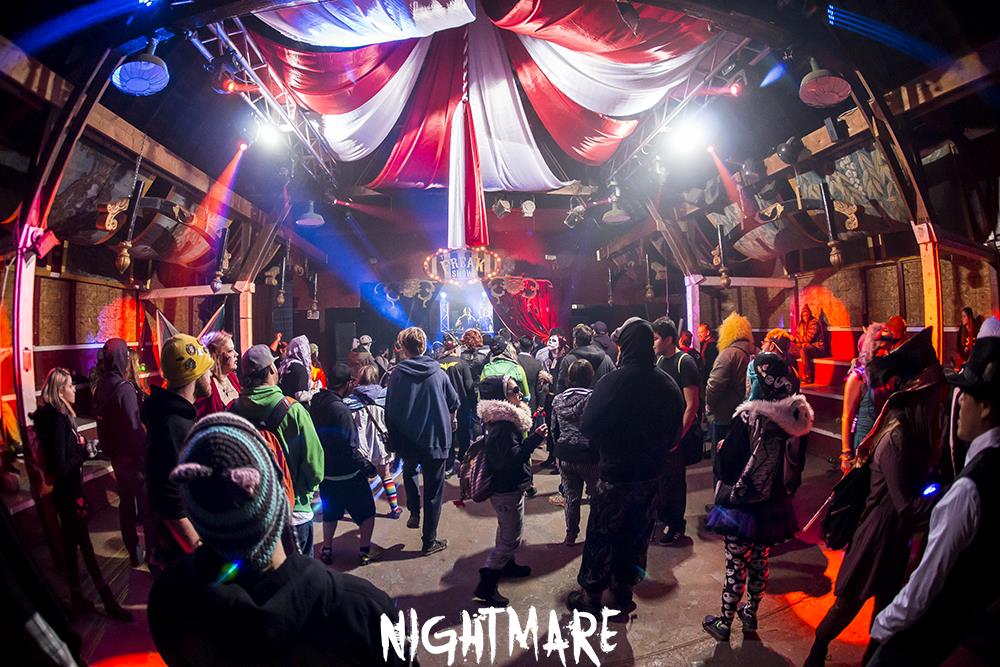 Lastly, I was most impressed with how friendly and accommodating the staff was. When I first arrived I had an issue with my parking pass that was speedily taken care of with a quick phone call. Then it was on to security (side note: people were very dissatisfied with security after Dreamscape) who I was extra pleased with, I noticed that they were swift while also cautious and I didn't hear any complaints during or after concerning how they handled business. Like the attendees all of the people I encountered working were all smiles and extremely helpful when needed!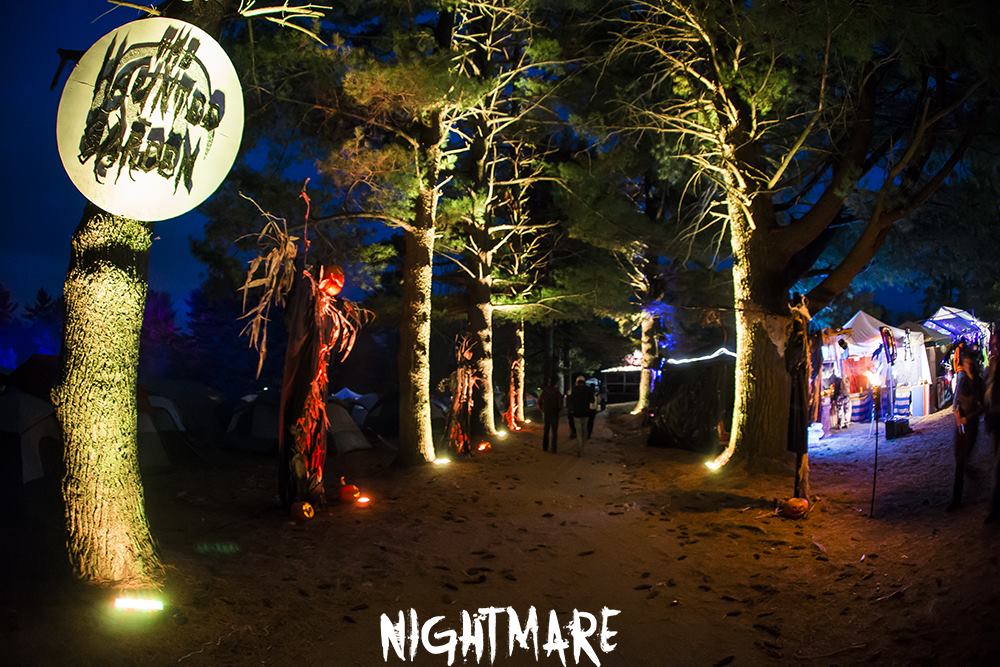 For those of you who didn't make it out, I have some good news! The heavenly, spring time sister fest to this one is right around the corner. Dreamscape just caught an upgrade too and is now a three day event at the same venue with all the same mystical vibes. Last years assembly featured three stages (including a bomb pool stage with pool parties all day), an obstacle course, a lake and an awesome lineup. For those of you who enjoy the finer things in life they offer a fancy cabin setup with TempurPedic beds, showers and all other things non-camping. Mark your calendars December 16th is the date those will be on sale; all my tent city general admission people will have to wait until January 6th to acquire your pass to what is definitely going to be one hell of a weekend. Hit up the socials/website of Badass Raves to stay in the haps and keep on the lookout for a giveaway coming soon!
Badass Raves Facebook/Twitter/Website
Comments
comments