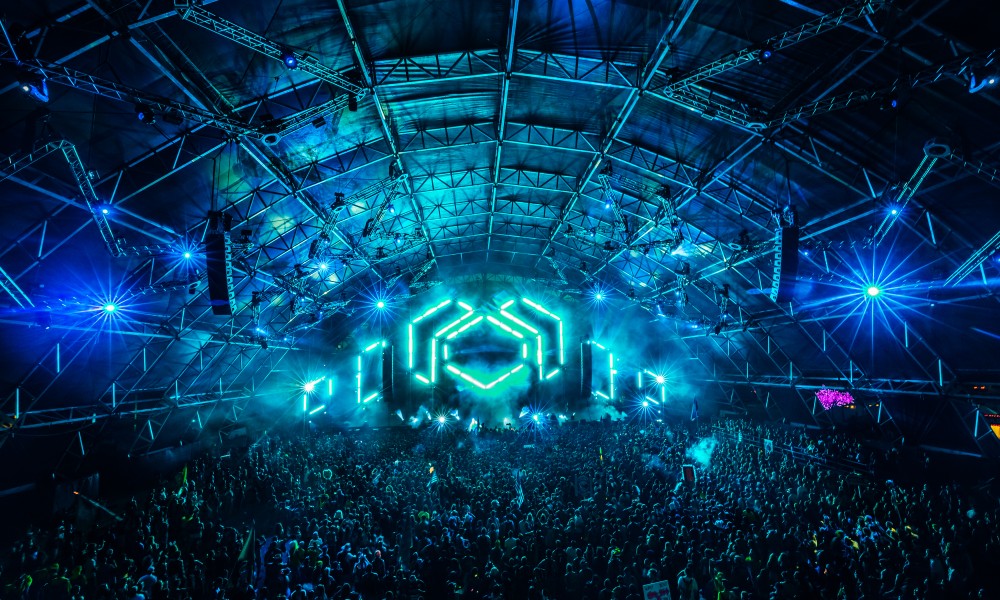 He's the man that can't stop and won't stop. Even after just releasing his 'Tesla' album, Flux Pavilion shared his visions for the future and who he's been working with. We've sat down and talked music with Flux quite a few times over the years, but never have we been so excited for what he has in store…
TSS: So last time we talked we were talking about the album before it was about to drop. Now it's out, how's the reaction been?
Flux: Pretty fucking good I think, it's really pleasantly surprising, I kinda got worried just before it came out.
TSS: Really?
Flux: Yeah I took a few tracks off it, 'cause there was loads of stuff that wasn't 140 (BPM) and I was just like "uhh." Because it was really weird to me that I hadn't been writing 140, so I kinda like started getting really worried that people might not connect to the stuff that isn't 140. But to be honest when I play sets, I'm so surprised how all that stuff goes down. It's like all the 128 BPM stuff, it's 'cause it's not really house, it's like not house it's not really anything it's just mad energetic music at different tempos which is exactly what I wanted to do. But yeah I was scared for like a week, and then when it came out I was like 'oh fuck, that was good.'
TSS: I would say some of the track people were surprised by, including myself, were 'Emotional' with Matthew Koma and 'Ironheart' with Bullysongs. Can you talk about collaborating with those guys and how it came about?
Flux: So the one with Matthew Koma it was a record I had written and we'd been talking for ages about doing some stuff and then I just kinda thought 'I think he would fit the vibe on this.' I sent it over to him and 3 days later he was like 'yeah I think I've found something.' Then he sent me Emotional basically exactly like how is, I took his vocals, I mixed it down and made the vocal chops and stuff but the whole song was how he had written it, I listened through it a few times and was like 'yeah he done a fucking good job on this.'
TSS: That's amazing
Flux: So yeah Bullysongs, we worked together on it and like I said I took a few tracks off and I actually was gonna take 'Ironheart' off.
TSS: I'm so glad you didn't!
Flux: This version that's on there, that's the first one that we wrote a year ago and then we were like 'alright let's experiment with some stuff, let's try and write new choruses, write new things to see if we're not missing stuff' then we just went so far in this other direction and we just weren't' really feeling this anymore. Until, I think it was my manager or maybe Bullysongs was like 'do you remember the first version of this?' and I was like actually yeah, we all listened to it like fuck this is by far the best one. So that's how that made it on there and I'm really happy, it was really fun to work with him.
TSS: That was one of my personal favorites and it wasn't even the hardest and it was just perfect music.
Flux: Yeah it's weird because the albums not really hard but it kind of is at the same time.
TSS: So we were talking before and you said you were working on something with Snails, so it doesn't sound like the production is stopping any time soon.
Flux: Nope I've actually got about 11 new Flux tracks since the start of this tour.
TSS: Wow what…are those with any of the people you've been touring with?
Flux: Yeah none of the tracks are done but there's the Snails one that we've already spoken about on Twitter so everyone knows about that. Then I've been working a lot with Circus and all the boys there as well.
TSS: Yeah I was gonna ask next if there was any big moves coming with the label
Flux: Yeah quite a lot of stuff, like the 11 new Flux tracks that I'm gonna try and finish up by the end of the year and working on some other projects as well. So I've got about 18 songs that I've been working on since the album finished, which is quite a lot of music.
TSS: Yeah seeing as you just dropped a whole album!
Flux: Yeah and I've got loads more, I got another 10-15 voice memos of ideas and cuts I'm gonna work on when I go home as well. I've already got a collaboration with Yellow Claw which is coming out and I've done a remix for 'Faithless' which is coming out in January or February of next year, I've always got a couple of tracks coming out and then yeah I'll probably be putting out 20 tracks next year. That's my plan is just to put out all this music.
TSS: Jesus, you're a busy man.
Flux: Well the album was really freeing for me, it's kinda like I've done the dubstep thing as Flux and I was trying to experiment in electronic music and I feel like succeeding as well with the record. I just wanted to prove, not to myself but just kinda prove that Flux Pavilion is not just dance or dubstep it's more of an energy and more of a vibe than a sound and I think that was kinda what the album was all about, is kinda defining Flux as like 'it's a thing it's an actual artist rather than just in the dubstep scene.' But by doing that, by taking that step it's now given me the opportunity to write loads of dubstep. That's pretty much all I've been writing is 140 to 150 BPM dance floor dubstep.
TSS: I think the fans are really gonna love that
Flux: Yeah it's been a while but see it's not even like my old stuff, it's just mad. I really love the new sounds like Discord, NGHTMRE, Brillz, Snails, just completely outrageous like 'fuck everything we're just gonna do this because we think it's cool' kind of music.
TSS: Sounds like you're a pretty busy man, any crazy stories from the tour?
Flux: It was mainly just kind of hanging out, talking about music, writing music and it's been the most inspiring and productive tour I've ever done. I've written more music in this tour than I ever have on the road before. I'm not sure what spurred that on, my whole set completely changed because I've always had this mentality of 'always be prepared for someone to take your shoes' right? There's always someone that's ready to jump into your slot and if I'm the headliner of my tour, I can't have my support artists playing a better set. But what I try do I try to tell the supporting artists to play the best set they possibly can. Jon, 12th Planet, was like 'so what do you want me to take out?' Dude don't take anything out, play the hardest set you can and then if your set is harder than mine then I need to make mine better. So it was inspiring that way, I was constantly watching all the other artists, especially NGHTMRE, hearing all his new tunes I'm like 'shit, these are fucking great.' And that to me is the most inspiring thing, I need to get in the studio then and work. That's kinda been the vibe for the tour, is to not get complacent and not just think 'albums out I'm done.' No let's keep cranking on.
Be on the lookout for a plethora of new tunes from the man soon! I promise you there's something coming that you won't expect….
"Follow" Flux Pavilion: | Facebook | Twitter | Soundcloud |
Comments
comments