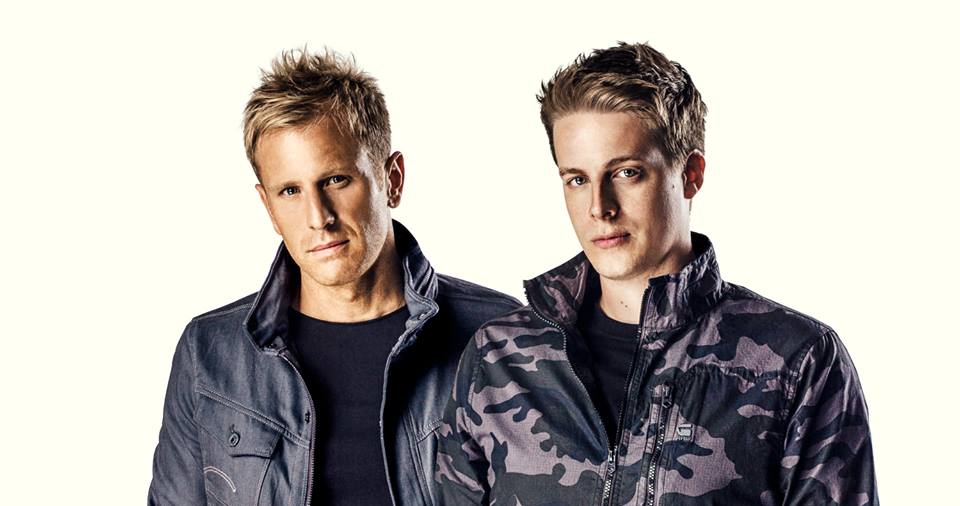 Halloween weekend was insane. For those of you who ended up at Freaky Deaky in Chicago then you know what I'm talking about. A little rain didn't stop the party. When Tritonal played their back to back set with Cash Cash it was like nothing I had ever witnessed. A cold crowd going insane for an hour. We had a few minutes to sit down with Tritonal after their energy filled set.
TSS: Being from Texas, what was it like starting out making Trance. Was the reception of that music what you'd expect?
Tritonal: We never expected Texas to be this massive Trance community. Dave and I made music we wanted to make and always felt like if the music was good enough, we would be flown to wherever the music was going to be massive. There were some Trance nights in Texas but they were not like they were in Europe, The UK, Australia etc… So we made records and sure enough we were flying all over the world. We always considered ourselves an international act at least in our own heads, and that's come to fruition.
TSS: How do you see Trance now mixed in with all of the other genres?
Tritonal: I feel like in the United States its pretty much null and void and I say that respectfully. I do not feel that typical Trance music, 140 bpm uplifting stuff, connects at all. I don't see the artists getting booked and getting tickets sold. It's like the kids don't care. The market has shifted hard on Trance in the U.S. We don't make it anymore, we haven't made it at all really in the past 3-4 years. So we left when the going was good.
TSS: You've clearly branched out from being Trance artists. What was the driving factor behind that?
Tritonal: Creativity honestly, you're going in and just beating yourself over the head with the same stuff. We had done every style and we were over it. We had five Beatport number one's which we're super thankful for and we learned what Trance is for us. Now we're moving on for us, because we wanted try new and different things.
TSS: Tritonal has grown immensly over a short period of time. What would you say is your biggest success thus far?
Tritonal: It's always about the music with us. We're producers within our heart of hearts first. Dave and I like to write music. If we could we'd do that 80 percent of the time and go play shows the other 20. But of course we have to play to keep the brand. We love to play but it's hard traveling. So our biggest success has been the records. Having Billboard top 5 records in the United States means way more then saying we got to play EDC Mainstage. What we worry about is if the music connects. Do the fans care about what we just spent two months of our lives making or not? When the records connect is by far the greatest success and the most satisfactory part of our career.
TSS: Right now you're on tour with Cash Cash, what's the driving factor on this tour?
Tritonal: It's the Untouchable tour. It originally started out with "Untouchable." When we worked with them we really felt like our sounds connected. So we just took it to the next level. Those guys are great. They have fun personalities and are awesome to work with. Maybe we'll see a collab in the future with them, I don't know. It's been a fun tour so far though, I can say that.
TSS: What were some of your favorite stops so far?
Tritonal: The Bomb Factory in Dallas. The Warfield in San Francisco was incredible. We sold it out. Everyone from The Grateful Dead to Alanis Morisette to Tool to Metallica have played there. I'm thinking Terminal 5 in New York will up there as well. Last night at Echostage was an incredible crowd. There was so much energy.
TSS: What's the most frustrating part about running a radio show?
Tritonal: I don't think the fans know but most DJ's pay services to have their shows mixed for them and they submit voice overs. For whatever reason we've continued to find all the songs and put together the show ourselves on our laptops each week. Since Air Up There 001 we've done 100 of those before Tritonia. So we're at like 209 right now. It's so much work. It takes at least 4-5 hours if you're going to make a really good episode just on finding the music. Then about two two hours to mix it, bounce it all down, and do the jingles. It's a good 7-8 hours of total work. Every Wednesday when we wake up it's what we do and it's hard. It's totally worth it but it's a lot of work.
TSS: How did the Tritonal project come about?
Tritonal: We always joke and say match makers. We met online working on a synthesizer called Virus TI that had just come out with the ability to open up in a Digital Audio Workstation(DAW) as a plugin and it was also a hardware unit. At the time it was either one or the other. They found a way to combine the two but there were tons of bugs. So we met troubleshooting the synthesizer working on sound designs and then became friends through that.
Comments
comments