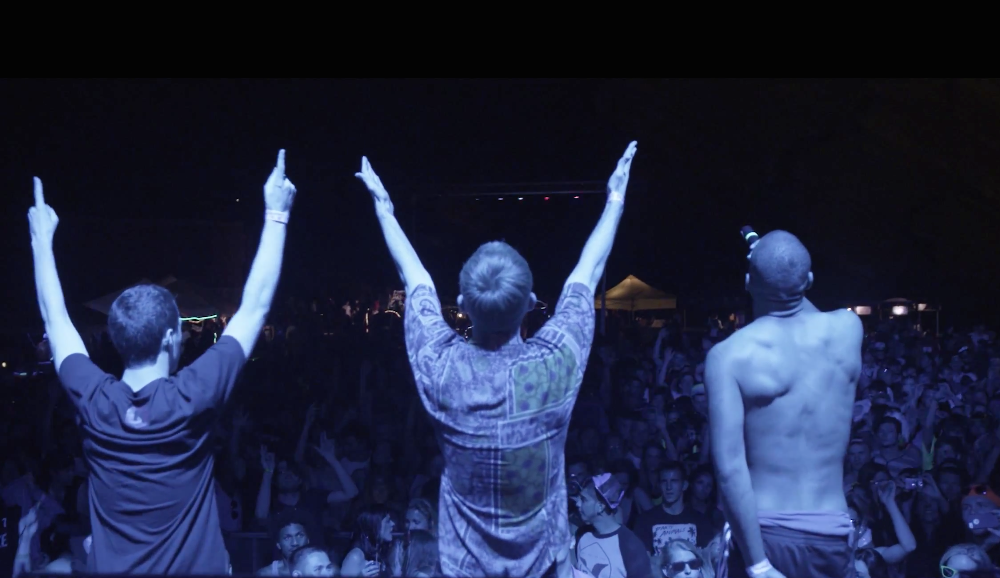 Show after show I'm constantly impressed by the performance this electro hip hop trio puts on. I've seen them multiple times this year and each time was a unique experience. K Theory incorporates so many different aspects into their live set that puts them in a group of their own. When the OG members of the group (Dustin Musser, Dylan Lewman) got up with vocalist Malcolm Anthony and realized that the homie had mad skills they went straight to work. They have been killing it for a good minute now; dropping flame reworks and even record breaking originals of their own, these dudes can for real do it all.

Check out their remix to "The Touch" by Kolaj that they just released. I love this because it's a super smooth track with uplifting lyrics but it also displays the range that these guys truly have.

Kolaj-The Touch (K Theory Remix)Download

After witnessing them crush their set at Nightmare Festival this Halloween I was blessed with an opportunity to link up and ask them a few questions.

TSS: First off I've personally always kind of wondered, where does the name K Theory even come from?
KT: Imagine the universe embodied as all the genres of music and then that collapses on itself and rebirths into electronic hip hop, there you have K Theory.


TSS: How did you three meet and when did it become clear that the chemistry was there?
KT: Dustin & Dylan met on Facebook in 2010, we hit it off in our first session. Then Dylan discovered Malcolm through a mutual producer friend from middle school in LA during January 2013. In our first true studio session, which ended up being 24 hours straight we finished 8 tracks and smoked two ounces of purple, it was instant chemistry.

TSS: I'm sure you guys all have different roots, who are some of the biggest influences on your style individually?
Dylan: Rolling Stones, The Killers, MGMT, Modest Mouse, Arcade Fire
Dustin: Infected Mushroom & Juno Reactor
Malcolm: Jay Z, Biggie, East Coast Hip Hop, Cook Out Music (now known as deep house)
TSS: That live performance is unlike anything I have ever witnessed and y'all always have the crowd lit, I'm just curious how y'all prepare before shows because everything comes off so flawless!
KT: We've done over 300 shows together now, Dylan doesn't even really tell Malcolm which track is next, its almost like a psychic "ESPN" connection. We also only play our own music, so its really familiar. We're lit, they're lit, it's lit.

TSS: Did you guys get to catch any other sets this weekend and how was your overall experience at Nightmare?
KT: Protohype, Keys n Krates, Herobust, Bear Grillz all threw down…the clowns were super scary just standing in random places staring at you and the show was super dope. We brought our artists out from our label, New Trinity Music Group and it was bumping. We are working with a really talented group of rappers from New Jersey (Mal J, They Cinco, Jerz & Terry Mak) and we've been bringing them out to every festival for NTMG takeovers.
TSS: What is next for you guys; is there an album coming soon, any collabs we should look out for or remixes in the works?
KT: #KRISTMAS 2015 – we are doing this again, dropping 25 tracks in 25 days like an advent calendar starting Dec 1. We are going on a tour in Spring 2016, we've been flirting with the idea of an album to define what we are doing with electronic hip hop and have several sick collabs with some underground trap producers (Wizard, Matstubs, Marshvll) and tons with our label artists like Lex Lu & Mal J. Dropping some big remixes during #KRISTMAS if we don't get shut down on SoundCloud haha…
There you have it, head over to their SoundCloud and get yourself familiar with the stylings of K Theory. Giving them a like/follow on Facebook & Twitter is probably a good idea as well; these guys are about to end 2015 with a bang, I can guarantee that!
Comments
comments