GTA's Goons Take America Tour invaded Washington D.C. for what turned out to be an awesome night. This tour is perfect for those of you who are fans of hip hop and electronic music alike. The dope mixture of genres that these four artists encompass ensured that there was never a dull moment. Echostage constantly attracts some of the biggest names from all genres and provides a sick venue for show goers to enjoy the music. It was just recently named the #2 venue in the United States and the #18 venue in the entire world; if you have ever been then you know exactly why!
The night started out with Atlanta rapper, Rich The Kid who performed hits like "WDYW" that feature Lil Uzi Vert & A$AP Ferg with Carnage handling the production. His set was hella hype because a lot of his tracks have up tempo, electronic type beats. Head over to his social media accounts and stay on the look out for his newest that should be dropping soon, Trap Talk.
Next up was the homie you always hear on the radio because he is constantly dropping catchy songs, K Camp. He put on a bomb show and delivered everything that I expected from him. He did all of his most popular songs such as "Cut Her Off" "Money Baby" "Lil Bit" & "Comfortable" which kept the crowd singing along the whole time he was on stage. He also (which should be no surprise) just released a new tape called You Welcome so definitely peep that.
After the two hip hop acts of the night wrapped it up, the duo out of California who bring a stupid high energy to their sets took the stage. Good Times Ahead or better known as GTA always throw down a super diverse mix of tunes in their sets as you would expect from a group that preaches "death to genres." They played plenty of their own stuff while also mixing in a good amount of other popular songs to keep the crowd moving. I haven't seen a club as turnt as Echostage was when they dropped "Prison Riot" or their new song "Saria's Turn Up." Other high points for me were the Ookay remix of "Hotline Bling," their track "Redlips" and a mix they did of "Where Are You Now" with "White Iverson" by Post Malone. Keep an eye out for Death To Genres: Volume 2!
Lastly, I really don't think I could have asked for a better way for the night to end. Sweater Beats came on around 2:30 in the morning with the attitude you would expect from a headliner. Lucky for him a lot of people came specifically to see him do his thing so there was still a good amount of people in the crowd. The more relaxed swagger he usually has on the decks was a good transition from the previous sound and was the perfect note to end off the show. Big ups to him as well for coming down after his set and interacting with everybody who stayed up with him, always good to see a dj who cares!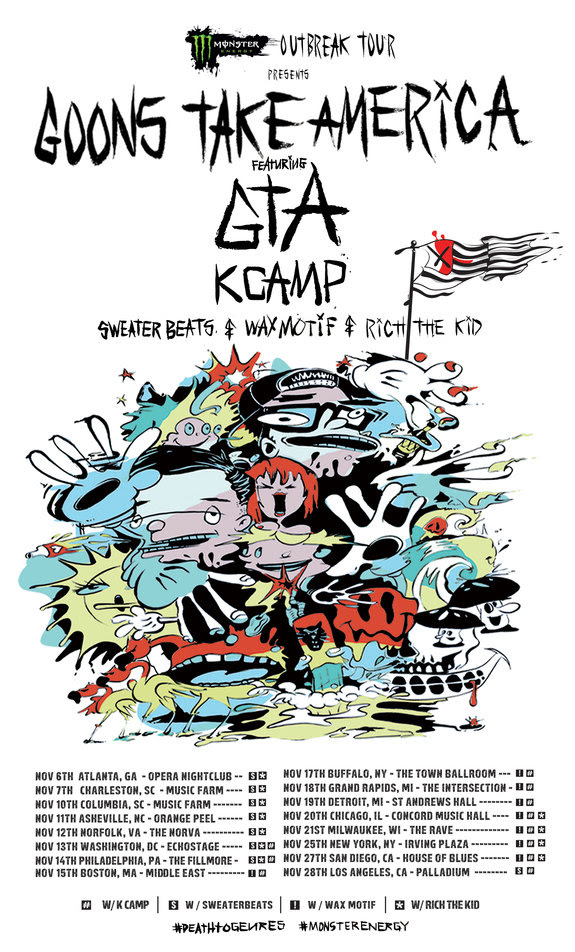 All in all I give this show a 10/10 and I would definitely recommend you checking it out in a city near you. Drop a like/follow on the socials of Echostage as well if you're around the DMV so you always know whats good at the best club on the beast coast!
Echostage Facebook/Twitter/Website
GTA Facebook/Twitter/Soundcloud
K Camp Facebook/Twitter/Soundcloud
Sweater Beats Facebook/Twitter/Soundcloud
Rich The Kid Facebook/Twitter/Soundcloud
Comments
comments