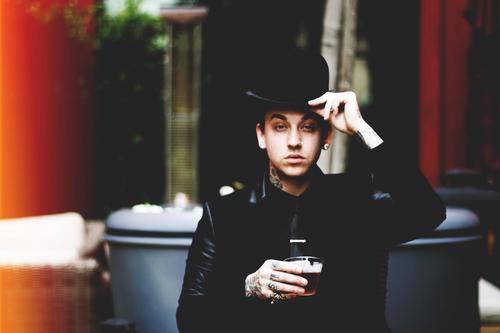 LA bred artist Blackbear has  garnered a ton of buzz over the past few years in the hip hop and R&B community virtue of his breakout projects like, "Sex: The Mixtape", "Dead Roses" and the acoustic cut of the record simply titled "Dead". He's gone from a behind the scenes songwriter to a feature artist who's turning heads by combing the production and vocals of dark R&B with a raw SoCal rock style.
He's been touring the country and building his name in markets across the country and getting a ton of quality remixes through the electronic music world from producers likes of SeventhWonder and Tarro. While also being featured on some great tracks like "Chemistry" with Skizzy Mars and "Champagne & Pools" with Hoodie Allen to keep him working in between projects. Today, he's starting on Hoodie Allen's nation wide tour and he's gonna be hitting the road with a ton of new material. He just dropped his latest album "Help" today and you can stream it right here courtesy of "Escaspe Tracks".
The 10 song LP is a reflective journey of the young singer struggling to come to terms with his new found success, furthering his own distinct sound, and experiencing the freedoms and excess his music career has given him. In 2015, we've seen a a number of albums and artists bridging the gap of trap influenced hip hop and dark, atmospheric R&B with guys like Ty Dolla Sign with "Free TC", The Weeknd's smash record "The Beauty Behind The Madness" and to a certain extent Justin Beiber's latest album "Purpose". They all tried to combine emotionally raw lyrics and vocal delivery over spacey, experimental trap style beats. While Blackbear fits the mold of this emerging lane he stands out as more organic, honest and heavily rock inspired  influence that not a lot of other singers can bring with the same authenticity he does.
Blackbear – Help (feat. Maejor) | Download |
The record has cuts that are introspective and revealing bangers like "Where was U?" that feature driving synth pop lines with snapping 808 drums, and the title song "Honest" feat Maejor that has a IDFC Bradly Nowell of Sublime style feel on the beat and vocal delivery. In these tracks he talks about his own personal struggles with fame and substance abuse with a confident vulnerability in his vocals that add atmosphere and dimension to each one of his songs.
Also featuring sultry jams like "Different Hos", "Verbatim" and "Slide Thru", along with songs of heartbreak like "Paragraphs". All showing different vocal ranges and flow patterns blurring the lines of genre description while going through the LP. There are subtle influences of auto tuned trap ballads that light up the underground but can also sound like throw backs to 80's and 90's rock. Making for a dynamic and different songs from what you hear out there nowadays. All together, making a cohesive and powerful project that should push Blackbear further and further into the mainstream consciousness.
Download the full album in the link to iTunes below, kick back and turn those speakers way up!
Blackbear – Help (Full Album) | Download |
"Follow" Blackbear: | Facebook | Twitter | Soundcloud |
Comments
comments