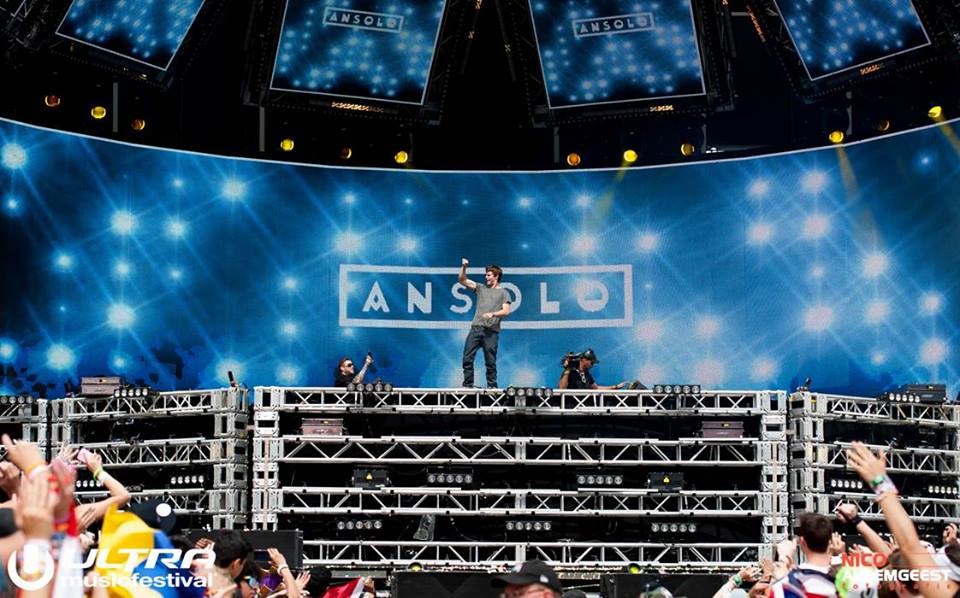 In 2015, we're seen a resurgence in progressive house and one of those producers leading the charge is Ansolo. His goal is to bring the groove back to dance music and so far he has been a man of his word releasing a number of remixes and original dance anthems such as 'Totem', 'The Right Stuff' and his most recent release 'To Life'. With a freshly signed deal with Island Records, Ansolo is just getting started, so be sure to keep a close eye on him as we enter 2016.
We had the opportunity to chat with the young groove maestro following his set at TomorrowWorld.
Ansolo ft. Too Many Zooz – To Life | Beatport |
TSS: How does it feel to be here at TomorrowWorld?
Ansolo: It's incredible, really, really dope! Being able to play the main stage is such an honor. I was on the stage last night for Steve Angello's set, so that calmed me down a bit. I got to witness it at its peak before getting my crack at it.
TSS: You've played a number of clubs and festivals around the world, how do you prepare for your set?
Ansolo: I actually watch Steve's (Angello) sets sometimes before my sets because he understands the vibe and the energy of any crowd he's working with. He just knows how to really connect with the crowd and it's not like an artificial thing. I like to do myself too, make eye contact and connect with as many people as I can. You know what I love? Looking into the crowd and there's someone in front that looks bored, my goal is to have that guy jumping around and having a great time. That's the challenge sometimes, but it's so rewarding when it happens. Your job is to create a good vibe for the crowd.
TSS: When did you make that transition from dance music fan to DJ/producer?
Ansolo: I've personally always LOVED festivals, they're so much fun. I can't really go into to crowds much anymore which sucks. I loved being in a crowd, meeting new people and having a blast together sharing that same love for music. What brought me to do this wasn't DJing, it was more about making the music itself. Last year, a couple of my tracks received some serious support then it came to a point where I wanted to start playing my music for everyone. It's all about the music for me. It's more then just "DJing", it's about putting on a show and taking people on a journey.
TSS: You've received support from Steve Angello since day one, how did that relationship come about?
Ansolo: Well I've been inspired by Tom Starr + Kryder since forever. Since day one, that's the style of music I've been in love with and that was the route I wanted to take when I started producing. So like every bedroom producer once I started producing sending tracks to everyone I could. I finished up a track called 'Unite' and sent it to Tom Staar and he got back to me immediately, he loved it! I'm from New York, you know and I've been going to Pacha forever and after I sent it over, I saw a video of him dropping 'Unite' at Pacha! I couldn't believe it, I was so hyped! Tom has supported me since day one and thanks to him, 'Totem' fell into the hands of Steve who dropped it Ultra and continued to play it for the remained of the year. He later signed it to Size and the rest is history.
TSS: What's your ultimate goal as a producer?
Ansolo: I want to continue to make my style of music and have the mainstream catch on, but in a cool way similar to the way Swedish House Mafia did things. It all has to be genuine. My goal is to continue make great records and eventually be able to play a set full of my own music with every track having the crowd on their toes.
TSS: What's next for Ansolo?
Ansolo: I just signed with Island Records, so I've been working on an EP with them and so far I have 3 tracks done. The vibe of the EP is going to be super disco and groovy, but still be able to work at a festival, it's all about finding that fine line.
"Follow" Ansolo: | Facebook | Twitter | SoundCloud |
Comments
comments