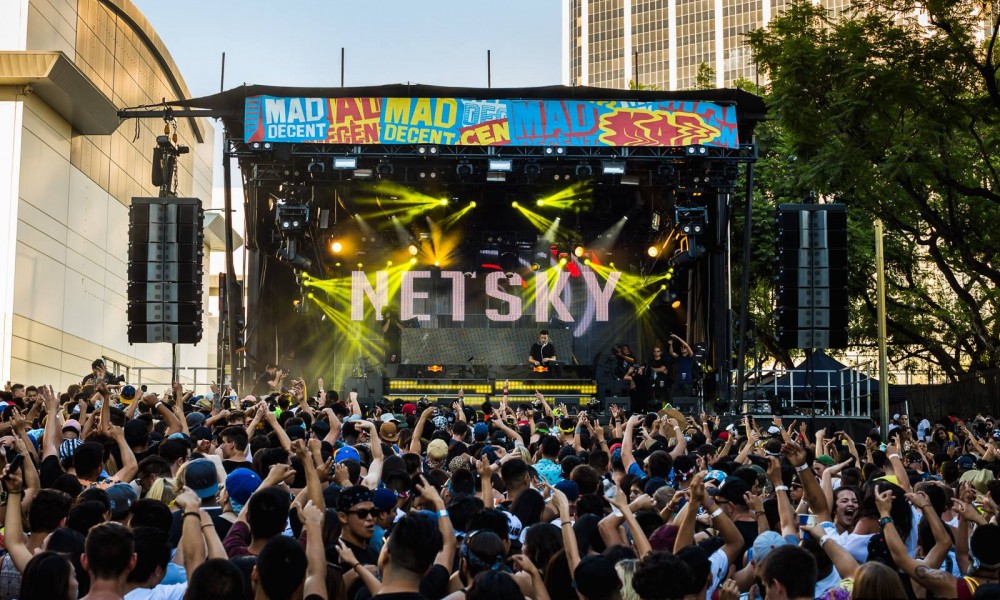 Well fam, summer has come to an end and with that, so have the epic Mad Decent Block Parties that blessed dozens of cities across the country these past few months. Undoubtably one of the most epic parties of the year, MDBP was back in full force this year and we were not let down. We were fortunate enough to cover some of the MDBP shows in various cities – check out our review of the events and make sure to keep up with Mad Decent Boat Party, we can only imagine that boat party will be a continuation of the block party madness…but like, on a boat, in the middle of the ocean, and stuff.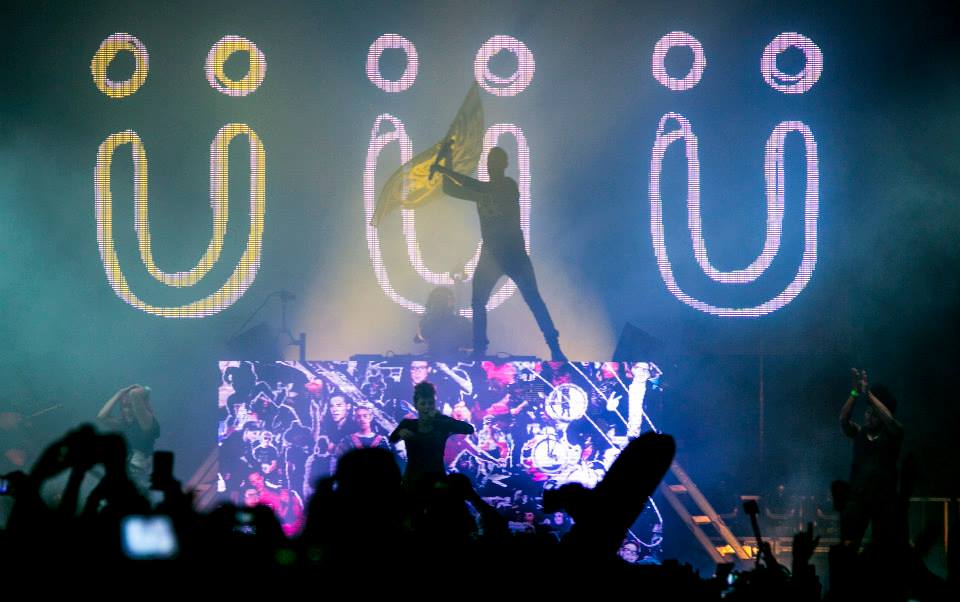 Atlanta – 7/31
When the Mad Decent Block Party 2015 Tour was announced, an immediate sense of excitement and anticipated debauchery began to rush through our veins. Realizing that the event would be making a stop in your city merely added more fire to the flame. Such was the case when it all kicked off in Atlanta, a city well recognized for participating in a corybantic soirée on a nightly occasion.
What makes each installment particular to the city is the set of artists that relate to each region's demographic. Major Lazer proudly takes the stage as the main headliner for each segment of this annual tale, yet Atlanta also had the privilege of hosting the likes of: Keys N Krates, Meaux Green, Shiba San, TWRK, Yellow Claw, and Zeds Dead. With each set immediately following the last, the entire day became a blur of original tracks, properly produced remixes, and improvised renditions of old classics.
Once Major Lazer finally took the stage, the anticipation refrained from killing us. A major (heh) portion of the attendees had evacuated the venue by this point, so it allowed plenty of room for those still remaining to dance and twerk alongside Diplo's stage performers. Wayne Coyne and Diplo are two of the few people that I've ever seen travel over fans in an inflatable ball, so it's always a treat to see him trek across his noble fans at any MDBP.
As promiscuity continues to be the norm at EDM related events (in specific regards to the attire), Atlanta was no stranger to acting the part. "Peace Is The Mission" might be Major Lazer's third studio album title, but it's also their mindset. Be free, be comfortable, and most importantly, be yourself.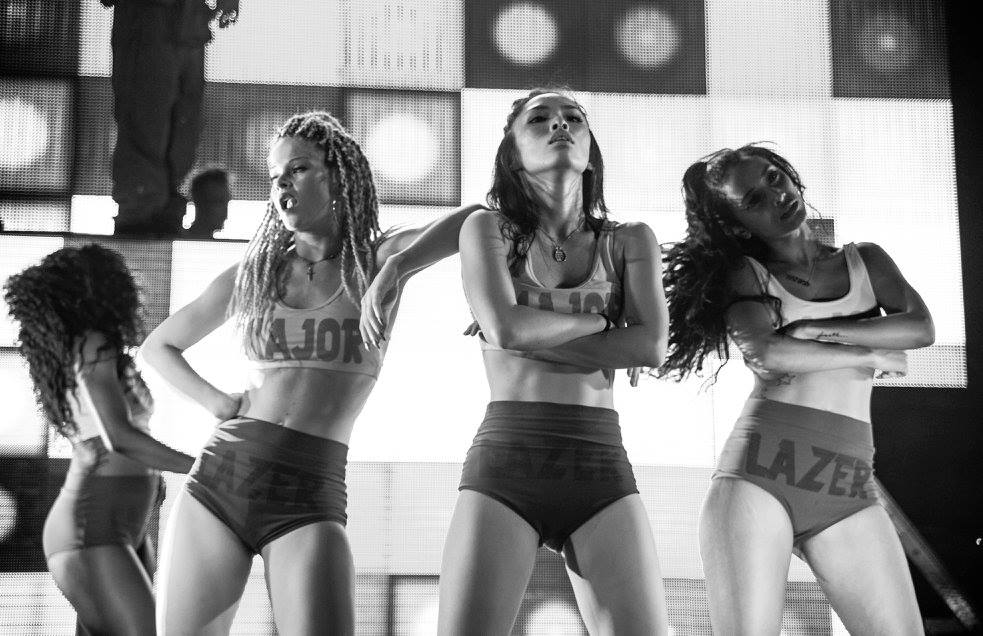 (Photo by Kyle Seago)
Brooklyn – 8/8
When you think of summer, one of the first things that comes to mind is block parties and there's only one block party we look forward to most….MAD DECENT. This year the party returned to MCU Park to redefine the term "Sunday Funday".
While these years edition featured two stops in Brooklyn, Sunday had quite a diverse lineup and would be headlined by the hype machine that is Jack Ü. This sunny afternoon was filled with a bevy of different sounds and plenty of good vibes. When was the last time you saw What So Not, CL, Tyler The Creator, Grandtheft, Knife Party among others together on the same afternoon? Exactly, NEVER. The crowd was hyped from start to finish and Jack Ü was the icing on the cake. Sunday's simply haven't been the same since.
Dallas – 8/22
Each year the block party comes to good 'ole (hot) Texas. Smack dab in the heart of downtown Dallas, tucked beneath industrial overpasses, one of the top day-events in music takes place. Each year that this happens, Dallas always holds it down with the best overall lineup.
This year's lineup boasted acts like Skrillex & friends such as Gent & Jawns, Party Favor, Jauz, TJR, ILoveMakkonen, Bro Safari, and Borgore. First up was Gent & Jawns who played a really dope set that got the crowd moving' & excited to be finally be a part of the madnes. Next to take the stage was Mad Decent's young prodigy, Party Favor. He really played a showcase set filled with majority of the tunes all from Mad Decent. Once Jauz came on, he really got the place jumping. Everyone was super stoked to see him. Although by this time it was about the peak in the day for temperature, but the crowd managed to keep it high energy, somehow someway, the shark gang definitely pulled showed up. I hadn't seen Borgore in forever so seeing him throw down a set with new and current jams was definitely a good time. His set was full of energy…almost as much as that Skrillex guy, but not really.
The anticipation for the main act, Skrillex, was at an all-time high for MDBP Dallas. Last year, we had the pleasure of Diplo joining Skrillex for the first Jack U performance in Texas. But due to scheduling with Electric Zoo, their set was early in the day that year. So this year, with Skrillex coming back to show us how it's done as the headliner was nothing short of amazing. Once he opened up with his "Red Lips" remix, the Dallas abduction began and did not slow down. Dallas has got mad love for everything Mad Decent – so thank you.
Berkeley – 9/11
As the Mad Decent Block Party finally made its way over to the Bay Area, music lovers hiked their way up to the Greek Theatre over in Berkeley, California. Intrigued by the choice of venue, I was excited to see how an electronic lineup would do in this particular setting. However, I was pleasantly surprised and even slapped myself on the wrist for ever doubting Mad Decent in the first place. Packed from front to back, looking around the bowl-shaped venue was quite the spectacular feeling.
Starting off the night was none other than Slaptop, getting the crowd pumped up for the epic night that awaited them. Next up was the surprise guest Giraffage. Attendees, including myself, went wild when he was revealed as the special guest the day of the event. Being a Bay Area native and UC Berkeley alumni, Giraffage fans went absolutely insane to his melodic set. Next up was Thomas Jack, switching it up with his tropical house flair. Throwing down some of his best including "Rivers" and his remix of "Little Talks" left the whole crowd groovin'.
Slowly as the sun started to set, What So Not stepped onto the decks and really got the party started as the entire bowl sang along to "Stay High." Prepping for the next act, What So Not dropped "Tell Me," his collab with the next super surprise guest, RL Grime. Fans were shocked to find out the day of the event that RL Grime was replacing Travis Scott. As a tip of the hat to Mr. Scott, RL Grime even played a few of his songs including the oh so popular "Antidote."
Next on the line up was Korean pop-star gone hip hop diva, CL. Although the Korean bomb shell was a big time star back in her homeland, CL has only recently blown up in the United States after her song "Doctor Pepper" featuring Diplo, RiFF RAFF, and OG Maco hit the web. She may seem sweet and innocent on the outside, but CL definitely knew how to get down as well get the crowd pumped.
Finally, closing out the night was none other than Major Lazer. Their first time on Bay Area soil since 2011, the crowd went absolutely dumb and hyphy track after track. The entire set felt like a huge party as the Major Lazer boys came down and danced along with us. Head king pin Diplo even got in a life size hamster ball and rolled out onto the crowd. Epic barely even began to cover it. They played classic tracks such as "Watch Out For This" and even some of their new tunes including "Powerful" and "Be Together." The dancers and visuals really added to the set, making it one hell of a performance.
Of course it wouldn't be the Bay Area stop without pulling out some Bay Area classics, but what the audience wasn't expecting was special guest Sage The Gemini. Hyphy as always, the entire crowd got rowdy and ratchet, screaming at the top of their lungs the lyrics of "Gas Pedal." And of course, closing out the evening was "Lean On," with the whole crowd holding onto every single second of beauty that passed them.
All in all, I would have to say my first Mad Decent Block Party experience was a wild success. Diplo and the rest of the Mad Decent gang definitely know how to throw a party. Until next year Mad Decent!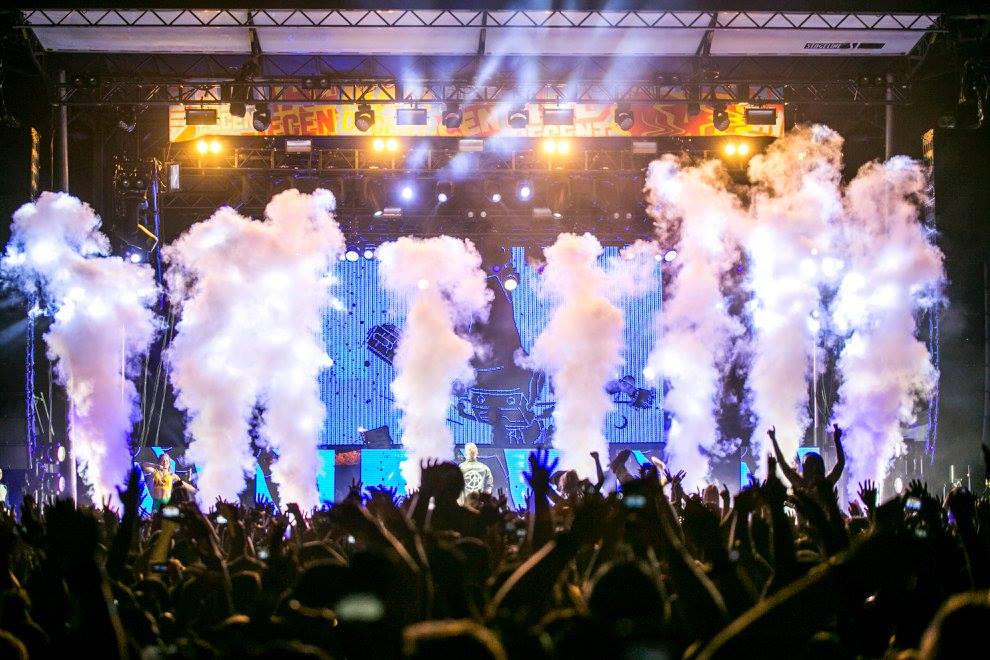 (Photo by Kyle Seago)
Los Angeles – 9/19 & 9/20
With an all star lineup of Paul Devro, RiFF RaFF, Jauz, Netsky, TJR, Major Lazer, Wax Motif, Cashmere Cat, Thomas Jack, Cut Copy, Diplo AND MORE how could the LA MDBP not be an incredible time? The two-day event was at LA Center Studios in DTLA, and unlike the other MDBPs I had been to (Boston and Philly), it truly felt like a block party as it was set in the middle of tall office buildings with a makeshift stage setup.
LA was the second to last stop on the cross-country MDBP tour, so the block party team were pros by then in terms of guest list, security, on-site staffing and amenities for guests. Though it was nearly 100 degrees both days, there was a giant MDBP branded fire hydrant that sprayed water, alongside a free water refill station to keep guests cool and hydrated.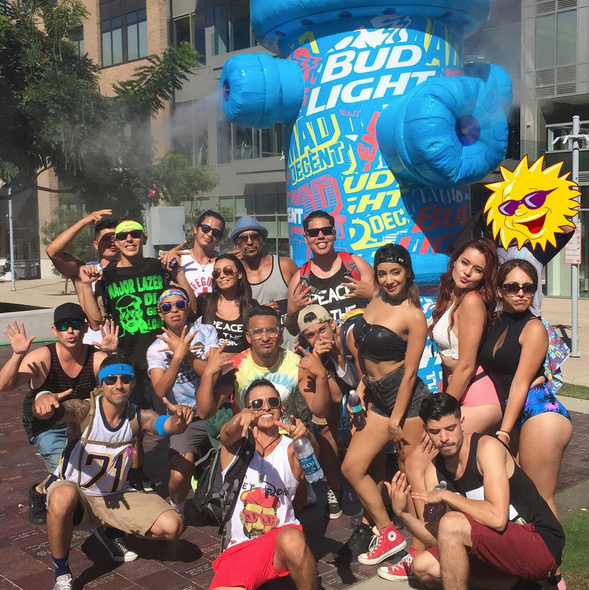 (Photo by @daygoboii)
Now to the music – with a solid roster of Mad Decent faves there was no way the LA MDBP wouldn't be a crazy time. The top sets from day 1 were hands down Jauz, Netsky and Major Lazer. Day 2 was stacked start to finish with incredible sets from Wax Motif, Cashy Cat and Diplo. Lucky for y'all, ICYMI, some of the LA sets have surfaced on Soundcloud – peep em below and see what you missed or relive the epicness.
And that wraps up our review of the 2015 MDBPs – see y'all next year as we suspect that the block parties will be back for another epic year.
Comments
comments