It's that time of year again; Halloween weekend is forever packed with awesome events and I always face a super struggle when trying to decide which one to attend. When it comes to the east coast though one festival catches my eye every year, Nightmare Festival! The people at Badass Raves put on some of the most homey parties I have ever been to. The sister to
Dreamscape Festival
has seen a major evolution, growing from a one day show into a two day camping festy in just four short years.
There are many reasons why this festival is one of the most talked about Halloween events on the east coast. Lets start with the venue; Camp Ramblewood has been the home to Nightmare for the past 2 years and for good reason. This venue has an awesome setup that boasts two talent packed stages (LASERS!) and comfy cabins for those willing to pay a bit more. While venturing around the grounds you may stumble into the Night Circus, a hand crafted haunted exhibit that will definitely keep you looking over your shoulder. In need of a place to chill out away from all the commotion? Not to worry The Zendo Lounge is the perfect spot for doing just that. Come kick back in this cozy area and space out to the ambient, psychedelic music that will be playing all night. One thing that always blows my mind are the seminars and theme camps at the festivals here, everyone coming together to put on dope stuff for all patrons to enjoy really sets the vibe for the whole festy.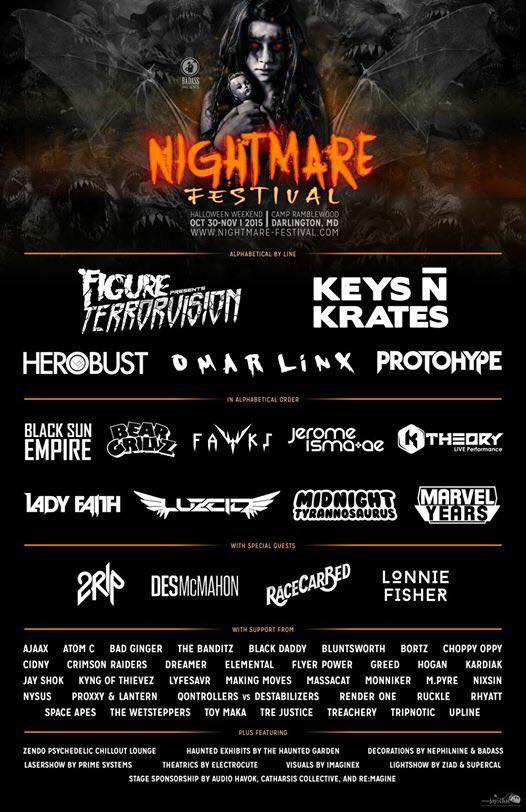 On top of a killer venue you get a lineup that is straight piff as the cherry on top. In my opinion this bill has been getting progressively better as the years go on and this year is not an exception. You get an interesting mix of genres here that should keep the large majority of attendees satisfied. Figure on Halloween with Terrorvision is gonna be a spectacle you won't want to miss. Keys n Krates always puts on a good show and I'm guessing this time will be no different. Omar Linx, the rapper out of Canada is backed by a brick of huge EDM producers and has a fresh flow that you have to witness to fully appreciate. I could go on but I'm sure you get the point, this lineup features a lot of big name and even local artists who always deliver.
But wait, it gets better….. you and a friend have the opportunity to experience all that is Nightmare Festival for free! Not only are we presenting you with the chance to win two tickets but as an added bonus we have also arranged for you and your friend to meet n greet with the homies K Theory. These dudes have been crushing everything lately and this live performance they put on is extra wavy. Don't miss out on this crucial opportunity, enter now and make sure all of your friends do the same.
Nightmare Festival Ticket Giveaway + K Theory Meet & Greet

Still not convinced? Scope that recap video from last year to help you better understand the level at which this festival will be turnt to. For those of you who can't put your full faith in the festival gods and don't like your odds of winning the giveaway, tickets can be acquired here. Head over to the socials of Badass Raves and give them a like/follow to make sure you stay informed.
Badass Raves Facebook/Twitter/Instagram
K Theory Facebook/Twitter/Soundcloud
Comments
comments