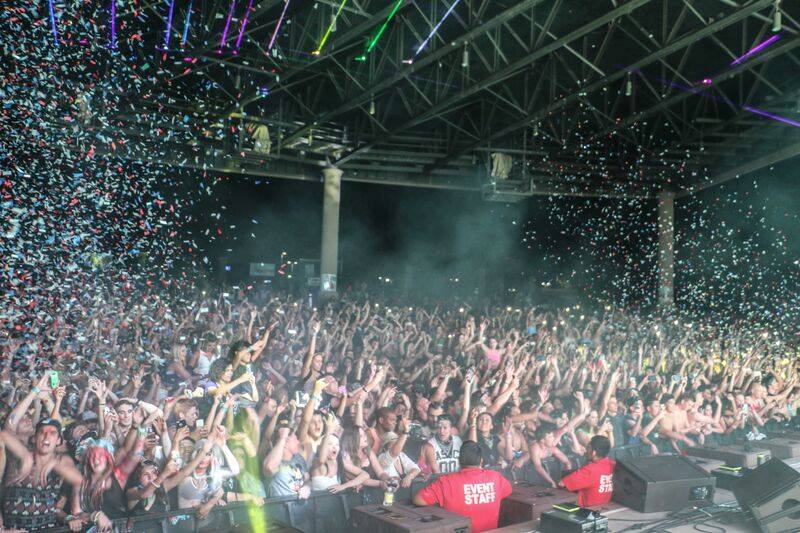 Well it's official; N9NEFEST came, saw and definitely conquered Tucson last Friday, October 2nd. As usual, this show was well worth the price of admission as there were 5 different DJs and enough epic music to last us a lifetime.
The doors opened at 6, which is when BIJOU, the first act of the night, went on. He played an hour and a half set and got the people amped for the rest of the night. N9NEFEST is Arizona's largest college music festival, so between that and the fact that I'm Shmacked was hosting the festival, there was no doubt in any students' mind that this would be a night that no one would ever forget.
As BIJOU finished up his set, at 7:30, Reid Stefan took the stage and his set was truly amazing. He opened with his hit song "Yezzur" and he played some remixes of classics such as "Ignition" by R. Kelly and "Sweet Dreams" by Eurythmics. Reid Stefan was killing it, and with every song more and more people were filing into the area. He incorporated smoke and his visuals were really trippy, it looked like what you would see if you looked inside of a kaleidoscope.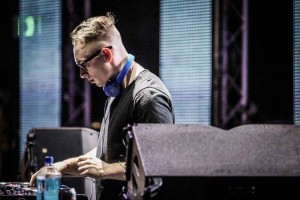 At 8:30 p.m. the sun was fully set and Carnage took the stage. I've never had the privilege of seeing Carnage before this festival, but I can honestly say that I was blown away. The lights went dim, a voice recording started to play and as he entered the stage all it said was, "The man, the myth, the legend, the Chipotle eating animal, Carnage." What an entrance, and from there it only got better. On top of Carnage's normal heavy bass, he incorporated old songs that everyone knows like Lil Jon's song "Get Low" and the famous song "Somewhere Over The Rainbow." He also dropped a remix of fellow EDM legend Flux Pavilion's song "I Can't Stop" that had the audience out of their seats and screaming along. As he ended his set, everyone was screaming wanting more.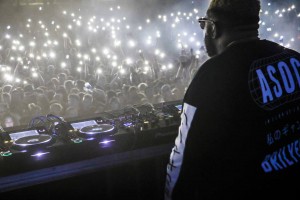 Then it happened, the moment everyone was waiting for: It was 9:45 p.m. and Steve Aoki took the stage. While all of the acts before were great, Steve Aoki was what the people were waiting for, the selling point for most college students when it came to this amazing festival. His set began and the crowd was screaming, dancing and singing along to any and every song. AVA Amphitheater was now packed and people were pushing up next to one another, in hopes to get closer to the stage where their beloved DJ was playing. Keeping up with the apparent theme of the night, Steve Aoki worked some old, very well known, songs into his set and he had the graphics to match it. He dropped a live mix of "The Circle of Life" from the Lion King and as the song played the visuals from the movie appeared, and the crowd screamed as they saw Simba getting raised into the air. On top of that, he live mixed Celine Dion's famous song, "My Heart Will Go On," as clips from Titanic were played in the background. Steve Aoki had the audience eating out of his hand with this; they were his for the taking. After he'd captured their hearts with these classics, he played some of his fan favorites such as "Turbulence" and "No Beef." He also played "Rage The Night Away" and "Back To Earth," both songs off of his new album, "Neon Future Odyssey," which coincidentally came out the same day as the show.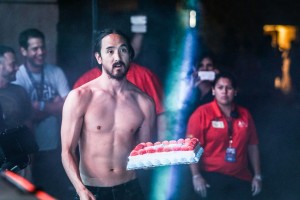 Beyond the music and the lights though, Steve Aoki came to perform. He was interacting with the crowd all night, keeping them engaged and looking for reactions from each and every one of his fans there. He also made sure to come with lots of cake, and as soon as he brought them out, every student was trying to be the lucky girl or boy to get infamously "caked" by Steve Aoki. After throwing a few into the crowd he decided to pick three lucky girls out of the first few rows and after lining them up, he ran full speed into them with the cake, easily making their nights. After witnessing his set, it became very clear to me that Steve Aoki is much more than an amazing DJ, he's an amazing performer. He ended his set around 11:15 by shooting out confetti and playing one of his most known songs, "Pursuit of Happiness" and when he left the stage the crowd was on their feet, in disbelief about just how amazing Steve Aoki was.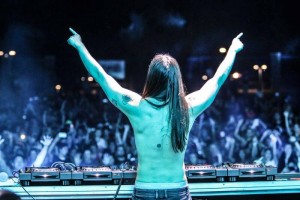 It's 11:15, the crowd's feeling hot and no one wants to go home. As, N9NEFEST frequent, George Garcia and I'm Shmacked took the stage everyone was going insane. The crowd was chanting "U of A" and "I'm Shmacked" and you could feel the enthusiasm in the air. The awesome track selection kept coming as songs like "How Deep Is Your Love" and "Enemies" got played and the crowd was trying to make the most out of the last 45 minutes of the night. As midnight approached though, the festival came to a close and everyone started piling out of the arena, with smiles on their faces, knowing that N9NEFEST was everything they wanted and more. It was a night to remember and N9NEFEST definitely brought the heat. Now the only thought left in everyone's minds is: "How many more days until the next N9NEFEST?"
Event credits to: N9NEFEST, I'm Shmacked, Relentless Beats and JDM Media Group.
Comments
comments