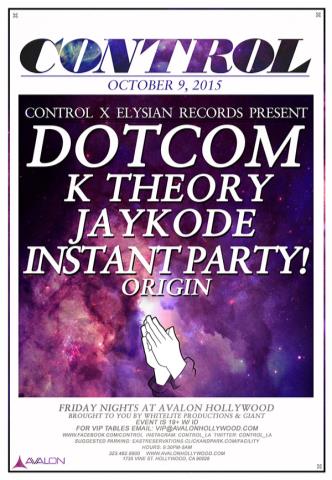 If you're a regular reader of This Song Slaps, you know that Avalon Hollywood is our place to be on Fridays in Los Angeles. Every week CONTROL Fridays continues to bring out some of the most talented artists and undiscovered acts that you didn't even know you love yet. This week with the help of Elysian Records, CONTROL is getting a tasty trap makeover. Taking over the decks for one glorious night are Dotcom, K Theory, JayKode, Instant Party!, and Origin.
If you're 21+ and want to get on our discount list for $10.00 off before 11:00pm email full names to jessika_grenner@yahoo.com. If you're under 21 still join us for the turn up and buy your tickets here
Dotcom-Click(Original Mix) | Download |
.
"Follow" CONTROL: | Facebook | Twitter | Soundcloud |
Comments
comments