The sounds of techno were forged in the shadows of Detroit's factories. The rise of modernity with its emphasis on efficiency and an uninterrupted stream of production birthed a rhythmic and industrial sound. Detroit, frequently cited as the birthplace of techno, was an amalgam of sound, an intersection whose cultural climate precipitated a movement. The movement utilized the technology and sounds of modernism to construct a unique, postmodern sound that repurposed materials found in bargain bins and trash piles. Much like the materials discarded in the name of efficiency and progress, the individuals responsible for the movement found an outlet for expression of their identity in the construction of sonic landscapes.
Octave One, a Detroit-techno duo, siblings Lenny and Lawrence Burden, and pioneers of the second wave of the techno movement, are known for their gargantuan set-up. Octave One privilege the use of hardware over software utilizing every inch of stage space to house their gear. Following in the expatriate footsteps of techno pioneers, Octave One have found a home in the dark clubs of Europe, rarely coming stateside. An opportunity to see Octave One is not to be missed.
On Friday, October 30, Octave One, accompanied by the equally dynamic Frankie Bones and Army of Techno, will be usurping the stage at Spin Nightclub in San Diego. It is one of two remaining shows stateside before the brothers Burden return to Europe.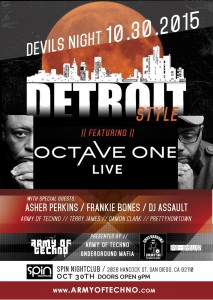 The event starts at 10:30 and tickets are currently on sale for $15. They can be purchased here. Tickets are $25 at the door.
Comments
comments