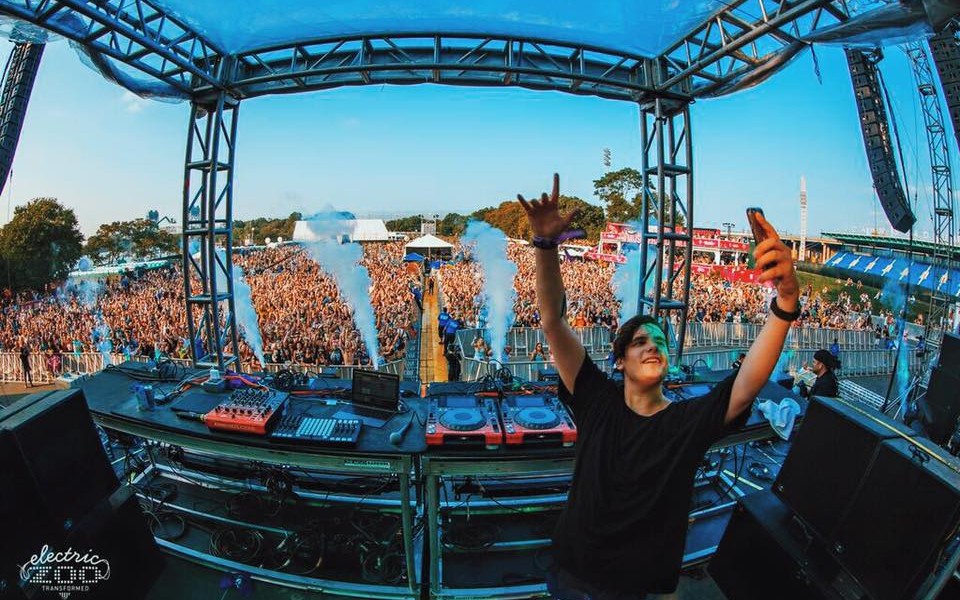 Audien fans rejoice, his highly anticipated Daydream EP has arrived! The super talented, progressive mastermind shows listeners his versatile as a producer with this 4 track EP. While this EP shows us his production roots, it shows fans he's not afraid to step outside of the box and experiment. Nate Rathbun can simply do it all, and he refuses to be stuck into one category.
Last Friday, we caught up with Audien at Electric Zoo to talk his latest work and everything in between!
Audien – Daydreams EP | iTunes |
TSS: How does it feel to be back in NYC for another Electric Zoo?
Audien: Amazing! This is the iconic New York City festival and just being here is just amazing. The vibe here is unmatchable; I really love it here at Electric Zoo.
TSS: Would you consider NYC somewhat of a home coming since you're from Connecticut?
Audien: Definitely, I moved to LA since then, but it's always going to be my home. My whole team is here and my whole family lives in Connecticut, so I always have that feeling that I'm at home. I love it here, it's always fun.
TSS: Zoo Aquarium yesterday, Ezoo today and Pacha not to long ago, which do you prefer the intimate club sets or fest?
Audien: I like either or you know. Intimate is fun because it's so chill. You get to drink and have fun with people in such a smaller setting. Festivals are like me showcasing my sound and my ideas to a massive crowd. They're booth good in their own way. I always like to bring the same type of energy no matter where I am.
TSS: Speaking of Pacha, you were the first to come to town after the passing of Rob Fernandez, how was that experience?
Audien: First of all, it was a huge honor to do that. Second of all, we're all going to miss Rob because he was such a good person and a huge driving force for NYC nightlife. He booked me for one of my first shows when I opened for the opener so many years ago. I owe him a lot of my career to him; he was very important person in my career and a lot of people's careers in this industry. He'll always be remembered. I really like love the "House of Rob" concept they have, I hope that continues for years to come.
TSS: You recently gave fans a taste of your Daydreams EP with "Rooms" and "Something Better", how did the Lady Antebellum collab come about and what was it like working them? We're talking about a country group that has won multiple Grammy's here!
Audien: I grew up with they're music, so I had this random idea of working with them and they were just as thrilled as I was. To work with them really is a dream come true for me. I honestly didn't expect it to work out as nicely as it's doing, it's doing amazing! It's my big record, people are talking about it and loving it and that is why I make music, so people can enjoy it.
TSS: "Rooms" many consider a tribute to your original fans, would you say that's true?
Audien: "Rooms" is letting people know that I'm not done making that style of music. I have lots of different styles and I like to bounce around, there are too many cool sounds to just stay in one box. That's what this EP showcases, my versatility.
TSS: "Pharaohs" and "Monaco" are the other two tracks of the EP, can you tell us a little bit about those tracks?
Audien: "Pharaohs" is an interesting one, a slower tempo track, more of a listening song with some energy. It's really important song to me because it shows I'm into all different types of music. Plus, it was a blast to make. "Monaco" is in the realm of "Circles" and "Leaving You" with the combination of melodic, emotional, vocal and powerful, that's what "Moraco" is for me.
TSS: Lastly in the spirit of Ezoo, what would you say is your spirit animal and why?
Audien: My spirit animal would have to be a fish. I grew up on the ocean in Mystic, Connecticut so fishing is a huge part of my family, so I have to give shout out all the fish out there.
"Follow" Audien: | Facebook | Twitter | Soundcloud |
Comments
comments