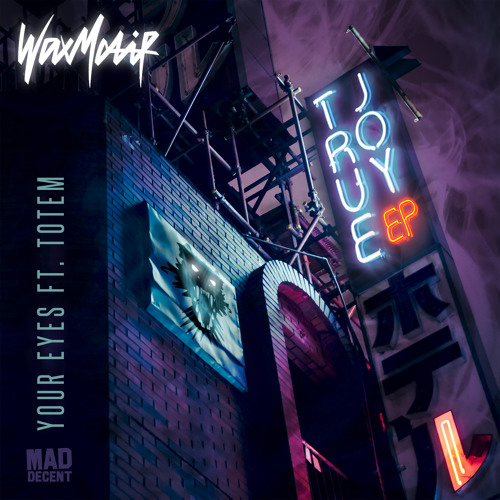 Wax Motif is one of those artists that has been killing it for quite some time while still not getting all of the audience recognition he deserves. Having helped spearhead the G House movement by coproducing most (if not all) of Destructo's ground breaking West Coast EP, we know Waxy has a sound that appeals to a vast audience. Waxy has gained support from the likes of industry heavyweights Tommy Trash, GTA, A-Trak, Oliver Heldens, Jauz, and Diplo as well, and has become one of the most highly regarded tastemakers in the industry. Waxy further exemplifies his production diversity with his latest EP, True Joy, which transcends the genres of G house, R&B, trap and more.
Krush Groove kicks off the EP with a groovy driving bass line and sharp saw synths that give the track a suspenseful sound throughout. The second track, Your Eyes, slows things down and hybridizes trap and R&B. Crisp snare rolls and horns compliment the beautiful message within the lyrics of vocalist Totem. Love Money, the third track on the EP is a perfect combination of Wax's groovy house beats with the infectious sound that has been dominating 2015 hip-hop charts, supplied here by Elvis Brown. Love Money reminds me a lot of the unique sounds that Waxy helped Destructo curate on the West Coast EP, especially when it comes to the breakdown and the half-time tempo. Finally we come to Fly, which may just be my favorite track on the whole EP. The track begins with transient synths and vocal stabs that remind of 90's pop music, and then builds into a big time drop with gory synths a well-placed vocal samples. You can tell that Waxy and AC Slater have been spending some time together, because the drop definitely has some Brooklyn bass influence in it.
Overall, this is a phenomenal EP that has a little something for everyone. True Joy only further cements my belief that Wax Motif is going to be one of the EDM heavyweights moving forward, and I can't wait to hear what he has in store for us in the future. Grab True Joy, which is out now on Mad Decent, at the link below and turn up your weekend!
Wax Motif – True Joy EP | Purchase |
"Follow" Wax Motif: | Facebook | Twitter | Soundcloud |
Comments
comments