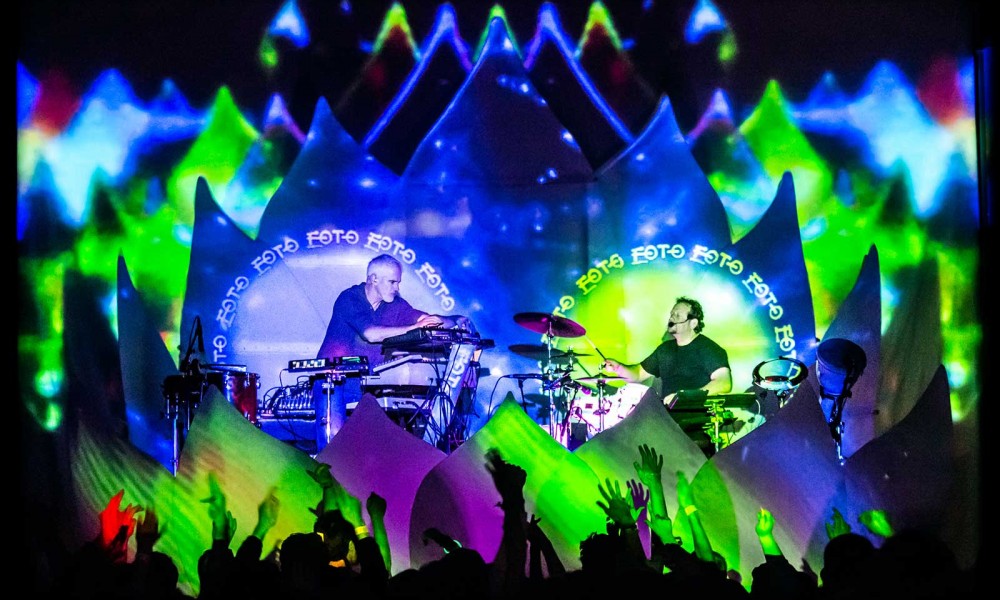 When EOTO's team contacts your team to inform you that they're a fan of your site, you feel an immediate sense of appreciation. When they personally ask you to conduct an interview with them at Moonrise Music Festival, you abide quicker than The Dude! Interviewing individuals as talented as Jason and and Michael aren't daily occurrences, so TSS immediately jumped at the opportunity before they even gave us a time and place to meet. We discussed: the origins of EOTO, their versatility in performing under multiple genres, their upcoming performance with the legendary Mickey Hart and other topics. I hope you enjoy reading it as much as we enjoyed conducting it!
TSS: End Of Time Observatory – How did that name come about?
Jason Hann – "We had been thinking of tons of names that weren't clicking and had the name Xaos on a flyer for our first show. Then Travis came up with End Of Time Observatory and that seemed to resonate with both of us. Eventually we put it all on publicity as EOTO to shorten it and because we had Japanese fans that said "eoto" means "good sound" in Japanese."
TSS: EOTO is identified as an electronic group, yet you guys are able to play such a variety of music festivals due to your involvement with The String Cheese Incident. What is it like to play for such different demographics?

JH – "That's the best part. We've turned jam kids on to electronic music and we've turned electronic kids on to improvised live music. We really have our own unique crowd and find that the people that are really into what we're doing are also adventurous, musically, and open to check out other styles of music."
TSS: What is your mindset going into each set? Knowing that each performance is unique due to the fact that they're all live, does that allow you more freedom with your style?
JH – "We have an idea of what styles of music we might cover in any particular show, and have a certain confidence that whatever we're gonna do is going to be different night after night. After almost 1000 shows under our belt, we just know that doing anything different has a butterfly effect that will make the whole soundscape different."
TSS: So many of today's popular acts have all been influenced by the Grateful Dead in some way. How are you guys preparing to perform with Mickey Hart at Lockn' Festival next month? Also, how did that opportunity become a reality?
JH – "It's really great that we get to do that show with Mickey Hart. He's also been influenced by the bass scene and recently merged it with his knowledge of ancient earth rhythms in those final Grateful Dead shows. We're going to fly out to his studio at the end of this week and merge our musical spaceships to really present something unique when we join forces at Lockn' fest."
TSS: What was your thought process behind creating this project? Had you and Michael ever met prior to 2006?
JH – "We first met around 1996 at High Sierra Music Fest. He was already with String Cheese and I had my own band, Zoo People at that fest. We met there and he invited me to play some hand percussion with him and another percussionist at the SCI bus. We kept in touch a little over those years and in 2004, he contacted me about sitting in with SCI with the possibility that they might be looking to add another band member. I lived in LA and I would fly to Colorado for band rehearsals and stay at Travis' house. He had lots of instruments that he played, so we would just jam and make up stuff from 10pm-5am every night – not really thinking about putting a project together. We did that for a year and made things more fun for us by him adding a looping pedal so he could play multiple instruments. Then I suggested using Ableton, as I had been using it since its 2.0 version back in early 2000s. This also meant getting MIDI controllers to interact with the computer remotely. Since then it's been a game of how much we can add to our performance before the computer overloads. It's always been about using the computer as another instrument, rather than using it to play backing tracks."
TSS: Both of you have been very fortunate in joining countless acts on stage individually and as special guests throughout the years. Is there somebody that either of you or both of you would like to perform/collaborate with?

JH – "We're going to have one of those people, Jake Cinninger (guitarist for Umphrey's McGee) join us as a guest for some midwest shows in November. We're really fortunate to have had lots of guests and their presence makes us change up our style and makes them change up their style to. It lends itself for a truly unique experience."
"Follow" EOTO: | Facebook | Twitter | Soundcloud |
Comments
comments