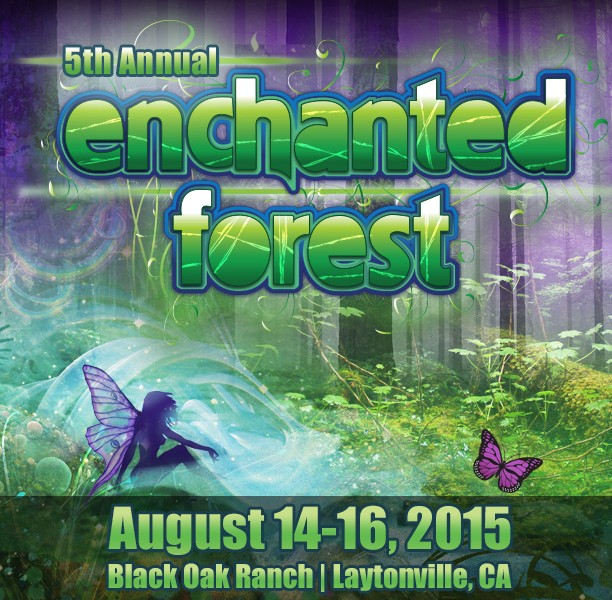 Transformational festivals are currently experiencing a huge surge in popularity. Festival goers flock to these alternative festivals in the hopes of having an experience that is enriching and rewarding interpersonally, spiritually, musically, etc. Festivals like Burning Man and Lightning in a Bottle, respectively, have grown to national prominence because of their ethos and the manners in which their festivals are executed. Burning Man, more aptly referred to as an immersive art experience, prefers to encourage their theme camps to privatize their "lineups" in the hopes that attendees focus more on the present moment and their intuition rather than a predetermined lineup that often leaves one rummaging through crowds and rushing from stage to stage.
These festivals pride themselves on delivering an experience that is enriching in a way that the mundanity of the everyday is not. And rightfully so. These festivals are not so much about temporarily suspending reality but rather, recognizing the beauty and compassion that already exists around us.
One festival aiming to do just that is Enchanted Forest. The festival, which is celebrating its fifth iteration this year in 2015, takes place in the forests outside of San Francisco. Nestled amongst the trees on the majestic and historic Black Oak Ranch in Laytonville, California, Enchanted Forest is a festival that annually constructs an environment that immerses its attendants in interactive art, music, community, and workshops whilst concurrently encouraging self-expression, love, and cultural and personal transformation.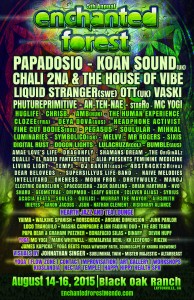 This year's event features an extended lineup of performers, musical and otherwise. Megan Prusynski, Enchanted Forest's production assistant, said of the lineup, "We're digging deeper and widening our circle and opening our minds a little bit." This year's lineup features artists ranging from Papadosio, the live jam band with mesmerizing experience that unrelentingly engulf the senses, KOAN Sound, an act renowned for the musical prowess in the realm of glitch-hop, Liquid Stranger, Vaski, Phutureprimitive, and more.
However, Enchanted Forest is much more than a music festival. It is, rather than a music festival, a conscious festival that aims to expand the consciousness of all attendants. To do so, Enchanted Forest integrates elements of yoga, meditation, and dance to its community. For example, they feature "Dance Facilitators" who will be providing workshops, demonstrations, and performances on styles ranging from contact improv to jazz. Perhaps most impressively, all of this occurs in an environment that is alcohol-free.
Most importantly, it is a celebration of all things love and life.
Enchanted Forest will be taking place August 14-16. Tickets are still available here.
"Follow" Enchanted Forest: | Facebook | Soundcloud |
Comments
comments