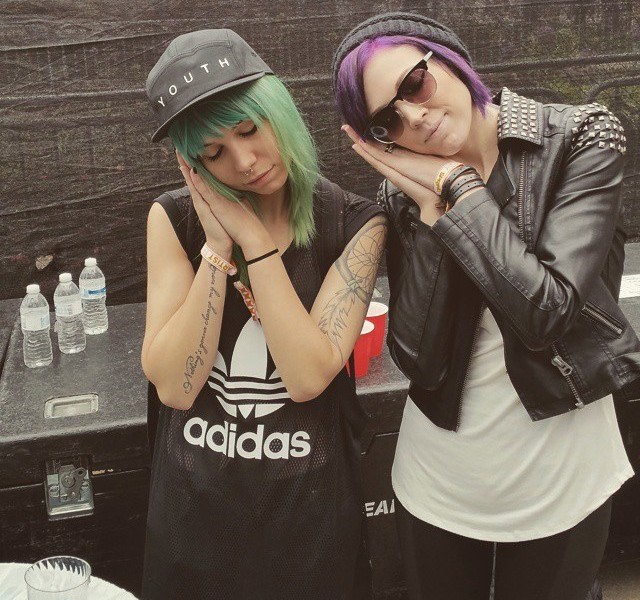 Before the new release of her track "Show Me Your Kitties" I had a chance to sit down with Dani Deahl. Having been involved in so many aspects of the industry today including her very own Ted Talk and planningan entire tour start to finish, this was one of the most insightful conversations I've had in a long time.
Along with this interview comes the release of her single which dropped yesterday off of Play Me Records, "Show Me Your Kitties." As she gives some insight on how the track was made in the interview, there was plenty left out for you to check out for yourself. Originally from Brooklyn but now residing in North Carolina, "Show Me Your Kitties" features a young and talented MC by the name of Rohan The Great who adds on a great vocal addition to the already bumpin' track. "Show Me Your Kitties" displays great variety in combining rap and trap so that one doesn't overshadow the other and still highlights the great qualities from both Dani Deal and Rohan Da Great.
How did you get into the music scene?
I kind of fell into it by being a nerd and not being cool. That drove me to seek out something outside of school and my circle which is how i discovered raves and fell into electronic  music. Its a funny full circle because I was a total nerd and picked on in High school but if i wasnt picked on I probably wouldn't be a DJ now. The first rave I went to ran into the girl that was my bully in grade school. The first party I went to I ran into the girl that was my dedicated bully from 3rd all the way to 8th grade. She was dressed like a fairy having a great time, came up to me and was like "Oh my god Dani what are you doing here?" It was completely surreal but really it was a representation of how everything didn't matter in that space.
Did having that "nerdy" background lead you into production and making music?
I always say that production is a blending of both worlds. It's artistic but it's also scientific. I definitely have the art background, I have a creative writing background and I was always the art kid in school. But I also really liked math and I liked problem solving especially if I'm working on a song and I can't figure something out. I'll stay up another five hours to figure it out because I get the satisfaction of just figuring that one thing out.
What's it like being in the electronic music industry being one of the few women DJ/Producers in a group that is mostly men?
To be honest that's how it has always been so I don't even pay attention to it. Like I said in my Ted talk, I didn't really realize that being a female in the industry was a thing or differential until journalists started bringing it up to me. I grew up in a time where that's just how it was. So I built my way like that. I didn't realize that it was different until other people started bringing it up to me. So everyone has always treated me the same with the exception of a few instances where that's not the case. There's more and more women getting into the game and I hope to see the trend continue. Gary Richards talked about having an all female festival and people say there needs to be more women represented on lineups. But the reality is there are right now less women participating so you can't expect it to be 50/50 when the participation is not 50/50. But slowly we're seeing more women participate and get in the game.
You mentioned a Ted Talk, how did that opportunity come about?
From Redmoon in Chicago. I played an event there last fall and really struck a chord with them. So when the ted talks were coming to Chicago they had the founder of Redmoon do a talk and then Redmoon reached out to me and asked if I also wanted to be one of the presenters. I jumped at the chance. The whole panel was around "Design your life" so I had "design the soundtrack to your life." But I sort of took a lot of liberties with that because I knew what I wanted to present. I got asked to do it literally 10 days before the talk. So I had to write and memorize the entire thing in that time. I would just walk around the house with my note cards just practicing paragraphs out loud. Maybe I would do it again, It was probably one of the most stressful things I've done in my life. I wanted to do it because I felt like it was important to talk about it because nobody had talked about it before in that format and because it was it was also a personal milestone for me.
So you're going on a bus tour?
Yeah it's like an old school rock band band tour driving in a little bus across the country. It's just me and we'll have regional support as well. It's happening in the fall in the entire eastern half of the U.S. and Canada. It's driving for two months straight. It's weird because whenever I talk about what I do as an artist I feel like the music is part of that but it's bigger then that. So i view the tour as me being able to go on the road and play but it also represents something`bigger then that which is you don't have to be signed to a big agency or have the big name in management. You can do it yourself. I don't have formal agency or management and we did this on our own. Between 30-40 stops booked all ourselves. The amount of work we've put in is outstanding. There have been a lot of sleepless nights. It has taken a lot out of me but the reward will absolutely be worth it. I think it's important to let people know that they can be empowered on their own as an artist. Will power, time invested and making connections is how you do it. You get 100 "No's" but it's the one yes that matters.
So when artists go on tour it's usually to showcase some new work that has been done, is there anything involved with this specific tour?
There is a tie in. There is a release coming out on one of my favorite U.S. based labels, Play Me Records. Since the tour is called Show Me Your Kitties the track is going to be released on International Cat Day which is August 8th and also happens to be "Caturday." The song lead is a sample of a cat meow. It's also called "Show Me Your Kitties."
So I've seen you as well as a few others repping #napgirls. Can talk a little bit about that?
Nap Girls is a creative collaborative collective of women promoting gender equality in the dance music industry. So whenever you see #napgirls or someone doing the pose it's basically recognition that they support that movement.
Dani Deahl – SMYK ft. Rohan Da Great| Download |
"Follow" Dani Deahl: | Facebook | Twitter | Soundcloud |
"Follow" Rohan Da Great: | Facebook | Twitter | Soundcloud |
Comments
comments