With Imagine Festival just a little over a week away we wanted to highlight what we believe will be the most interesting performances of the weekend. This lineup has so many awesome acts and we're stoked off this bill as a whole but some names stand out more than others to us.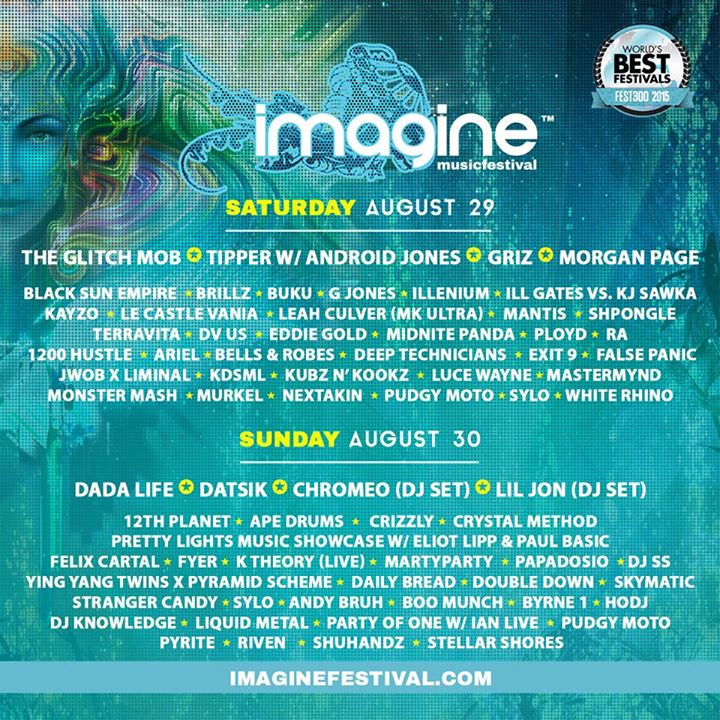 1- Griz
Seems like Griz has been at basically every festival this summer (lol) but seriously Memorial Day weekend he played 7 sets and was at 5 different festivals in 4 days. You can't even act like thats not straight insane, I have mad respect for the time and dedication he puts into this. I've personally had the pleasure of seeing him once already this summer and obviously he crushed it. This will be one of the more exhilarating sets of the weekend, a refreshing break from all the womps and 808s. We all know homie gets down on the sax so bring your dancing shoes because it's going to get extra funky.

2- Lil' Jon (DJ Set)
The king of Atlanta himself is going to take the stage and spin a DJ set in his hometown? Yep, I'm in there. Not sure exactly what to expect with this one but I know this dude is mad talented and has been doing this for longer than most people know. Big ups to him for being one of the pioneers bridging the gap between EDM and hip-hop. Sure we've all heard "Shots" or "Turn Down For What" but I'm thinking this is going to be a display of so much more than that. Lil' Jon has been spinning vinyl for some 20 odd years now and we all know the man likes to have a good time so come prepared for a party.
3- K Theory (Live Performance)
This trio out of the Bay Area is doing major things and is also one of the main contributors to the electronic hip-hop movement. Vocalist Malcolm Anthony has a unique flow; since linking with the original two members who handle sampling, live conducting and keys in 2013 the collective has been on their grind. From crucial remixes of your favorite rap songs to their own original tracks, these guys are the package deal and their live show is like no other!

4- Datsik
It's pretty simple, the Firepower Records CEO always comes proper and you know that when you buckle in for one of his sets its gonna be a grimy ride. The dub step producer out of Canada lets off an exuberant aura that is sure to have everybody there to witness this demonstration of what filth sounds like going dumb.

5- Tipper w/ Android Jones
These two together are something that I have never witnessed in person but from what I've heard and seen in videos it's a wild experience. Tipper by himself is already a treat, then you throw in one of the toughest visual artists in the game right now and this becomes some next level shit. If you're a fan of bass music matched with super trippy/mind boggling optic stimulation then I highly recommend you catch this. Tipper has been doing his thing all summer so as festival season is slowly coming to an end, you can expect him to put on a spectacle and go out with a bang.
6- Ying Yang Twins & Pyramid Scheme
To me this is one of the more intriguing acts of the weekend; when I first saw it I was a little confused, then I got excited and now I'm confused again. At first glance one might think these two duos have nothing in common but if you did your homework you would know that these groups both came out of the A. If you're a 90's baby I can almost guarantee you can name at least three classics by the Ying Yang Twins ("Wait" [Whisper Song], "Salt Shaker", "Say I Yi Yi", "Whistle While You Twerk" and I could go on but you get the gist). Having Pyramid Scheme on the decks while they perform some of these hits should be a site to see. Their first official project together is set to be released via Mad Decent just days before the festy kicks off so I'm sure we will be blessed with a live performance. If I had to guess I would say the energy level will be stupid high and they will have lots of support, one thing is for certain this will be one of the most lit displays of the weekend.
If you haven't already copped your tickets, then you're slacking and you should probably get on it right this instant plus they're still hella cheap. Below you will find a map of the venue; save it, screenshot it, study it or do whatever you need to do because nobody likes getting lost at a festival! Check out their website/social media pages to make sure you're in the loop and don't miss any important information.
#ATLHOE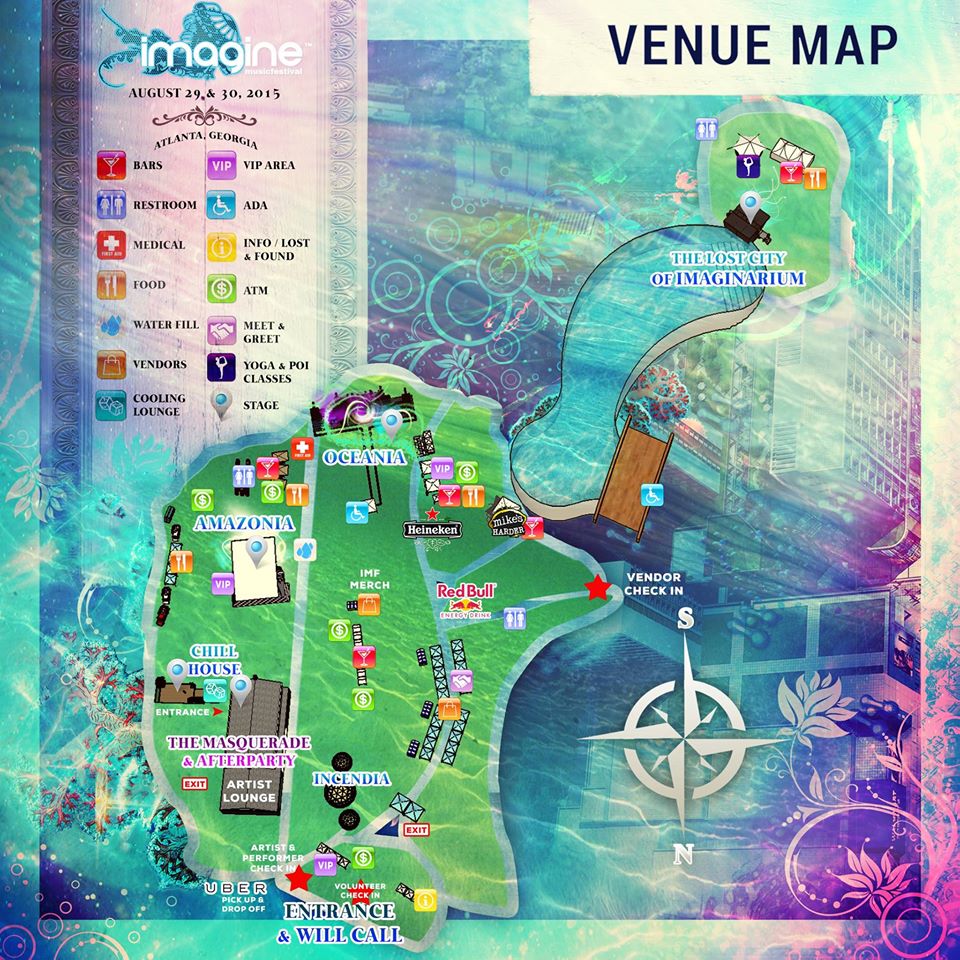 Imagine Festival Facebook/Twitter/Website
Comments
comments