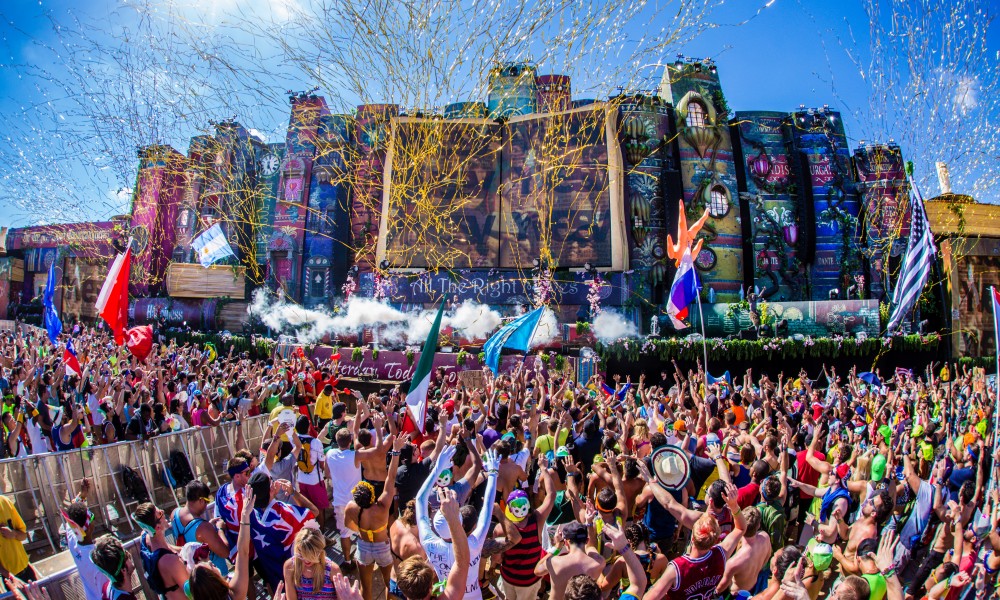 We have now been fully enveloped in the month of July, meaning that festival season is at its peak. As we near the fall months, festivals are occurring all over the globe with the bittersweet end occurring sometime around the end of September. At this time, there is no other festival to attend then TomorrowWorld.
About to launch its third edition, TomorrowWorld has already blown our expectations out of the water with their headliners this year – not with just Phase I but Phase II also. Having Hardwell, Martin Garrix, Adventure Club, Jamie Jones, Armin van Buuren, Bassnectar, Kaskade, The Magician, Thomas Jack, and more all under one roof, this year's festival is already shaping up to be their best yet, but there is still more to come believe it or not. With only a short time before its start and the rest of its lineup still to be announced, we decided to come up with our top 10 predictions for the undercard acts – below the headliners on the poster – to have some fun before the festival announces its entire lineup. Let's begin:
1. Tchami
The Parisian future house maestro needs no introduction and has become one of the hottest acts to exponentially rise over the past year. Having played back in 2014, we would hope Tchami would return to Georgia for another round of wobbling basslines and groundshaking house cuts at the festival's first ever Future House stage.
2. Dannic
The Dutch House Mafia consists of Dyro, Dannic, and of course Hardwell, and TomorrowWorld has already unveiled its 2015 stage curators to include a Revealed Recordings stage. It would be mind-boggling if Hardwell's mentee and collaborator Dannic did not see a spot on his home label's stage.
3. Pomo
The Toronto-based producer known as Pomo has been on a tear with his warped, innovative brand of house music, and is without a doubt on the rise to be a hot act to watch over the next year. Being a regular at Huh What & Where and the label hosting their own stage, we'll put our money that this young star will have a time slot on the imprint's selections.
4. Claptone
The masked, German virtuoso is a once-in-a-generation type of artist. He has no boundaries when it comes to producing, but every single song he creates turns straight to gold. Coming hot off his Ultra Music Festival appearance and a highly-buzzed about Essential Mix, we hope to see him at the TomorrowWorld L!VE stage alongside Porter Robinson.
5. Ummet Ozcan
After blazing across radio-waves last summer with his big room remix of Tiesto's "Wasted," Ummet Ozcan has risen to be amongst electro house's elite. His infectious stage presence and adept selection ability have made him a spectacle at every show he plays. Ozcan is up there for Main Stage slots at TomorrowWorld 2015.
6. Mija
Last year, TomorrowWorld hosted a mix contest where a Phoenix-native DJ by the name of Mija clearly emerged as the winner with her groovy house sets that have capitvated thousands. Since her big break and co-sign by Skrillex, she has played a barrage of festivals after her TomorrowWorld appearance like Mysteryland, Coachella, Bonnaroo, and more. She might as well just add a second TomorrowWorld to her exploding resume.
7. Bakermat
With 70s-inspired clothing, round glasses, and a cigarette in mouth, Bakermat is the Dutch mind that has an old-school, rustic appeal that truly shines in his music. Thomas Jack was announced to be hosting his own tropical house stage at this year's festival so Bakermat is far from a longshot to be playing at this year's festival.
8. Galantis
Style of Eye and Bloodshy, aka Galantis, just released their debut LP "Pharmacy" that has been long-awaited. Evolving into dance-pop legends, the duo have endured a meteoric rise for their live sets and dynamic demeanor behind the decks. The duo have already played Coachella and Ultra so TomorrowWorld may be next on their list of festivals to rock.
9. Wave Racer
Future Classic is one of the most exciting stage curators to be back in March as it is always a treat to see the Australian label's game-changing artists. Although Flume is bold prediction (even though we pray to God he does), Wave Racer is due for some more US appearances and his future bass/jersey club fusion is something that would make the People of Tomorrow go ballistic.
10. Audien
The Grammy-nominated, Lady Antebellum-collaborator, Audien, is a progressive-trance prodigy that has achieved some hope achieve in their lifetime and he's only 23. Already confirmed for Full On with Ferry Corsten at this year's Tomorrowland, we'd place a hefty bet he'll follow-up by heading to TomorrowWorld two months after.
Once again, these are only predictions and some good ole fun before TomorrowWorld descends on the Georgian Hills in September, but we put some of our reasoning there to give you a sense of where we picked these undercard artists from. To secure you attendance, head over to the TomorrowWorld website to snag tickets. 
Comments
comments