Splash House recently released their phase 2 lineup for the August 8th & 9th dates. If you haven't been to Splash House before you are in for a treat as they are expanding beyond the Saguaro Hotel and Hacienda Beach Club to include the Palm Springs Hilton. On top of the added location they are bringing some serious tastemakers. Check the poster below for the complete lineup.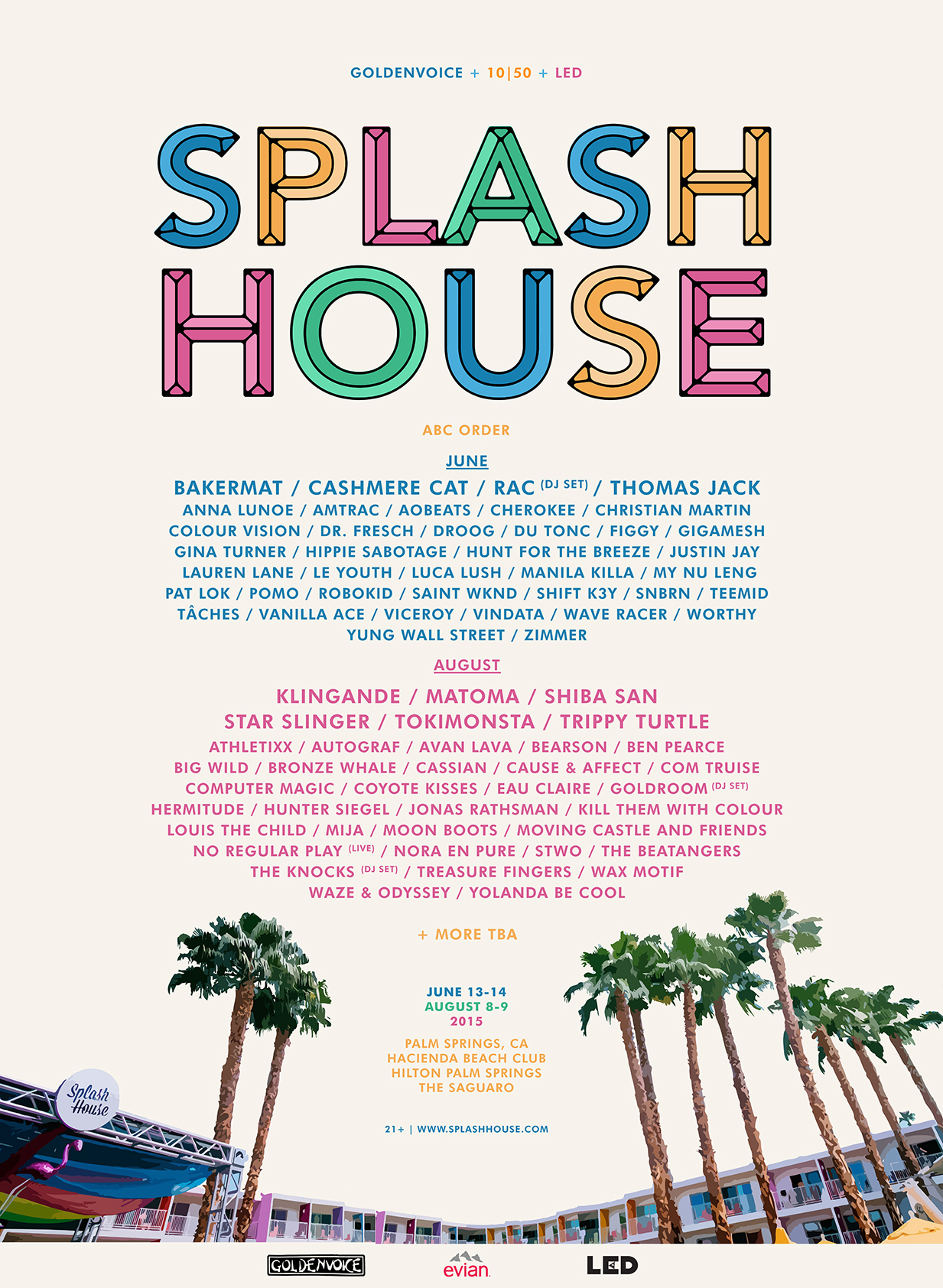 After selling-out the June edition the team over at Splash House has stacked the line-up even further for its August installment. Warm weather, cool breeze, bikinis under palm trees. Tickets start at $115 and they are moving quick. Remember June did sell out and this one will to. Do not pass up this opportunity to snag your tickets today.
Purchase your tickets here.
June's Splash House saw the likes of Thomas Jack, Bakermat, Cashmere Cat, Justin Jay, Vanilla Ace, TACHES, Shift K3Y, SNBRN and more take over the decks poolside, while open-air afterhours under the spotlights of landing planes recalled Ibiza's DC10, especially with current White Isle fave Eagles & Butterflies soundtracking proceedings.
My personal must see acts are Jai Wolf, Matoma, Autograf, Bearson, Mark Johns, and Hotel Garuda. Splash House's singular vibe has made it a treasured date in the Southern California calendar. Whether dancing bare-foot in the grass to Classixx or catching Eats Everything spin from a hotel room balcony in year one, watching festival headliners like Chromeo and Cut Copy tear up a pool party in year two, or perhaps witnessing one of the dozens of impromptu shuttle bus dance parties that have become synonymous with the event, Splash House has the feel of a clandestine summer-camp, with all of the magic that accompanies those endless summers of yesteryear.
For more information, visit www.splashhouse.com or find us on Facebook, Twitter, and Instagram.
Comments
comments