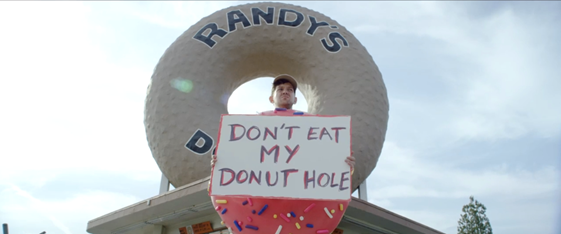 IMO, Dillon Francis' sense of humor is one of the best in the EDM game. In addition to killing it as an extraordinarily versatile DJ and producer, part of Dillon's image is his over the top, hilarious and down right weird sense of humor. He is king of jokes on Snapchat, Vine (#tbt), Twitter, Instagram…you name it. Even his merch store has some jokes snuck in between the "EAT SLEEP RAVE DAD?" shirts…for example the $8,000 price tag on "Dillon Francis Will Sing a Cover and Make a Video of Katy Perry "Firework" Dressed As A Pirate." I know what I'm asking for for my birthday now…but anyways…
The latest installment in the Dillon Francis comedy series is his music video, or short film rather, for his moombahton hit "I Can't Take It." Today, Dillon released "Exit Through the Donut Hole," a fifteen minute video that takes us through the life of Donut Francis. In the video, Donut Francis created the donuts rights organization: DICC (Donuts In Crisis Control), in addition to falling in love with a taco girl, fighting broccoli and running from the cops. Watch the video in its entirety to see what the #DonutAwarenessWeek & #DonuteGate hype is all about. You won't regret it.
In line with the unveiling of the short film comes the release of "I Can't Take It (Party Favor Remix)" from Dillon's upcoming This Mixtape is Fire EP. Fans who pre-order the EP will receive "I Can't Take It (Party Favor Remix)" as an instant download in addition to previously released song "Bruk Bruk (I Need Your Lovin)
"Follow" Dillon Francis: | Facebook | Twitter | Soundcloud |
For more information on Donuts in Crisis Control, please visit http://www.donutfrancis.com/.
Comments
comments