It's almost time to watch the moonrise over Pimlico once again. Three short weeks separate us from one of the best festivals on the East Coast, and this year's lineup is something to behold. There are so many stellar acts on the billing that it makes set planning a beast of a task. Here are 7 acts that we guarantee you will regret until next year if you miss them this year. Day by day lineups are listed below: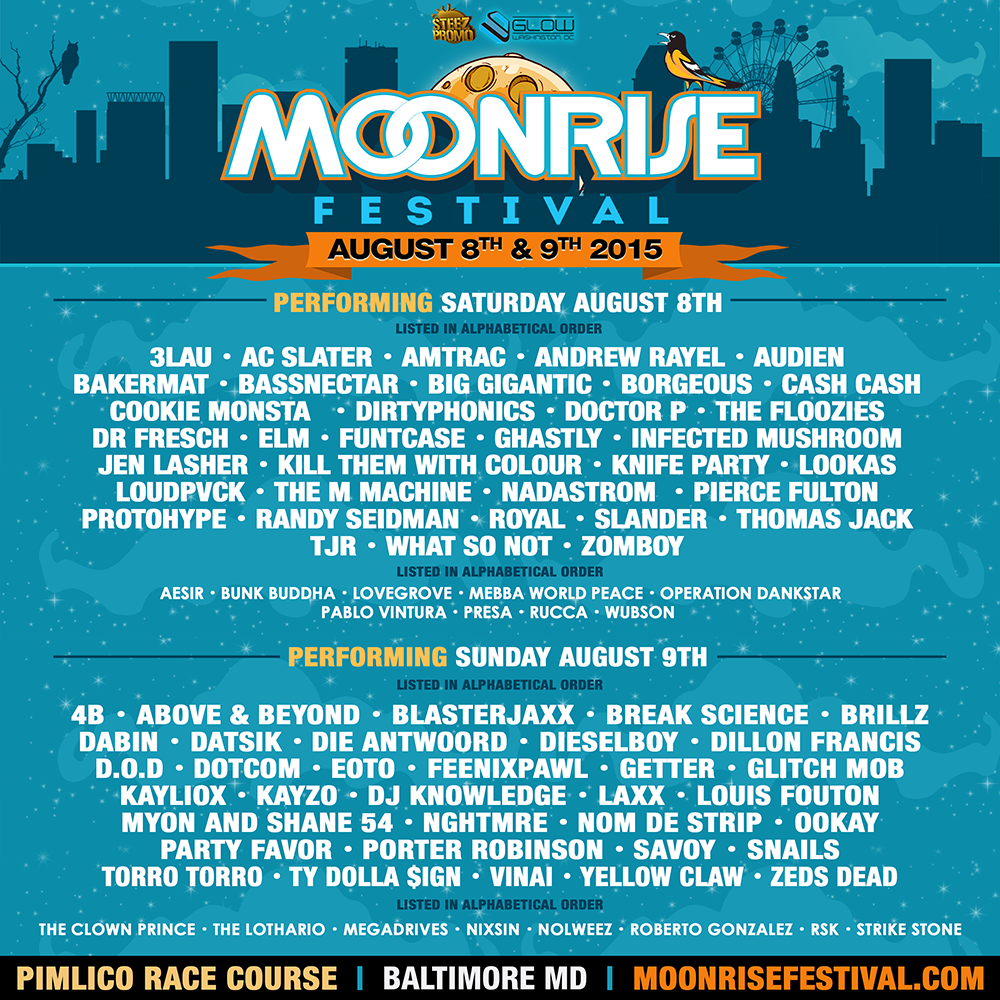 1. Bassnectar
Performing for nearly two decades, the man has been dubbed the King of the Sound, known for his encompassing, wildyly unique live sets. Armed with a custom controller and a seemingly limitless catalog of original mixes and samples, every set is guaranteed to be different. Much like Phish, Bassnectar has a number of songs in his arsenal that fans are lucky to ever catch at one of his shows, and he played a fan favorite last year – Pink Elephants VIP by Daladubz.
2. Porter Robinson
This is not an edm show. This is something different, something more emotionally gripping with a wondrous world presented to you on the screens behind him. He pulls you into his own Worlds, as he makes his way through his new and old material. This will be unlike any other show at Moonrise, and for that reason, Porter is a must see.
3. Slander
These guys have been lighting up the trap scene for the past couple of years, and it's mostly through their remarkable live performances. They have a knack for mixing and transitioning tracks that you could never put together in your own head. They throw a bit of everything in there for the whole crowd to rage out for. Last year they had one of the earliest time slots and still managed to put on one of the livest performances of the day, I expect they will bring that same intensity this year.
4. Ty Dolla $ign
Looking for something a little bit different? Stepping away to catch the rapper who has put out countless hits over the past year is the move. Every year the people at Moonrise provide us with at least one awesome hip-hop act and this year is no different. This set will be filled with sing a longs so expect the energy level to be through the roof.
5. Above & Beyond
Remember that time they brought Bryan Cranston on stage to press the button for Heisenberg? Anything is possible with these guys but one thing is for certain this set will be full on inspirational quotes and heavy on the feels.
6. The Glitch Mob
The trio out of Los Angeles always falls on our list of must see acts when it comes to festivals and for good reason. Their material and their stage setup is always on point and they slay with a musical prowess that can't be denied. Fresh off a new EP, and you better believe they're amped to share new music with you. Don't be surprised if they bring the one and only Mark Johns on stage.
7. NGHTMRE
This dude has been doing his thing for a while now and he is finally starting to get the props he deserves. His debut release to Mad Decent entitled "STREET" is receiving praise from a ton of big name producers. He's already headlined a few huge festivals this summer and his fan base is growing rapidly, and he doesn't disappoint when it comes time to deliver.
Strapped for cash? Enter our giveaway for a chance to win one of two pairs of tickets to this year's festival!
Comments
comments