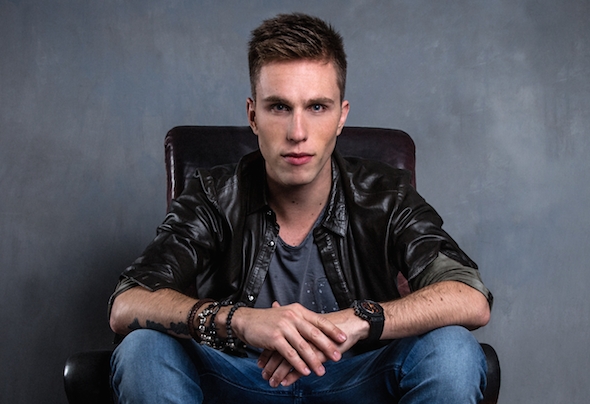 When it comes to electronic dance music one of the biggest names in the scene is the one and only Nick Rottevee, better known as Nicky Romero. The Dutch superstar has come a long way since spinning House and R&B, he has since become a world-renowned DJ/producer and created one of the biggest brands in dance music, of course I'm talking about Protocol.
Protocol has become much more than a record label, it is a clothing line and a weekly show continues to grow at a rapid rate. The craziest part about it all is Nicky Romero and Protocol are just getting started! Oh, and Mr. Romero also has an album on the way, he is simply a man on a mission.
We had the opportunity to chat with the Protocol mastermind at EDC NY about what he and his brand had in store for its fans in the near future.
Magnificence & Alec Maire ft. Brooke Forman – Heartbeat (Nicky Romero Edit) | Beatport |
TSS: Last time you paid a visit to New York was for your Protocol NY Reboot, how does it feel to be back?
Nicky Romero: Pier 94 was an amazing show! I was very proud of the fact that the fans were so dedicated and that thousands of people came out for that Protocol lineup. I have a special live for New York and for those who live here and have supported me since day one, I can't wait to play!
TSS: Festival season is all about new music, with all eyes on you a few months back at Ultra Miami you dropped your edit of "Heartbeat". What about that track caught your attention?
Nicky Romero: The original of "Heartbeat" was a great track, but had no vocals on it. I tried to find vocals that fit it well and eventually made a chorus. I changes the build up and switched up the bass a bit, it took me a few days before I got it right.
TSS: A lot has changed in recent years in the dance music scene, trends seem to come and go. However, Protocol has stayed true to its signature sound consistently delivering melodic Progressive and Electro tunes, why is it so important to stay true to your sound?
Nicky Romero: I try to produce whatever I like, it doesn't really matter what it is. It could be Progressive, it could be deeper, it doesn't matter to me. I produce whatever I like and I hope people enjoy it. I honestly produce for myself, not for other people and everyone who supports me I'm really, really, really am thankful for the fact they are supporting me. However, in dance music, you need to switch it up sometimes.
TSS: Speaking of Protocol, is there anything you look for when it comes to signing tracks?
Nicky Romero: The feeling has to be right, it's all about the feeling. There is no single element that it needs to have. Sometimes it's a melodic track, sometimes it's a groovy track, there are no rules. It's all about the emotion and how it feels.
TSS: MAKJ and Thomas Newson have "Black" being released on Protocol on Tuesday, what can the Procotol community expect throughout the new few months?
Nicky Romero: There is a new Deniz Koyu track coming out called "The Only Way Out", new Stadiumx and I have a new track coming out called "Lighthouse". There is so much stuff man, I don't even know where to start. We have so many talents.
TSS: Protocol is not just a label, it has become a brand. How does it feel to see something you've created come this far?
Nicky Romero: It's been a dream since day one and I'm still working on it. I do realize Protocol is viewed as a brand right now. The fact that so many people want to release their music with us….it's a huge compliment.
TSS: Word on the street is Protocol has its own clothing line now, can you tell us a little about that?
Nicky Romero: Well I'm wearing our new bomber jacket right now and it's one of many things we have coming. I'm trying to create multiple things and I want to make sure people can verbulate to the brand in many ways. Music wise, clothing wise, I want to make sure it's a movement, not just a label.
TSS: At Ultra you played a set that was 90% Protocol tracks, what can fans expect from a Nicky Romero set from here on out?
Nicky Romero: 95% Protocol and the other tracks are the ones I support from friends.
"Follow" Nicky Romero: | Facebook | Twitter | Soundcloud |
Comments
comments