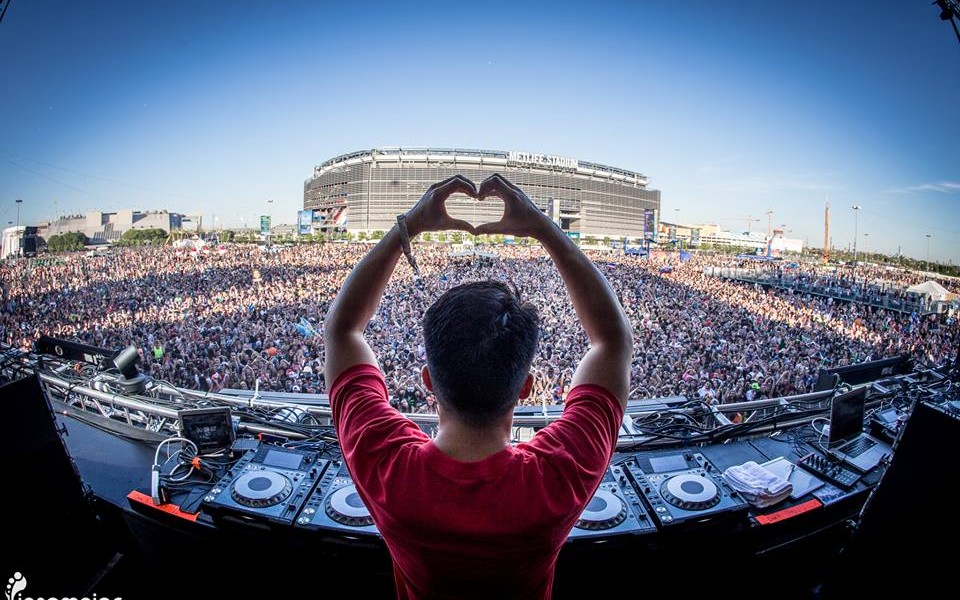 When it comes to electronic dance music, one of the first names that come to mind is Laidback Luke. Since his debut release in 1995, Luke has continued to be one of dance music's elite by doing things his own way. He has not only shown us he is an extremely versatile producer, but he is a superstar DJ. Not many can work the pioneers like he can. He recently gave a seminar on "Real DJing", wrote an op-ed on sampling, continues to travel the world with a vigorous tour schedule and is a proud father. He can simply do it all. (I'm starting to see where he got his Super You&Me concept from.)
You know you've done it right when you've been relevant in this industry for two-decades and some of the biggest DJs today such as Avicii, Bingo Players, Knife Party, Afrojack all credit you for early support. They sure don't make them like Luke anymore.
We had the privilege of chatting with Mr. Mixmash at EDC NY, where we got the inside scoop of what's to come.
Laidback Luke – EDC NY 2015 |
TSS: First off, how does it feel to be back in New York?
Laidback Luke: I love being in New York! My wife, Gina Turner grew up here so I'm here all the time it's basically feels like home gig in that sense.
TSS: Speaking of your wife, how do you two juggle such a hectic tour schedule and parenthood?
Laidback Luke: It's funny because there's so much action in our lives we have to plan everything out. We're planners and are really structured, that's the only way you can leave this hectic life and also have a family. Having said that, this morning I was frying some eggs while Gina was playing with some vinyls on our turntables in the living room and the baby was dancing on the floor….that's the DJ family life for you!
TSS: Gina will be playing here tomorrow and someone who played earlier today you have been working on a collab with, can you tell us a little about your track with 4B?
Laidback Luke: I'm super stoked about it, obviously I'm going to drop someone future club you have to you know, it's MetLife Stadium! I'm a big fan of what he's doing and I can really see him becoming a big name in the near future. We tried to finish the track for this event so I sent him the stems yesterday, but he wasn't able to get the proper mixdown. However, I will be playing in today so it's going to be the rough version.
TSS: Last year was Mixmash's 10 year anniversary, "XXX" was just released on your label, is there anything you look for when signing a track?
Laidback Luke: It's pretty easy! Basically it's only two things, something I feel is produced very well and everything I'd play. I have to really like it.
TSS: Speaking of Mixmash, Ones To Watch Records is a branch off that which you recently release a Jungle Terror track with Angger Dimas "Beat Of The Drum". Trends seem to quickly come and go the electronic dance music scene recently, what's your opinion of Jungle Terror?
Laidback Luke: I called future house about 2 years ago which was great and it's here, you can hear all the DJ's playing a little bit of it. I do think the next trend will be Jersey Terror or something in between. Jungle Terror is the revenge of the Dutch sound. I felt like we lost the Dutch sound for a bit and it went back underground but thanks to guys like Wiwek, it has a really awesome edge to it now and it's now what we call Jungle Terror.
TSS: Is it here to stay or is Jungle Terror just another trend?
Laidback Luke: It's a tricky question because in a sense you could say Rock and Roll is still here so yeah, it's here to stay. I'm very happy it's developing and it's still very interesting.
TSS: You play a very big part in helping develop up and coming artists and help out as much as you can. You recently wrote a piece on sampling for Billboard, where do you feel up and coming producers are at right now?
Laidback Luke: Luckily this scene is big enough to have a constant flow of new talents coming up but if you compare it to a couple years ago, there were many more talents in line then there are right now. So creatively there might be a still point right now, but I need to say to those talents to do what inspires you, don't do what the rest does. Be yourself and indeed think outside of the box, this will only bring you to the next level.
TSS: Last but certainly not least, what does Laidback Luke have in store for the rest of summer?
Laidback Luke: This week we launched our deep label, Mixmash Deep. It's funny because I saw a press release that said "Laidback Luke releases deep house label", it's not that. It's just Future House kind of stuff, a little less energetic then what's played on mainstage. I also have my collab coming with Chocolate Puma called "Snap That Neck". I also just finished 30 tracks in 30 days and I'll have more news on that after the summer. If you want a sneak preview of them be sure to check out my sets because I've been playing a lot of them already. It's going to be a great year!
Comments
comments