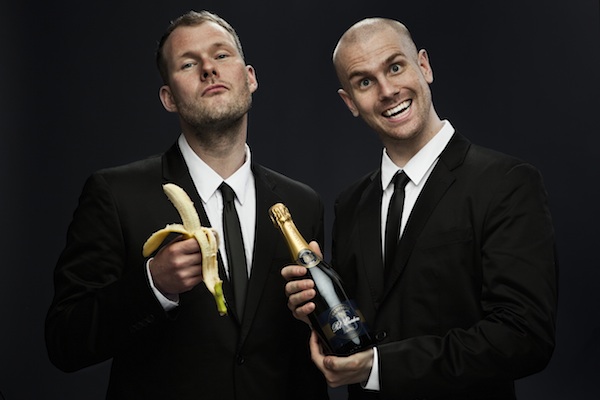 Swedish super duo Dada Life have been a mainstay in the house scene for years now and they've amassed worldwide acclaim with their high energy live shows, outrageous antics and cult like following of fans. Nothing can get them down, nothing can slow them down and they're always looking forward to what they'll be doing next. Whether it's making new music, new video series, or even starting their own country known as "Dada Land". It's been a long road with their fair share of ups and downs, but Dada Life has pressed forward with the same infectious positivity that made us love them from the beginning. So when they came through Boston, we got a chance to sit down with Ollie and talk music, creativity and what might be in the store in the future.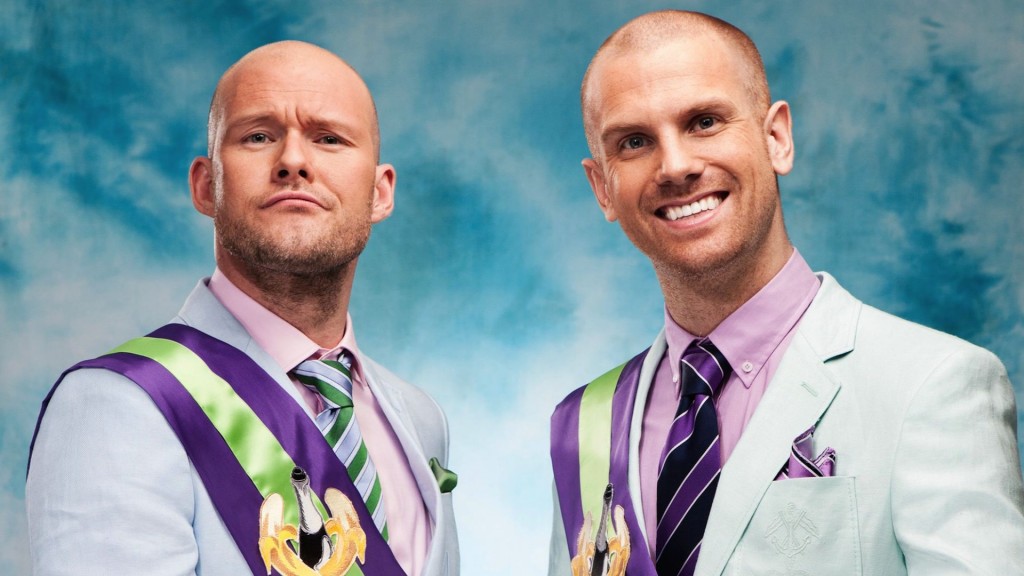 TSS: Hey guys how are you doing? Thank you for taking the time talk with us, it's an honor to have you.
DADA LIFE: Hey!
TSS: You guys are taking Boston by land and by sea! Couldn't be more excited. Tell us what the plan is for this run of shows? Also, after this you have an impressive list of festivals to play up until September. How's the road been so far and what are you most looking forward to?
DADA LIFE: We're always looking forward to the next show. That's how we think about this all. It's the next show, the next song, the next remix! We're always looking forward!
Dada Life – One Last Night on Earth |
TSS: I've seen you guys twice now. Once on tour and once at a festival. Each time I felt right at home and in a whole new world. How has Dadaland grown over time and what could you describe it as?
DADA LIFE: It's a sovereign nation. Right now without it's own territory – but we're planning to fix that too. We just want people to have a place to go to that is more fun than their usual countries!
TSS: I have been watching the new Dadaland Documentary you guys released over and over again. Great work on it and it really does make you want to be a part of it. Can you talk about the making of the film?
DADA LIFE: We wanted to try to capture this last tour – since it's the biggest and most ambitious tour we've ever done. Also good as a reminder for ourselves since we never remember our own shows!
Welcome to the Dada Land Compound (Documentary)

TSS: You also have a video series called Feed The Dada where you eat a delicacy from wherever you are at the time. Love watching those because we feel like we're there with you and it assures us you guys don't just eat bananas and drink champagne all the time. Can you tell us what some of your favorite food is and where?
DADA LIFE: We love food and try to sample stuff from the area we're in. We love finding new dishes and tastes!
TSS: What I think a lot of fans respond to and you guys highlight in your music is what it feels like to be a rambunctious kid again! It's always fun, positive and it never seems too serious. The work involved of course is very serious, but it never seems like you take yourselves that seriously. How do you balance that and how do you keep it fun for yourselves and the fans?
DADA LIFE: We're very serious. Being stupid and having fun isn't always an easy thing to achieve. You got work hard and that's what we do!
Dada Life – Tonight We're Kids Again|
TSS: You guys invite a lot of people into remixing your work. Of course you've had big remixes from top names like Dillon Francis, Tiesto and many more , but I know a lot of producers who started with your stems wanting to capture the energy of your songs to help build themselves up as producers . Why do you guys put out so many great remix packs? What's the motivation behind it? Also, if you could pick one remix that really stood out to you what would it be?
DADA LIFE: We want to see what other producers can come up with if they use our samples and sounds. It doesn't matter if it's a 15 year old kid or a famous producer – it's always interesting to hear what other people do!
Dada Life Listens To Your Demos…
TSS: I've always known you guys as a duo but I've heard that you two might be working on separate independent projects? Can you tell us a little about them? Will it be different from the Dada Life Sound? Where can the fans find it?
DADA LIFE: So far it's only me (Olle) that have start talking about my side project. It's called Night Gestalt and I just have an album out. It's basically the opposite of Dada Life – no huge drops, not even drums or bass. Just music floating in space. It's for 5 am.
TSS: I'm pretty sure I know every word to every one of your songs, but one thing I don't know is who the singers are on the tracks? Who were the vocalists for songs like "Kick Out The Epic Motherfucker" or "Rolling Stone T Shirt"? What do you look for in your vocals or in a vocalist when making a track?
DADA LIFE: It's mostly friends! We always look for someone who have a raw energy to their voice. Beautiful is boring.
TSS: You've developed 2 plugins that have become producer must haves. How does the success of it feel knowing how you've influenced the sound of music today?
DADA LIFE: Good! Now everybody can get the same ugliness that we have!
Dada Life – Born To Rage (Feat. Sebastian Bach)|
TSS: Is there anything you would like to say to the fans real quick? New releases we should be on the look out for?
DADA LIFE: Our new single One Last Night on Earth is just released! Video coming soon!
TSS: Thank you guys so much for your time. LET'S GO HAVE SOME FUN!
"Follow" Dada Life: | Facebook | Twitter | Soundcloud |
Comments
comments