I can't even begin to imagine what a weekend at Woodstock would have felt like, but if it was anything like the time I had at Mysteryland then I'm sure it was a wild ride. This Memorial Day weekend boasted an abundance of top notch festivals and they're all special for different reasons -but I can honestly say, there's no where else I would have rather been than Bethel Woods. With the total attendance skying upwards around 50,000 heads, and an endless selection of dope musical talent, this weekend was definitely one to remember.
The fun started on Friday for all Nomads camping on the Holy Grounds with a pre-party that featured GTA, Tropkillaz, A-Trak, Richie Hawtin, Josh Wink and Maceo Plex. Unfortunately, we didn't arrive until later in the night, so we were only able to catch a glimpse of Richie Hawtin. Not only did we miss most of the pre-testy shenanigans, but we were also faced with the tedious task of setting up camp in the dark while it was super windy and freezing cold; I recall people saying it would be chilly, but my god I was not expecting this (mental note for next Mysteryland: pack lots of blankets). After we gave up on setting up tents, we headed over to where the music was for the night; the main stage in this area was called Pineapple Paradise – a huge pineapple made out of balloons, which was cool for obvious reasons. In this area, they also had various vendors and food options; I heard the food was on point, but personally the only thing I ate all weekend was beef jerky, so I couldn't tell you. In this area they also had a 90s cover band every morning playing all the jams you used to hear on the radio when you were growing up. I must say that waking up to Blink 182 or Spin Doctors was way more refreshing than some random DJ spinning shit you never want to hear at 8 in the morning, but maybe thats just me.
Saturday started out with one of the newest sensations to sweep the electronic scene – deep house yoga! This fad can't be denied, so many people were in the general area to at least check out what this is all about. Yoga is probably one of the best ways to start the day off and deep house is always good, making this a very intriguing combo.
After deep house yoga, it was off to The Boat for Space Jesus who was his normal down low bass infused self, and he drew out a pretty nice crowd for being one of the first sets of the day. Surprise of the day for me came from the same stage and was delivered by Minnesota, I've seen this guy before, but never have I ever witnessed such a set from him! It was just electric as hell and super bouncy; he managed to put me in the zone and still have me jumping around – hands down my favorite set of the weekend by a long shot.  One of the hardest decisions I had to make Saturday was between Beats Antique and Kygo, so naturally I just split them. I was expecting a lot from Kygo, but to be honest I was sort of let down, as it turns out tropical house doesn't really clique when its 10:30 at night and 39 degrees. Not taking anything away from his set or the show he put on, but I do believe he would have fared much better with say a 7:30 time slot when the sun was still up.
While most people chose to end out their night with Porter Robinson, I remained loyal to The Boat and closed my evening with Gramatik and Griz. Mixed feelings about these two, I mean they both obviously brought the funk, Griz got saxy and I was definitely satisfied with my decision to avoid main stage, but there was one relatively large complaint. They didn't do Grizmatik! This left anybody who knows anything confused and a little bit disappointed. I mean it wasn't on the lineup, but I think we were all just praying we would get that surprise. It was strange too because Gramatik had somebody else on the sax and he teased a couple of their songs, I'm sure Grant wasn't far either, sooo I don't get it. Any who, overall Saturday was pretty bomb and I was really satisfied with the flow and consistency between different artists at The Boat.
The last day, Sunday, the holy day on the holy grounds; by the way did anybody visit the Mysteryland Chapel? I heard it was there and that you could actually get married but I wasn't interested in accidentally marrying somebody so I figured I would steer clear. The final day for me was a lot like Saturday in the sense that it was spent mostly at The Boat but lets be real with such an ill lineup there was no reason to be else where. It began around 4 and went until close, started off by Gent and Jawns and ending with the Boat Raid which was an interesting combo of people.
I can't even lie, and I know I'm gonna catch a lot of shit for this, but my favorite set of Sunday was probably ILoveMakonnen. He did all of his hits, had everyone singing along and his beats are all fuego; it was also nice to hear something different/let my ears recover before Doctor P. After Makonnen was done, Bro Safari came on and played a super trappy set that included some of his classics and even a newish collab he did with Ricky Remedy. Personally, I'm a pretty big fan of his, so this opinion is kind of biased, but I thought Bro Safari put down a top 5 set of the weekend. After this, I snuck over to main stage for a bit to catch a glimpse of Dillon Francis. Obviously, it was packed and of course he delivered; I was actually really surprised by the variety of stuff he played in the short time that I was there.
My second favorite set from Sunday (a very close second) was Doctor P, and if you listen to his set I'm sure you will understand why. It was super heavy and he dropped "Going Gorillas" (VIP & original) two times and this happens to be one of his more popular songs so you know the crowd was going ham. Now to the epic b2b2b2b2b2b show Docotr P, CRNKN, Gent and Jawns, Bro Safari, ILoveMakonnen & ETC!ETC! put on that was The Boat Raid. I expected something over the top and it all pretty much made sense except for the fact that Makonnen was up there spinning. From what I remember, he actually wrecked to. All in all this was just a bunch of homies on stage throwing down trap bangers. As an added bonus, we even got to catch some of the fireworks they were shooting off from main stage without actually being there – win!
For a festy only in it's second year, Mysteryland has pretty well established itself, and I believe they will continue to flourish and grow. The only grievances I heard from the weekend were related to the amount of tickets they gave away and to the currency exchange system they used. In my opinion – although I do understand why this might upset some people – giving away tickets is a good thing because some people may not have gotten the opportunity to enjoy the experience. When it comes to the currency exchange rate, I think a lot of people were really just confused, but if you've been to a festival before then you know that you can expect things to be a little bit on the pricy end. Not to mention that if you came prepared, you wouldn't have had to use that many "birdie bucks."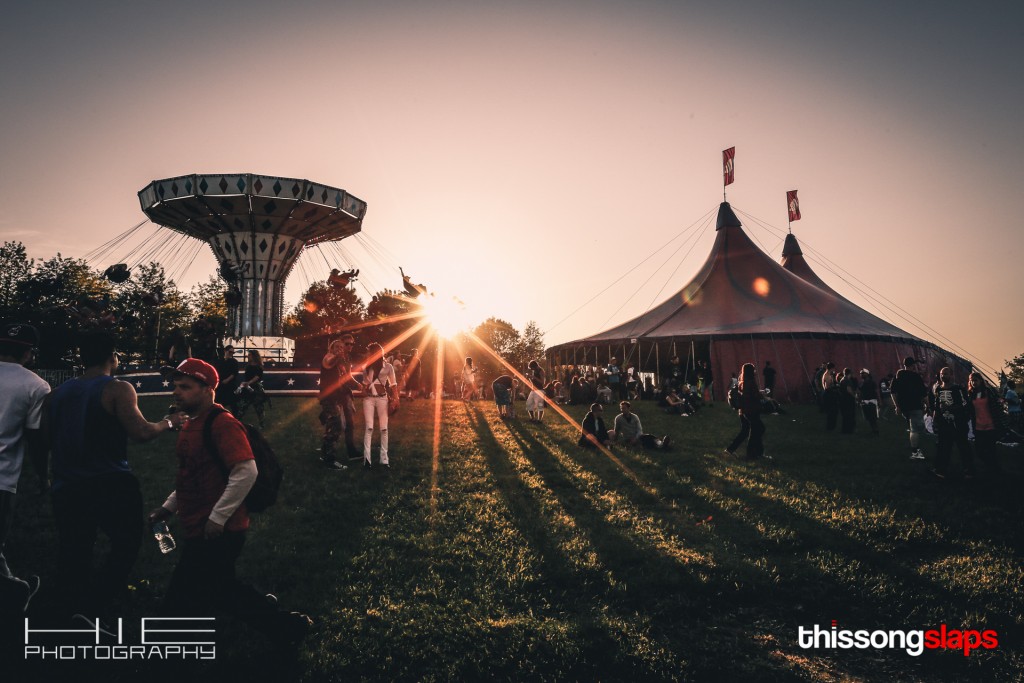 At the end of the closing ceremony on Sunday the words "see you next year" were said, and one would assume that Mysteryland will return, but the question is – where will it be? The contract with the people in control of the Woodstock grounds was apparently only for 2 years and I have yet to hear of a renewal. I trust that they will figure it out, and I hope that we can all return to the Holy Grounds next year to do it all over again. Give them a follow and subscribe to their emails to stay in the know with whats going on. Until next time Nomads!
Mysteryland USA Facebook/Twitter/Website
**s/o to my photog check out HIE Photography for more crisp shots**
Comments
comments