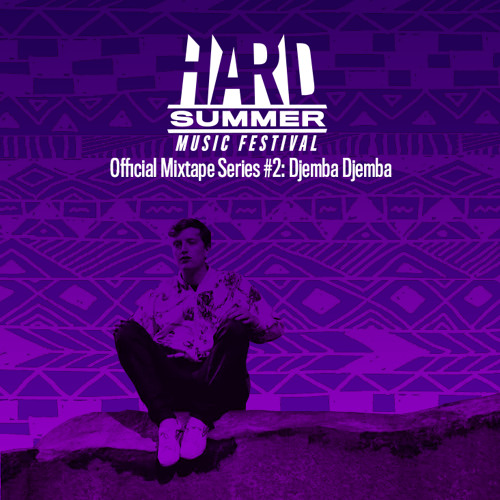 Last month, HARD Summer unveiled the annual Summer Series mixtapes with the help of the lovely lady Mija. This month, HARD has picked the Team Supreme member and Rabbit Records label co-founder, Djemba Djemba. If you were at last year's HARD Summer, you witnessed Djemba Djemba absolutely rock the OWSLA stage alongside others like previous tour mate Mr. Carmack, Emoh Instead, Alex Metric and more. Since then Djemba Djemba has released some pretty sick remixes and originals such as Banks' "Fall Over," Baauer's "Core," and the recently released Kehlani's "Down For You." In addition to running a label and creating mixes, Djemba Djemba also produces and I think through this mix you can definitely hear his ear for technique, style, and sound.
I could ramble on about my love for this talented dj and producer or I can let you dance and get carried away as you prep for the weekend festivities happening August 2 & 3rd. While HARD Summer might seem far away, it'll be here before you know it. Until then, snack on this insane hour and a half mix!
Also be sure to grab your tickets here if you haven't!
T R A C K L I S T
1 Second chance (edit) – Caribou
2 3056 – Smiddy
3 Truth – Branchez
4 Full Court – Swick
5 Work – Fortune & MisterMack
6 Troffies (Les Djins) – Mr Carmack
7 Stroll – ?
8 No Type (Gravez Remix) – Rae Sremmurd
9 Fizzy – Swick & Lewis Cancut
10 Temple (OSOSBLANCO Remix) – Sam Gellaitry
11 I DONT SELL MOLLY NO MORE (SAMISONI REWORK) – ILOVEMAKONNEN
12 G.M.A.F.B. (Enzo Picardi Remix)- Wiwek
13 NRG (Prince Fox Edit) – Duck Sauce
14 Jet Blue (Instrumental) – Major Lazer & GTA
15 TEXACO – Treekeeper
16 C-Mine – Neana & Tarquin
17 Jaw Breaker – Neana
18 HULA HOOP FEAT UNIIQU3 – BRENMAR
19 Boog – Baauer
20 What We Tell Dem (Original Mix) – GTA & Wiwek ft. Stush
21 Attak (feat. Danny Brown) – Rustie
22 1-3-1 – Tropkillaz
23 Buddah vs Sugur (Djemba & ObeyCity Edit) – Sugar Shane
24 Fire To The Room – London Future & Djemba Djemba
25 7/11 – Beyonce
26 Activate Me (Hoodboi Remix) – ASTR
27 MIDNIGHT – Joker
28 On & On – Lucid
29 So Clean (Drippin' Remix) – Rabit
30 KRATER – TOKYO
31 Rock – Enzo Picardi
32 Fall Over (Djemba Djemba Remix) – BANKS
33 Look At Me Now feat. Ifa Sayo – London Future & Djemba Djemba
34 Dominican Anthem 2K15 – DJ Merks x DJ Cueheat x DJ Paradise
35 Green Gardens (Djemba's Fest Edit) – Laura Mvula
36 GANZ – GaoBear – GANZ
37 Dhalsim Money (Original Mix) – GTA
38 Power Up – Djemba Djemba
39 Tru Tru Gem – AWE
40 Walk With Ya Step fast – DJGHOST (RIP)
41 Klink (Djemba Djemba Remix) – Death Grips
42 Tomahawk1 ***** – co. fee
43 nell – Mr. Carmack
44 Hard – Djemba Djemba
45 Go Go (Djemba Used To Make Dubstep Under a Different Name Edit) – Rusko
46 Warrior Groove – KAZE
47 Meet Her at the Love Parade (Slick Shoota Remix) -Da Hool
48 ORANGUTAN – LTGL
49 buhw_2-extra.mp3 – LOSCO
50 Hackney Parrot (Sam Bingas Crackney Parrot ReFix) – Tessela
51 Rzor -Sam Binga & Addison Groove
52 Boom Wha Dis Jackpot! Cadenza Blend – Burro Banton
53 Macking in the car – Djemba Djemba
54 Great Apes – JNTHN STEIN
55 Let the Bass – Tropkillaz
56 Pon Pon (seblaze Remix djembedit) – Krary Pamyu Pamyu
57 Dare u 2 move (Djemba Remix) – DESTRUCTO
58 Clang Shmurdah – E-Ternity
59 Sunday Crunk (Mefjus Remix) – Ivy Lab
60 Losco – Drop
61 Valhalla – RL Grime & Djemba Djemba
"Follow" Djemba Djemba: | Facebook | Twitter | Soundcloud |
"Follow" HARD: | Facebook | Twitter | Soundcloud |
Comments
comments