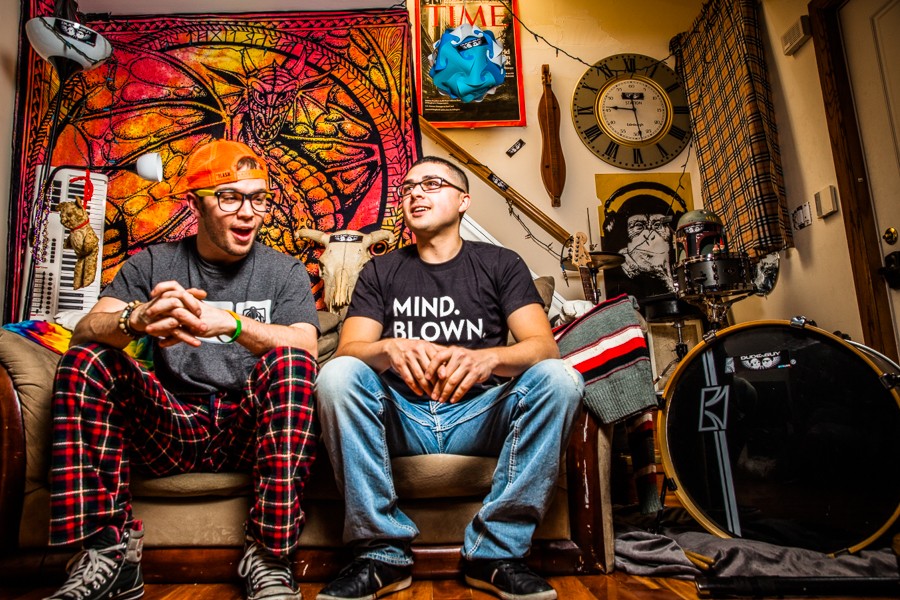 Boston based DJ duo DUDEnGUY have become a staple in the Northeast electronic scene. If you live in this area there's no questioning their prominence at this point. Anytime a major act roles through town, it's more than likely you'll see their names as the opener. You can walk through Boston and on almost any given street lamp you'll see a DUDEnGUY sticker either tagged by them personally or by their fans in a crazy party stupor after one of their shows. They're the Pokemon training, Belgian waffle making, beat dropping, drone flying, party rockers that have been on a steady climb to the top of their scene and now they're on their way to taking over the game…of Belgium waffle making. Music as well, but it seemed they really wanted to emphasize the waffles in the piece. Made up of Danny Gawrych and Kevin Marky, this is DUDEnGUY (Make sure to spell it right).
We Are DUDEnGUY

Video by Winterhalter @winterhalter_
TSS: What's good guys? Thanks for taking the time to talk with us. How's everything been? Seems like you guys are doing some big things lately. You have a ton of new releases, some big shows with some big name artists, you've been packing clubs for your headlining sets, and you just announced you're playing Electric Adventure Festival in Atlantic City. How's the response been so far from the fans and how's the growth been over the last few years?
DUDEnGUY: The grind is mad real. We were super stoked when we were told we're going to be on the bill for Electric Adventure, always wanted to play a big festival. We only started doing this duo thing together about 2 years ago – been solo dj's for about 8 years a piece, since day one of the whole DUDEnGUY thing, the growth with our social media and "fanbase" if you even wanna call it that has been phenomenal.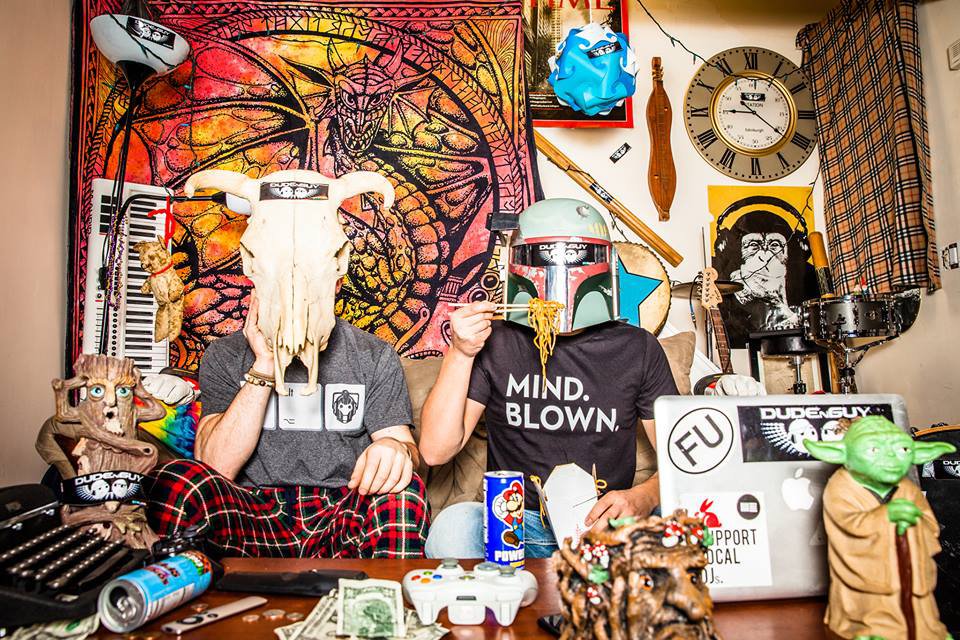 Kanye West, DUDEnGUY, JakK'D, Champ Duggan – All Day Back Der (DUDEnGUY Bootleg) | Download |
TSS: I live around the Boston area and it seems like you guys are on every bill for every show and every party that's going right now. Can you tell me how you've gotten to this point where you both are being booked so often with so many different people and you do you deliver quality sets for so many different nights?
DUDEnGUY: We never let any set be the same, we work together before every gig to put together a unique set. However in the end its a matter of us judging and reading the crowd together on site to determine what we're even going to play. If we had a microphone in the DJ booth you'd hear us saying some pretty ridiculous stuff to each other, we've been debating setting up a hot mic to record our conversations up there, it may happen someday.
TSS: How did you guys start working together? Also what would you say your roles are individually in the group and how did you find the dynamic style you have when you tag team DJ sets? Also, who's "Dude" and who's "Guy"? If you don't mind me asking buddy?
DUDEnGUY: This whole thing started as a joke, possibly even by accident. We were solo DJ's in a small city by the name of Worcester MA (Pronounced: Wister, Wooster, Wormtown, The Boonies to some, Worchester, the list goes on), it was there that an intense rivalry between us both came about during our college years. Although we didn't even go to the same school it was always a competition to see who would have the better nights, eventually a nightclub called "BarFX" opened up where we were asked to play together and we just said F**K it lets try it. When we first started we honestly could never figure out the whole two people playing together thing, as we were both used to playing by ourselves, it was somewhat of a struggle…At the same time we didn't want to be one of those asshat duo's that have one guy doing everything while the other just throws his trap arms up. After many gigs we've figured out that theres a lot of cool things you can do with 4 hands on 4 decks – you'll always see us both working in tracks and mixing together. As for the who's Dude and who's Guy thing, last time we talked about it Kevin was Douche and Danny was Bag.
TSS: I remember your first few releases where mashups and bootlegs. We actually featured you're "All Day" mashup and it did super well on the site racking up a ton of shares. What stood out to me is that you mashed it with a remix by Champ Duggan of one of your originals off the collab project with JakK'D. Can you talk about how you create and work in these bootlegs into your sets? Also can you talk about how your making these connects and relationships with so many talented local artists?
DUDEnGUY: Bootlegs/mashups just happen, really theres not much thought put into them, most of the time they happen while practicing and / or playing solo things where we're more apt to really try new things out. When we do mash something and it sounds pretty cool, we write it down and work on it in the studio later. As for making connects with local artists, its all coming from past gigs where we've met and played with a lot of them, we met Vjay (Panama Jak) at a local gig a while back and knew Max (MaxXD) from other bar gigs in our area. Champ Duggan we've played with before on one of the Boat Cruise Summer Series boats that float around Boston Harbor and play loud music…
DUDEnGuy – Blue Haired Beast Ft. Bobby Morin (Original Mix) | Download |
TSS: One thing that really drew me in as a fan is your animated social media presence. It never looks all the way serious with you guys and it's nothing but fun. How would you guys describe yourselves as just dudes and or guys? And where do you come up with some of the wacky stuff you do? Also, what's gotten the biggest response so far?
DUDEnGUY: "How A DJ Wakes Up" on VINE was our viral hit of social media, go check it out, if you haven't, GO CHECK IT OUT, if your still reading this, stop, and GO LOOK AT IT. @ DUDEnGUY. The original post we made hit the web like wildfire, netted something like 29k likes and was revined/tweeted by some huge artists and celebrities. We took vine very seriously, we still shoot some here and there with our buddy Marlon Webb who's actually gotten pretty far with his Vine life. As for the rest of it; well "Mr. This Song Slaps" , none of what we do is really serious, except the music we make……. and waffles, homemade waffles…..homemade Belgium waffles….with maple syrup….from Vermont.
"How A DJ Wakes Up" @DUDEnGUY on Vine
TSS: You guys have been expanding more on original production and it defiantly seems like you guys are finding your own distinct sound. Can you tell us a little bit about your background and influences as producers and where you'd like to see your sound go in the future?
DUDEnGUY: We are musicians at heart, Kevin loves his keys and Danny plays alto sax, the motive to do live acts is there and WILL happen at some point, but first we have a lot of other things to conquer before we start practicing a live routine.
TSS: New England is surprisingly turning into a hot spot for new producers. With acts like you guys, Bamboora, Voltran, Pierce Fulton, Barely Alive, JSTJR, Nu.F.O and Choppa Dunks just to name a few, how would you describe the scene in New England from the producers to the fans? What are some of the thing you like about and if you could, what would you change about it to make it better?
DUDEnGUY: The scene in New England is mad kuaga. On the real, its not a terrible place for electronic music, I mean we could live in Montana, tell me about the scene in Montana? We love to kuaga with our friends.
TSS: You guys also started a new mini mix series called "GOAT Life". It's very new but can you tell me the idea behind it and how you guys are putting it out?
DUDEnGUY: Danny used to try and throw a podcast out when he was solo every week, it stemmed off that idea as it helps to keep our soundcloud active. We like to go over our weekends and talk about random things in GOAT Life, we haven't had much of a chance to really get into it because of other things keeping us busy but it'll hopefully showcase a lot of local talent along with guest mixes from some amazing local GOAT artists and some interesting conversations to say the least. The GOAT Life minimix's will be on iTunes in the coming weeks as well.
TSS: What is GOAT LIFE? And what is this Kuaga you speak of?
DUDEnGUY: What isn't GOAT Life? Who's a kuaga?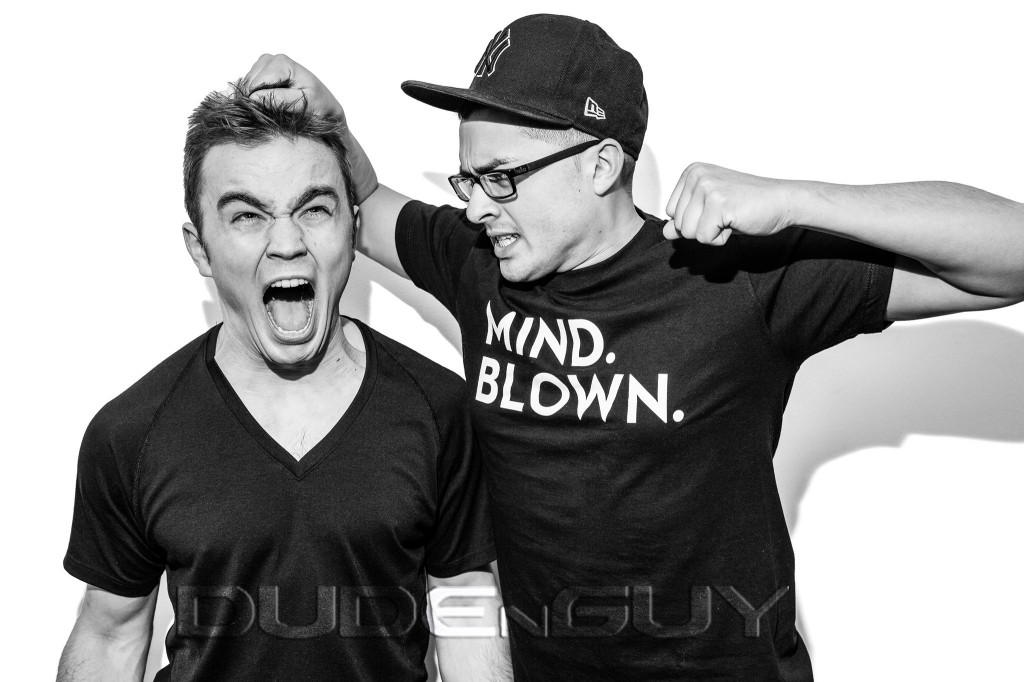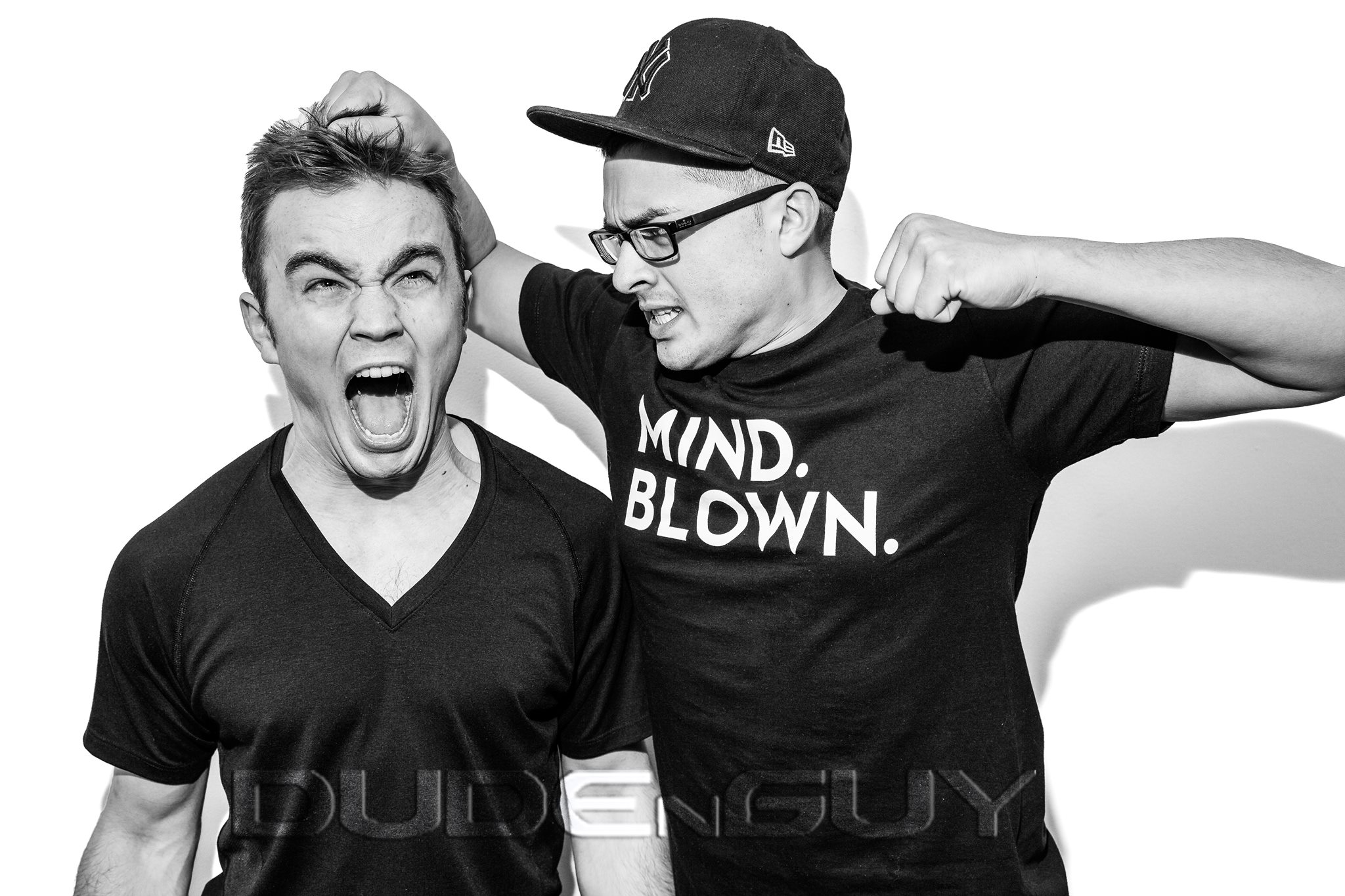 DUDEnGuy – Hate It Or Love It (Original Mix) | Download |
DUDEnGUY – #GOATLIFE Minimi #003 | Download |
TSS: We've actually have had twitter disputes about Pokemon before. What is your top 6 all time Pokemon Rotation? What's your favorite generation of Pokemon?
DUDEnGUY: Let's talk non evolutions only: Charmander, Pikachu (we know: mainstream – WDGAF), Magikarp (lets be honest, we all know what happens when it evolves), Squirtle, Mew, Pigeon.
 TSS: What's your favorite hookah flavor?
DUDEnGUY: Reeses, because ice cream. 
TSS: Link me the funniest thing you've seen on the internet today! I know that's more of a demand than a question just give me a link!
DUDEnGUY: We don't internet.
TSS: Time for some hypotheticals! If you could work with any rapper who would it be? If you could work with any band who would it be? Which singer would you like to work with? Also, if you could just sit down and have a beer anyone with who would it be?
DUDEnGUY: Eminem, Red Hot Chili Peppers, Miley Cyrus. We'd love to have a beer with Anthony Jeselnik. 
TSS: Looking forward, where do you guys see yourselves in the game and what are you bringing to it that's not there? Also who are some of the people you'd like to work with sometime down the line?
DUDEnGUY: We see ourselves at the bottom of that Electric Adventure flyer. Everyone starts somewhere, its a LOT of work, the grind happens each and every single day. From music to marketing, to just trying to be a normal person, we each both still have regular day jobs. Think about trying to balance two cue balls on two pool sticks – one in each hand while ordering a street sausage – thats us. Our goal is to collab with the Spice Girls someday.
TSS: Thanks again for taking the time guys. Is there anything you want to say to the fans while you're here? Also, got anything to say to the trolls/haters out there?
DUDEnGUY: Fresh Orange Juice…. to go with the waffles.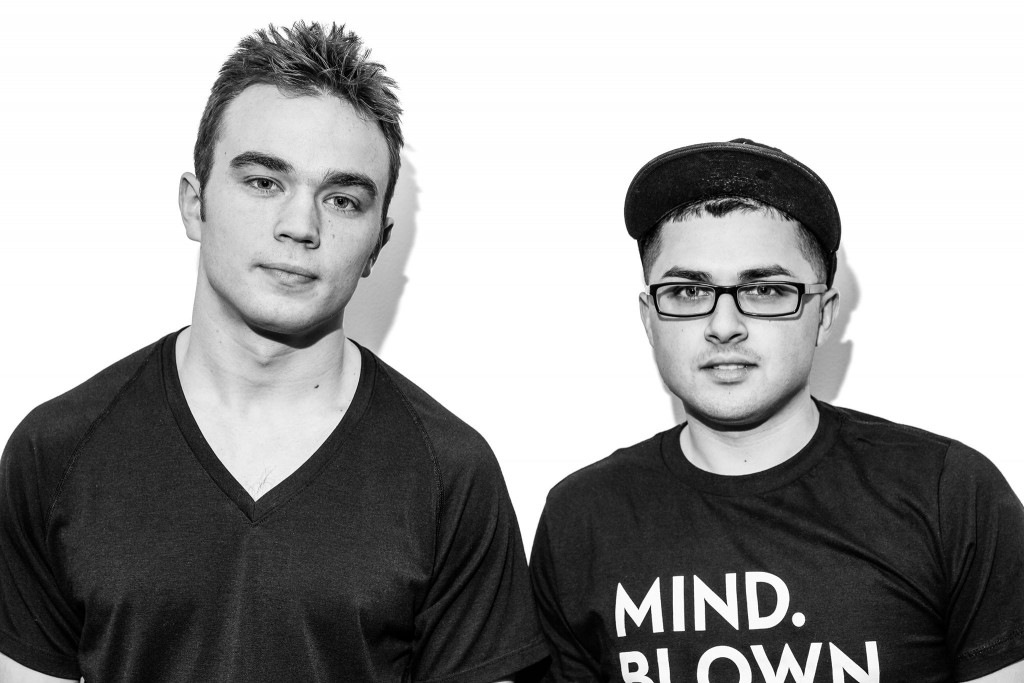 DUDEnGUY – Oh Kill Em (Original Mix) | Download |
"Follow" DUDEnGUY: | Facebook | Twitter | Soundcloud |
Comments
comments