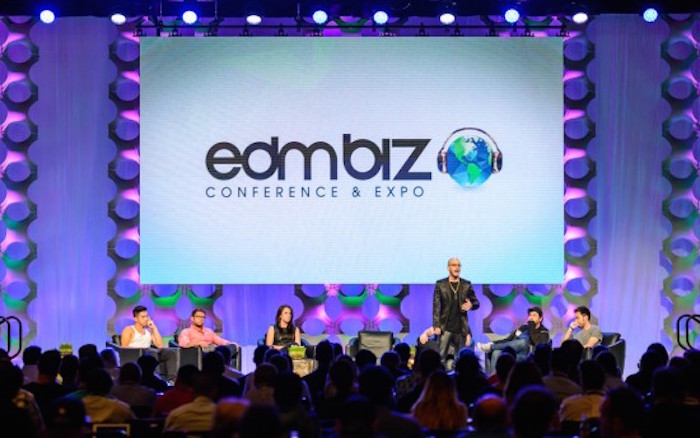 Since its inception four years ago, EDMbiz has attracted both music industry hopefuls and budding entrepreneurs eager to hear the thoughts of some of the music industry's brightest minds. The Insomniac-hosted conference, which marks the annual kick off of EDC week and takes place the three days before Electric Daisy Carnival Las Vegas, features two days of forward-thinking and insightful panels and keynote presentations by the industry's top managers, agents, artists, label heads, and more.
EDMbiz brings together the entire dance music community, both executives and young hopefuls, in an effort to open up the dialogue addressing the most important issues and topics of dance music – whether it be licensing, technology, festivals, or more. Past speakers at EDMbiz have included artists like Hardwell, Above & Beyond, Kaskade, and Carl Cox. Industry executives, like James Barton, President of Live Nation's electronic music department and Paul Morris, CEO of AM Only, have also taken the stage to share their wisdom.
With the 4th annual EDMbiz Conference, which takes place June 16-18, fast approaching, here are our top 10 networking tips that you need to know for the conference. You can get your badge for EDMbiz here.
1. Be Willing to Help
If you're an industry hopeful attending the conference, you'll have plenty of opportunities to meet executives and artists alike, as nearly everyone in the electronic music industry is in Las Vegas during EDC Week and EDMbiz. There's no better way to get your name remembered than to be willing to help others, whether it is sharing information, connecting clients, or sharing your own expertise.
2. Build a Reputation
In the music industry, it's important to build a strong reputation as someone who is intelligent, helpful, hardworking, and driven. By building a strong reputation, people will more easily remember who you are, and people will be more interested in meeting you.
3. Don't Be a Ghost
If people don't know the exciting stuff that you're currently doing, it's like you aren't doing it in the first place. Make sure to maintain contact with people that you meet at EDMbiz in the future, because you never know when you'll need it.
4. Go to Everything
If you're attending EDMbiz, then you probably don't need to hear this, but just in case you do, go to every event possible! If you're trying to grow your network, it's important to go where like-minded people are, and interact with them and build a rapport! Whether it's a keynote presentation, a panel, or a night club event following a long day at the conference, each event is an opportunity to meet the right person, so don't miss out!
5. Set Goals
Before you make your way to Vegas for the chaotic EDC week, EDMbiz, and subsequent EDC, make sure you sit down and set goals for the week. It's easy to get lost in the hustle and bustle of Las Vegas and walk out of the conference without achieving anything, so don't let that happen and set goals before you arrive.
6. Keep An Eye Towards the Future
As you're networking and meeting people at EDMbiz, it's important to keep an eye towards your long-term goals. If your goals are to meet the president of an agency that you're trying to sign your client to, or the head of a label that is interested in offering your artist a major record deal, don't spend your entire time fawning over meeting your favorite artist!
7. Don't Let Rejection Get You Down
Rejection is a normal part of networking, and a normal part of life. Don't get too down on yourself if something doesn't work out the way you wanted it to, rather, go out and meet more people! Rejection is natural in networking, as people won't respond to your phone calls or emails, but brush it off, and move on.
8. Listen
One of the most important parts of networking is the ability to listen. When attending a conference like EDMbiz with industry executives, artists, and people with experience, listen to what they have to say and internalize it! They are giving you valuable advice that you can take and use going forward. Plus, everybody likes a good listener.
9. Ask Questions
You never know what might happen if you just ask. Ask to get introduced to someone, ask people who you want to meet to meet with you, ask questions at keynotes and panels. More often than not, if you just ask, chances are you'll get what you want.
10. MEET LOTS OF PEOPLE!
There's no better place in the world to network for electronic music industry hopefuls than EDMbiz, as nearly everyone, whether it be managers, artists, agents, publicists, or more, are all in Las Vegas during the week. Keep an open mind, and push yourself to meet as many people as you can.
Comments
comments