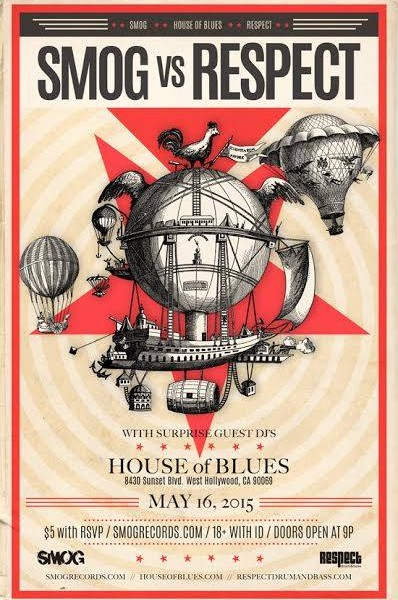 While the rumor mill once pumped out the idea that Dubstep was dead, two crews in LA proved that in fact it was alive and well. For the past five years on one glorious night, SMOG and RESPECT have taken to the decks their Dubstep roots and gone round after round firing back the classics and bass favorites in attempt to outdo one another. However, this year will be different. This year will be about celebrating you crew, your music, and the home of this event and other SMOG events, that will sadly be demolished after this Summer to make way for a hotel.
For five years, House of Blues on Sunset has seen these two crews throw down and in the most mental ways and while it will be a sad parting, these two will definitely keep the music alive. If you're not familiar with Respect or SMOG , take a seat and prepare to get educated.


Respect is one of LA's longest running weeklys. This year RESPECT celebrated its Sweet 16 proving that they are young, wild, and ready to conquer. From a great read by THUMP I learned about how a friendship between Rob "Machete" Gonzalez and Justin Ford became a melting pot for jungle, underground, drum and bass music and eventually a space for others to enjoy it with them. From starting their crew at Boardner's to creating their own night at The Martini Lougne to eventually The Dragonfly, RESPECT has kept the music and bond alive. To read the full history check out THUMP's article here.
SMOG is one of LA's prized dubstep and bass crews.The history goes all the way back to 2006 with one pivotal event that took place in downtown LA that was deemed as "an experiment in Dubstep." With the success of that event, SMOG spread like wildfire and eventually relaunched itself as a record label in 2007. After the label, 12th planet along with Drew Smog, Danny United and Tealong started a "Dubtroit" night in Orange County that eventually found its way competing in events like the Red Bull Culture Clash and being feautred on BBC Radio 1 and major publications like Rolling Stone. To read more on SMOG's history check out the link from SMOG records itself here.
Check out a little preview of what Saturday will hold with a special SMOG v Respect- Steady B2b Scooba Mix. Also be sure to RSVP here for a $5.00 check in. The event is 18+!
SMOG vs. Respect // Steady b2b Scooba | Stream Only |
"Follow" SMOG: | Facebook | Twitter | Soundcloud |
Comments
comments