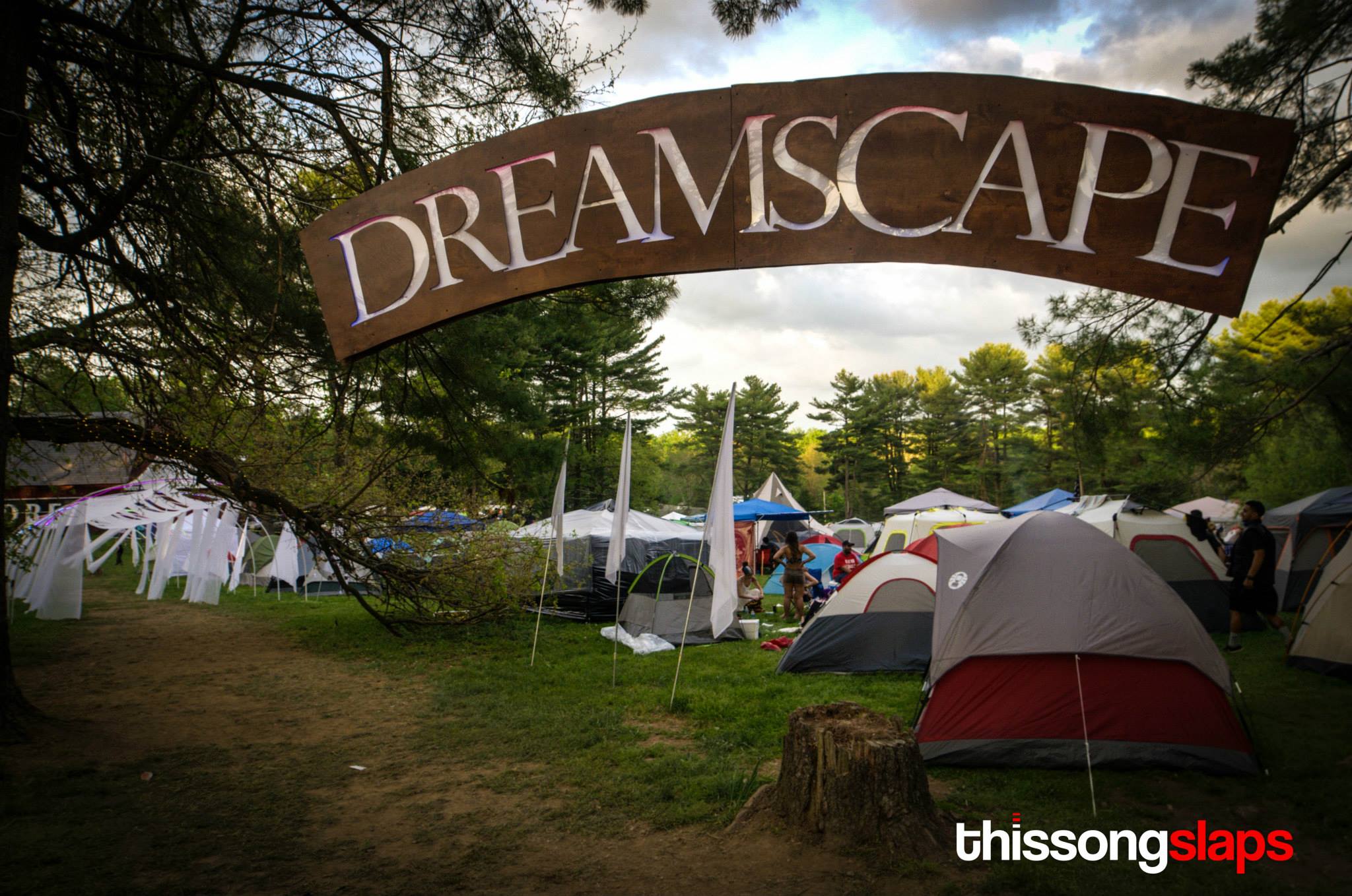 What a remarkable way to kick off festival season, I'm not exactly sure where to start with this one. Smaller festivals are always the bomb because it seems that the vibes are more on point and it feels like you're partying with family. Baddass Raves' Dreamscape perfectly epitomizes everything you should expect before attending a small festy.
First let me start off by saying, what a dope venue. The small area they have set aside is right outside of Baltimore and very reminiscent of a summer camp I went to in my younger days. The cabins, the pond, and the tire swings all provided a very laid back spot to kick it when you weren't at 1 of the 3 stages. They also had a dining hall that provided five meals to those campers who opted to pay a little bit extra. Big ups to them for that because lets be honest there is nothing better than a good meal the morning after going in to kick start your day. I personally did not try the food but from what I heard it was actually pretty good. One of my favorite spots was the pavilion, it was shaded and had comfortable places to chill so you could regroup and contemplate your next move.
The main stage a.k.a. City of Dreams was extremely cool and it definitely got an upgrade since the last festival I attended there. One thing you can always count on a Badass event to have is lasers but what surprised me was the updated visuals they brought to this stage. Behind the DJ was a whole wall, stage to ceiling of whatever who was spinning decided to mind f*** you with. Another cool aspect about this stage is that it's inside of a humungous barn (that's cool because I mean come on it's a barn). My two favorite sets from this stage were definitely UZ and Meaux Green, even though UZ was asked to turn his set down due to unforeseen circumstances he still threw down a hype ass set that had everybody bouncing.
The Block Party stage was similar to the main stage only in the sense that they were both barns but other than that they had nothing in common. I found that most times I walked past or ventured inside it was absolutely dead, not sure if this is because I was there at the wrong times or what but it was strange. In the picture to the right you can see the only patrons who wanted to bare witness to whatever was going on in there were somebody's dad and a couple other randoms. Two notable performances at this stage were Tre Justice and Tripnotic who both managed to actually bring a crowd out. Kind of disappointed at this stage, the way they had it setup it would have been crucial if somebody would have came in and got saucy.
Now on to what was easily my favorite stage that I've seen or experienced in awhile, The Pool stage! From the lineup all the way down to the location, the production on this gets a 10 out of 10. What better place for a stage then right next to a pool? You can relax and catch some rays while your favorite DJ serenades you with your favorite tunes. The lineup at this stage was complete fire too, honestly I probably spent like 4 straight hours just cooling at this stage.
It all started around 4pm and I remember it precisely because I was in my tent not too far from the pool taking a cat nap when suddenly I woke up to (what I would soon find out was) Party Favor dropping straight bombs. So naturally I got up and ventured down there to find a pretty decent sized crowd getting down with the trap feels. As the sun went down the 808s faded and things got super funky by the pool. Starting at 10 pm and going all the way until 2 am we saw Marvel Years, Manic Focus, Michal Menert and Thriftworks in that order. The best part is that I didn't even have to make that tedious walk from stage to stage to stage that most festivals require. We were even lucky enough to be blessed by the masterful collaborative brain child that is Manic Menert. I must say that I left this stage with a new found appreciation for funk, big ups to these guys for keeping it groovy.
The vendors out there were on point as well, a huge part of festivals is leaving with something to remember it by. From wire wraps and pins all the way down to handmade books and tie dyes, there was something for everybody there! One of my favorite booths definitely had to be the good people over at Rage Nation, their pin board is always on point and they had an abundance of fresh gear. I salute Badass for having a wide variety of vendors and they definitely brought in more than the last time I was there. Another booth that I particularly liked was Mind Hydration, they were just some overall cool heads and they have a great message. If you're looking for some custom tie dye/air brush or just awesome things that come in handy at a festy check out their page!
The only complaint that I heard from more than one person was geared towards security. It seemed that they had trouble enforcing and relaying what was and what was not allowed. My experience coming into the festival on Friday was chill, a quick search and no heckling. Word is that they let some people in with outside alcohol and did not allow others. Some that had theirs confiscated were told they could recover it upon exit of the grounds and even took a picture with it to ensure it would not get to the wrong hands, only to find out that was exactly what had happened. My only thing is that if you're going to have rules make sure they are applied to everybody and that you are consistent. People should also understand though, it was clearly stated that there was no outside alcohol allowed (which is weird) so you're bound to face trouble when trying to bring it in. The only other complaints were actual noise complaints filed by neighbors that I hear were over 3 miles away? That doesn't make much sense to me but I know it did put a damper on the festivities. Like I said earlier UZ was asked to turn down the volume but he wasn't the only one, Space Jesus also faced sound limitations. When you think of those two you think loud, I don't blame people for being upset because nobody wants to hear bass music without bass cranking.
One thing is for certain Dreamscape was full of awesome people and the Badass family is very welcoming. There were a few minor problems but I suppose you can expect to run into some issues when you throw a party of this caliber. Overall I had a blast and it's super unfortunate that they will no longer be hosting festivals at Camp Ramblewood. I'm sure they are already on a mission to find an even better location and I have faith that they will continue to put on awesome events. Looking forward to see what changes will be made and where the future lies for Dreamscape and for its sister festival, Nightmare. Head over to the website or social media of Badass Raves and give them a like so you're in the loop and never miss a beat.
Badass Raves Facebook/Twitter/Website
*Full event album here*
Comments
comments