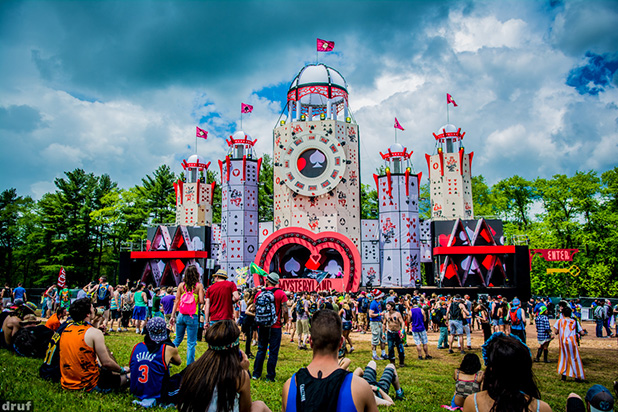 With dance music growing more and more popular by the day, various companies have begun to expand the scope of their products in the hopes of capturing dance music's ever-growing market. This year, T-Mobile attempted their first foray into the dance music space, when they successfully hosted the online live stream for Coachella. Now, the telecommunications company is further expanding their dance music partnerships, as they've teamed up with Mysteryland USA to host their first-ever live stream on Beatport's new platform, Beatport Live. Mysteryland, the longest running festival brand in 22 years, will be making history this year, as the second edition of its US festival will feature the very first live stream in the festival's lengthy past, titled, "Mysteryland Live Stream, Un-leashed."
On May 23rd and May 24th, fans can tune into Beatport Live and venture down the rabbit hole to experience Mysteryland for themselves on their smartphones or their laptops. The live stream will give viewers an inside look at the festival's jaw-dropping art installations, its arts and culture programming, a behind-the-scenes look at some of their favorite artists, and live sets by Gramatik, Diplo, Netsky (Live), and more. This partnership between T-Mobile and Mysteryland extends beyond the livestream, as T-Mobile customers at the festival will earn exclusive perks, such as expedited entry, and access to an exclusive VIP viewing deck.
The Mysteryland USA live stream will kick off on May 23rd at 6 pm EDT, and you can stream it below! If you don't have tickets to Mysteryland yet, limited tickets are still available here, before the festival kicks off this weekend!
Comments
comments