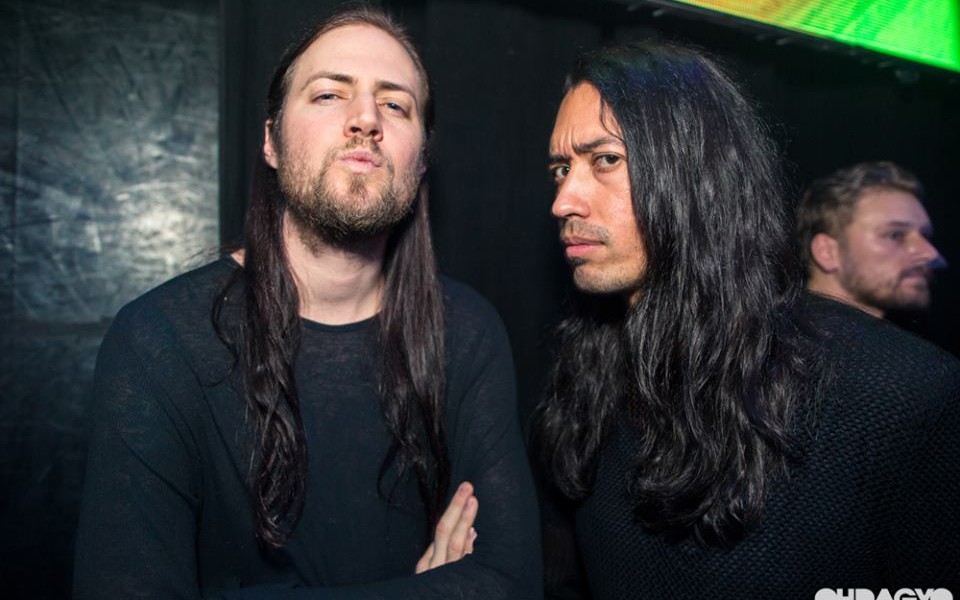 About 3 years ago, I was your typical angsty teen looking for a place to call home among the Hollywood nightlife. It wasn't until I came across CONTROL Fridays at Avalon Hollywood that I had not only found a place that allowed me through the doors, but was a real mecca in music. I really owe CONTROL Fridays for a lot of my musical firsts, exposing me to new artists, and influencing me to where I am today. Since then, I've been an avid CONTROL fan, spending most of my Friday nights under the bright lights and insane sound system at Avalon Hollywood.
This friday however is to be different from all the others. On 5/29,CONTROL will be celebrating its 6 year anniversary and in spirit of this milestone, I've sat down with co-founder Ryan Jaso to see how one of Hollywood's most prized nights came to be and what kind of amazing person inspires this magic.
Happy 6th anniversary! Let's rewind and take things back to the beginning.
Where would you say your roots in the electronic music industry first grew?
Jaso: I first got into house music when I was 20. I used to tag along with my friend Brandon (Lil Brandon) was his dj handle to Bristol Sessions- a weekly house night that was 21+.I wasn't legally allowed there,but it was when I first got into it.
How did you and Chris White meet?

Jaso: When I moved to LA he was one of the first people I met. He was starting a new promotion called "Plus+" Sundays and asked if I wanted to get involved. We started booking acts like Lazaro Casanova and Miami Horror. It was a tiny room with a bad sound system and we never made any money,but it was basically how we got our start.
Where did the idea for CONTROL Fridays come about? Why Avalon?
Jaso:The idea came when we saw what was happening in the scene with acts playing these spots like Dim Mak Tuesday's and Banana Split. They were packed out which was cool to see,but nothing was being done outside the festivals on a bigger stage. To us it felt like there was a gap between a 300 capacity room and a festival. Avalon at 1500 felt like the perfect fit in between. Not to mention Avalon already had a storied history of booking some of the biggest acts on their already established Saturday's where guys like Steve Angello, Sasha, Laidback Luke, etc were playing multiple times a year. The idea was to put what we felt was next on a big stage.
Who was your first act and how did it go? What do you owe the growth of CONTROL to? Jaso:First act was Felix Cartel and it was not busy. In fact the first few months were pretty rough,but the venue saw the vision and the long term goal as well as the agents were on board with what we were doing. I contribute the growth to a great team, the venue being willing to take the hits with us on the way up and a little bit of luck and timing.
When I think of CONTROL I think of a haven to exploring new sounds and a place that really opens night life to the younger crowd. What made you guys decide 19+?
Jaso:Wow, thank you for the compliment! We were 18+ originally,but we felt like it was too young, An 18 year old could still be in high school while a 19 year probably goes to college and has a bit more responsibility.
Looking back on the last 6 years, what would be some of your favorite CONTROL moments?
Jaso:There are so many to choose from.I think one of my favorites was when Ken from Crystal Method proposed on stage during their set to the woman who is now his wife. I think that was definitely a cool moment for us. She had no idea it was coming.
In addition to Hollywood, you've now tacked on San Francisco. What encouraged the expansion and why San Francisco?
Jaso:We've been talking about expanding forever and the right opportunity never presented itself. With Ruby Skye we felt like it complemented the Avalon look and feel and would be a perfect fit. Plus routing wise it made the most sense for artists to do SF Thursday and LA Fridays.
Maybe a CONTROL label is in the future?
Jaso:We've talked about this.We could have signed so many cool tunes if we had done this a long time ago… The expansion in to more cities right now is more of a focus.
In addition to running CONTROL you also run Technique Management, WhiteLite Productions, and your own clothing store Lobby. How do you juggle it all?
Jaso:I have a solid crew in place for all of my ventures, I love taking on new projects, looking into a few more as we speak..
What's the biggest piece of advice you could give someone who wants to get into the indus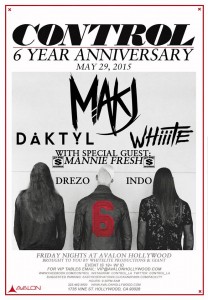 try whether it's managing or becoming an artist?
Jaso:Intern for someone in the industry, you will learn a lot if you ask a lot of questions. Promote events, dj for free, hustle.
Last, but not least…what can we expect for this week's anniversary festivities? Any surprises?
Jaso: We just announced Mannie Fresh this week, you can expect some special guests as well…
"Follow" Main Course: | Facebook | Twitter | Soundcloud |
** For discount list details email jessika@thissongslaps.com**
Comments
comments