Somewhere off the beaten path, up a mountain and on a farm in good ole Artemas, Pennsylvania bass lovers from all over unite for the womp fest that is Big Dub. Save the date because Wednesday July 29th marks the start to the celebration of this events 6th birthday! Baddass Raves has been throwing this party for 5 years now and I must say I have heard nothing but great things. Being that it is one the smaller festivals on the spectrum they do have big competition but I've talked with lots of people who put this festy on a pedestal and some who even put it above the top dogs in the industry.
These four days will be filled with way more than just music; the people at Badass work hard to put lots of different seminars and workshops into place at most of their events. From teaching flow arts to educating on things that are unimaginable, I guarantee if you come into this long weekend with an open mind and a desire to learn something new you will not leave disappointed. Like a lot of festivals today Big Dub will host yoga and meditation sessions but I'm almost positive they stand alone when it comes to hosting things like BDSM (google it) seminars and nightly drum circles. I always give credit where credit is due so I applaud these guys for being different and keeping it interesting. Check out the 2014 recap video, it should give you an idea of what Big Dub will feel like – pure bliss!

Super stoked for this dubstep/trap heavy bill, normally with Badass you can expect to see more drum n bass or hard style so this is mad refreshing. This years lineup brings some who are no stranger to the mountain and also delivers a fresh bunch of new faces who will be making their Big Dub debut. Minnesota and Gladkill are amongst the many that will be returning to grace us with their unique sounds while the homies Crizzly and Downlink fall in the first timer crowd. One thing that particularly grabbed my eye on this one is KJ Sawka versus ill.Gates, this will be one of the first shows you can catch from this unexpected collab and although I don't know exactly what to expect I do know you don't want to miss it!
Tickets are on sale now and apparently extremely close to being sold out so don't sleep on getting yours. Check out Big Dub on Facebook/Twitter to make sure you're in the loop for any updates and a possible give away!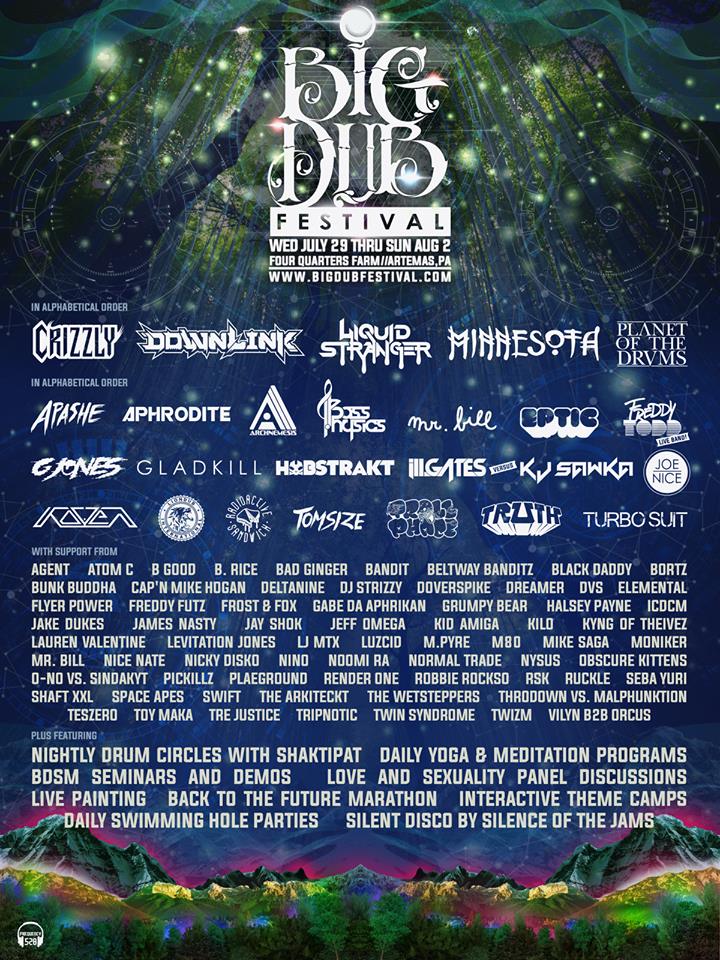 Big Dub Festival Facebook/Twitter/Website
Comments
comments