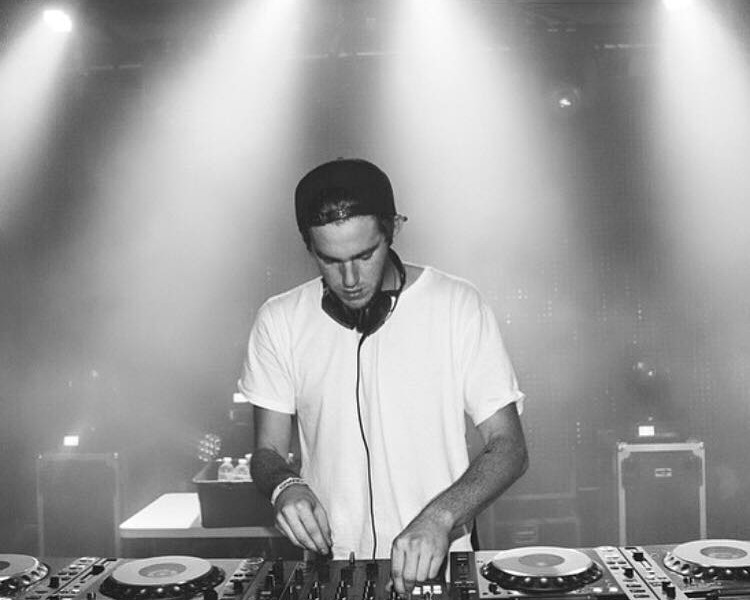 BACK WITH THAT HARD STREET SH*T.
After an extravagant pop-off to festival season this past weekend it seems the track at the moment has unquestionably been ID – ID (feat. ID).
Lulz aside, the real ID music faithfuls will be buzzing about these next coming months is brought forth from the one and only, NGHTMRE.
As Skrillex showcased his undeniable DJ – live performance mainstage at Miami's Ultra Music Festival this year, little did that massive know that their inner-hood souls were to be thrown into a vortex of chaotic head-banging trap-arm bass once this hefty jaw-dropping ID by NGHTMRE was played.
Can't fight the feeling whether it's starting to become a good or really good thing when I continuously tell friends and colleagues who they should be paying their attentive ears to. Moreover since the internet hype has noticeably translated into physical word-of-mouth and already this ID has served as the most wanted track post WMC/MMW, as major label(s) and/or major artist(s) are doing everything in their willpower to swoop up on this hot potato before one or the other does.
So far, 2015 has been ample to state of dance music dating to a few years back. DJ's are once again dropping Skrillex, the Swedish House Mafia has returned in new form (-1), and dance music has again reached the zenith of it's boom when you can successfully create more drama over it's implementation rather than it's sound(.)
Thankfully enough, the sound is all that matters (always). As for NGHTMRE, his sound has been as presistent than most when it comes to using his tangible music abilities to further innovate the variety of genres dance music has to offer. Thus earning him every right to fill in the bigger booths as one by one manufactured artists are barreled away into the dark corners of irrelevancy.
It's strange, living your dreams and nightmares at the same time. So choose which side you're on and make a choice now, or prepare for your worst NGHTMRE.
Skip to 10:34 for NGHTMRE's ID or hit the private preview below.
Skrillex @ Main Stage, Ultra Music Festival Miami, 2015-03-30
1. L'homme Aux 4 Lettres feat. Billion Dollars – Neoprene (Skrillex Remix)(Intro Edit)
2. Schoolboy Q feat. Kendrick Lamar – Collard Greens (GZ Remix)
3. Jack Ü feat. Snails & Taranchyla – Holla Out
4. Skrillex feat. Ragga Twins – All Is Fair In Love And Brostep
5. Yo Majesty – Club Action (Smookie Illson Bootleg)
6. YOGI feat. Pusha T – Burial (Skrillex & TrollPhace Remix)
7. A$AP Ferg feat. A$ap Rocky, French Montana, Schoolboy Q & Trinidad – Work (Remix) vs. Kanye West – New Slaves (DJ Snake Remix)
8. Ragga Twins – Bad Man (Skrillex Remix)
9. Snails & Antiserum – Wild (MUST DIE! Remix)
10. NGHTMRE – ID
11. Beyoncé – 7/11 (Jack Ü Remix) vs. Flosstradamus & GTA feat. Lil Jon – Prison Riot
12. Skrillex – First Of The Year (Equinox)
13. Valentino Khan feat. DJ Kool – Make Some Noise
14. Skrillex feat. Ragga Twins – Ragga Bomb (Skrillex & Zomboy Remix)
15. Skrillex & Kill The Noise feat. Fatman Scoop & Michael Angelakos – Recess vs. JumoDaddy – Black Horse
16. Sum 41 – Fat Lip
17. DJ Snake feat. Lil Jon – Turn Down For What
18. Dillon Francis & DJ Snake – Get Low (The Rebirth In Paris)
19. Wiwek – Salute
20. Skrillex feat. KillaGraham & Sam Drew – Stranger vs. GTA – The Crowd
21. Skrillex feat. Penny – All I Ask Of You
22. Knife Party – Internet Friends vs. Skrillex & Kill The Noise feat. Fatman Scoop & Michael Angelakos – Recess (Valentino Khan Remix)
23. A$AP Rocky ft. Skrillex & Birdy Nam Nam – Wild For The Night
24. Damian Marley – Welcome To Jamrock
25. Skrillex & Damian Marley – Make It Bun Dem vs. BAR9 – Blender
26. Habstrakt – Habby9000
27. Skrillex & Damian Marley – Make It Bun Dem (Alvin Risk Remix)
28. Wiwek & Alvaro feat. MC Spyder – Boomshakatak
29. Wiwek & Gregor Salto – On Your Mark (Hasse De Moor Bootleg)
30. Skrillex & Wolfgang Gartner – The Devil's Den (VIP)
31. C&C Music Factory – Gonna Make You Sweat (Everybody Dance Now)
32. Skrillex & The Doors – Breakin' A Sweat (It's Alright) vs. Skrillex feat. Sirah – Kyoto
33. Skrillex feat. Sirah – Bangarang (VIP)
34. Jack Ü – Get Free / Cinema (VIP) vs. Jack Ü feat. Kiesza – Take U There
35. Jack Ü feat. 2 Chainz – Febreze
36. Jack Ü feat. Kai – Mind
37. Diplo feat. Faustix & ImanoS & Kai – Revolution
38. Skrillex feat. Diplo & G-Dragon & CL – Dirty Vibe
39. Puff Daddy – It's All About The Benjamins
40. 2NE1 – MTBD
41. P. Diddy – Bad Boy For Life
42. Jack Ü feat. Bunji Garlin – Jungle Bae (VIP)
43. Jack Ü feat. Justin Bieber – Where Are Ü Now
NGHTMRE Chapter 1: Miami Music Week [Teaser]Video credit: JLARK

Posted by NGHTMRE on Tuesday, March 31, 2015
"Follow" NGHTMRE: | Facebook | Twitter | SoundCloud |
Comments
comments