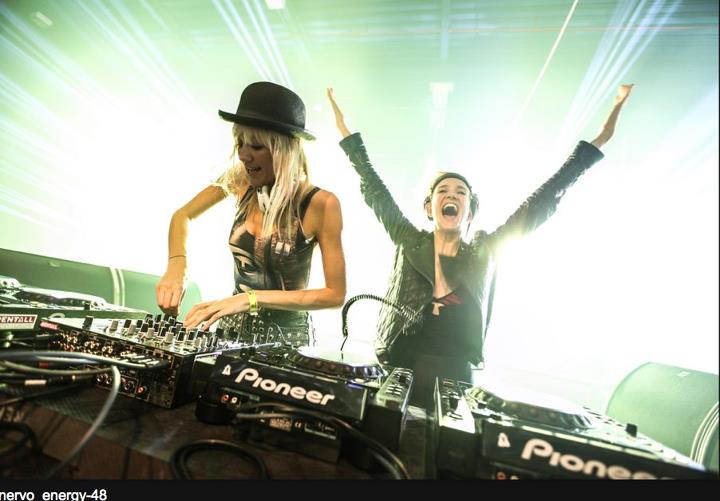 Australia-based Liv and Mim of Nervo have been paving their way in the EDM world for the past few years now, placing their own personal stamp in the scene. The twins clearly have a strong passion for music, signing with Sony/ATV Music publishing at the young age of 18. The two started off as songwriters, writing hit songs for Ke$ha, The Pussycat Dolls, and David Guetta; but soon enough, the duo eventually merged their love for songwriting into producing and DJing – and we've been in obsessed with these two blonde bombshells ever since.
I recently had the chance to speak with Mim and Liv when they stopped in the Bay Area for Pop The Dream. The two were dressed up to the tens and were as sweet as could be, giving us here at TSS an exclusive talk about what we can expect from Nervo in 2015.
TSS: You girls started off as song writers, writing for artists such as Ke$ha and The Pussycat dolls. When did you two transition into DJing and production and was there any special reason behind it?
M: Well we've always been DJing. We were DJing alongside writing music for pop stars. Then we started writing for DJs and we found that a lot easier, a lot quicker. L: Then we started getting more into production, so it kind of just made sense. When someone was like, "Why don't you just do it yourselves?" after we had a few hits. At that point it just made sense to be that kind of producer type artist.
TSS: Just yesterday you announced your next single, "Haute Mess", what can your fans expect from this track and can you tell us about the track.
M: Well it's a club track. We just really like it. It's going really well in our sets. L: Yeah. It's cheeky! We wrote it with the idea of us talking to a guy about being a hot mess. And the guys who are doing the video turned it into us being hot messes. So it's been really cool to see someone else's artistic interpretation of it. M: Yeah it's cheeky, it's naughty, it's sexy.
TSS: For the readers that don't know, you two are also Covergirls. What's it's like being able to do what you do with music but also reach out to other things you love?
M: Well I think it's always come from the music. Covergirl reached out to us because of what we've done with music. It's great. Our job, we never thought being artists and stepping out from behind the scenes would be so much fun, but it really has been. The perks are incredible! Y'know, free makeup, free clothes. It just doesn't get better than that. L: Free parties. M: Free partying. Now we get free equipment as well. It's unbelievable.
TSS: We hear that there is a new album being made from you girls, can you tell us about it? Any collaborations or surprises we can expect?

M: Yeah there's a lot of collabs. We've got a real disco pop-y number with Jake Shears and Nile Rodgers on it. And we've got a girl power, fun pop-y record. L: It features Kreayshawn. Deb. Mars: Kreayshawn?! I love her! L: I know so do we!! Kreayshawn actually directed from the music video, so that was a lot of fun. M: We just shot 5 music videos so we have a lot of content to release over the summer because we're going to be touring then. But yeah the album is called "Collateral." We're hoping to release after I think 3 more singles.
TSS: In a male dominated industry, how do you two manage to stay on top and what would you give as advice to the ladies also trying to make it in the industry?

M: Well I don't think we're on top. Mars: What! Yes you ladies are. Don't be so modest! M: Really?! I think we're always working, y'know? I think the second you think you're on top…I don't know we just always want to get better. L: Exactly. M: Sometimes people say to us "Wow you have so many Facebook numbers." and we're like "Really?! Our friends have 10x these numbers!" L: Yeah! We always feel like we're like the little sisters, but that's fine with us. We're very happy and having a great time. We just think that y'know, always focus on the music and hopefully the rest will follow.
TSS: Alright, a bit of a random question but what are your favorite pizza toppings as pizza lovers?
L: Ooooh that is a good question!! I will never say no to a Hawaiian. Never. Pineapple. Of course. I will never say no. Mars: I love pineapple on my pizza too! M: I really love a barbecue chicken with green capsicum and mushroom. But it has to have good barbecue sauce! L: I also love vegetarian with either ham or pepperoni. Mars: So vegetarian with a twist? Nervo: Yeah!! Vegetarian with meat haha!
TSS: With festival season finally arriving, what festivals do you two look forward to the most?
M: Ah look, we love festivals because we're from Australia and that's festival land there basically. But I think Tomorrowland will be incredible. It's always a fantasy land there, so that will be a big highlight. L: Yep! I'm excited about Brazil Tomorrowland. It's the first time they've ever done it and we can just see from online that everyone seems really psyched about it.
TSS: So what can we expect from Nervo as far as shows, releases, and announcements for 2015?
M: 2015 is going to be chock-a-block. The album will have I think 5 more singles coming out. Plus we have a few collaborations. We've just done a record with Nile Rodgers. Plus we've done 2 records with Peking Duk, an Australian group we really like. Plus, since we've finished the album we're now writing anything we want. It's been really nice. L: Mhm, yeah! We wrote something a week before last that was just no pressure, just let's just get in and start fresh. M: Throw some ideas around. A new start. L: We came up with some ideas that we're really excited about. We're already on to album 2 now.
"Follow" NERVO: | Facebook | Twitter | Soundcloud |
Comments
comments