UPDATE (6:15PM): Vegas Banger released a statement:
"Unfortunately while I and my girlfriend Lauren were eating at a bar this past weekend in Tempe, Arizona the day after Wet Electric Festival, some unknown bar goers had approached us and started to verbally harass us. In being the bigger people, we decided to leave the situation by walking back to our nearby hotel. Heckling and harassment ensued as the bar goers followed us out. In being followed back to our hotel, an officer showed up and I was detained. I hope everyone would understand my intentions to protect my girlfriend of 11+ years and myself when random parties follow and threaten our well-being. In this situation, I am are sure that most would make worse decisions other than receiving a disorderly conduct ticket. I'm saddened that the wording of this article insinuates something other than the truth."
However, conflicting stories have come forth as Your EDM obtained a statement following a conversation with a member of the Indigo Hotel staff, who stated that authorities were called to the premises in response to "Jeff Saville acting belligerently toward a female companion."
If you've ever watched the show Cops for more than 5 minutes, you know that domestic violence (what Jeff was charged with) charges result from couples fighting with each other.
---
CAKED UP is up to no good again, but this time it's not for stealing other artists' music.
Earlier this afternoon, Your EDM reported that one half of CAKED UP, 29-year-old Vegas Banger, was arrested for a "domestic dispute" at Hotel Indigo in Scottsdale, AZ following their set at Wet Electric. Along with the article, the below arrest report has been made available to the public by the Arizona Judicial Branch. Oscar Wylde's sister, who is dating Vegas Banger, was reportedly "almost apprehended" during the incident for "causing a scene," but left in a private car.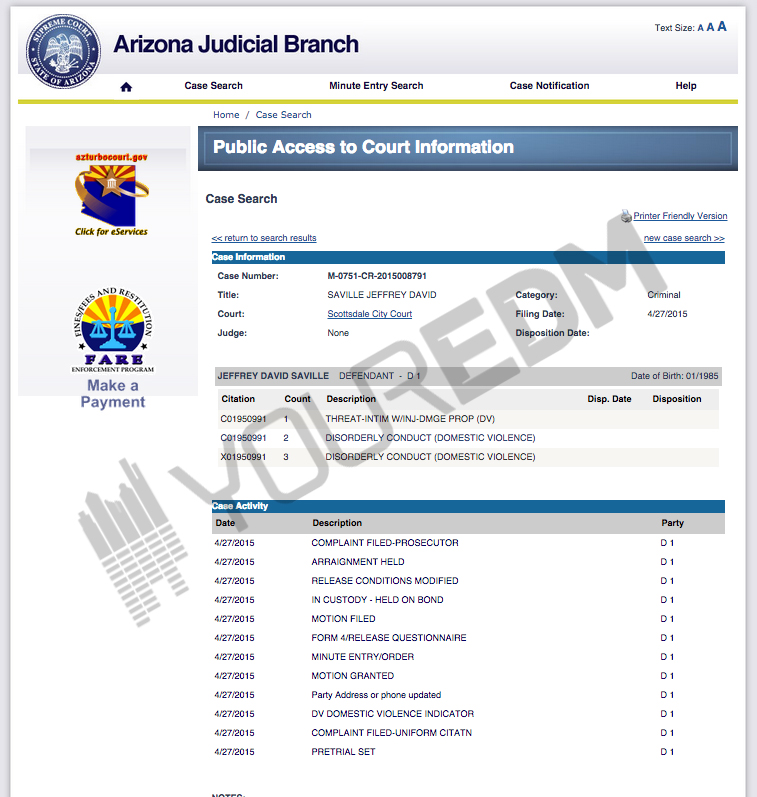 H/T Your EDM
Comments
comments