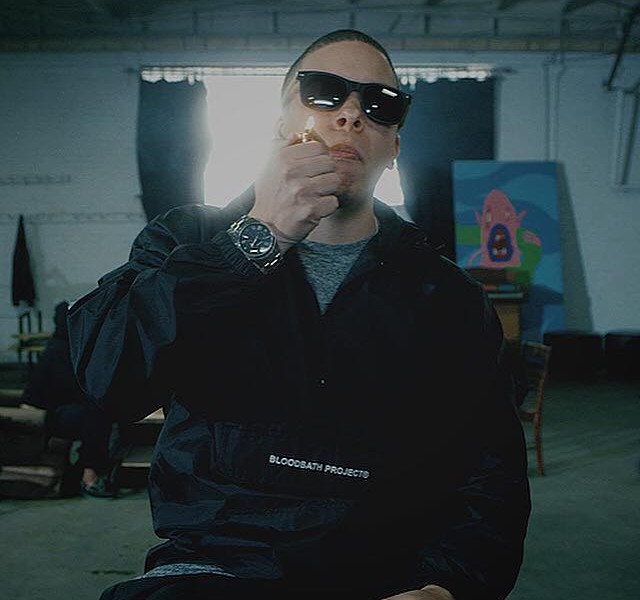 Demrick links up with Kidd Upstairs and friends for a very cloudy studio sesh as well as to shoot the video for their smokey anthem "Tone It Down." The video see's Demrick going through his morning routine before coming through the studio with Kiddo and some other collaborators to record the track and put up hella blunts. Directed by Jakob Owens and cameos that include Cali Cleve, Sam King and X.O., this is just a little behind the scenes footage of Demrick's life and the vibe on the west coast. Now Roll one up and press play!
Demrick – Tone It Down feat. Kidd Upstairs (Prod. By BOATS) | Download |
Demrick is getting ready to hit the road with Funk Volume emcee Dizzy Wright starting May 29th. Make sure you catch them in a city near you.
DEMRICK TOUR DATES
May 29 – Slo Brew – San Luis Obispo, CA
May 30 – The Catalyst – Santa Cruz, CA
May 31 – The Boardwalk – Sacramento, CA
June 02 – Revolution Event Center – Boise, ID
June 04 – Aggie Theater – Fort Collins, CO
June 05 – Bourbon Theater – Lincoln, NE
June 06 – Wooly's – Des Moines, IA
June 07 – Nos Event Center – San Bernandino, CA
June 09 – Deluxe – Indianapolis, IN
June 10 – Mojoe's – Joilet, IL
June 11 – The Intersection – Grand Rapids, MI
June 12 – The Shelter – Detroit, MI
June 13 – The Agora Ballroom – Cleveland, OH
June 16 – The Hoxton – Toronto, ON
June 17 – Fairmont Theater – Montreal, QC
June 18 – Highline Ballroom – New York City, NY
June 21 – Firefly Festival – Dover, DE
June 23 – Hi Tone – Memphis, TN
June 24 – Juanita's Cafe & Bar – Little Rock, AR
June 25 – Trees – Dallas, TX
June 26 – Warehouse Live – Houston, TX
June 27 – Alamo City Music Hall – San Antonio, TX
June 29 – Sunshine Theater – Albuquerque, NM
June 30 – The Press Room – Phoeniz, AZ
July 01 – The Rock – Tucson, AZ
July 02 – Shark Club – Costa Mesa, CA
July 03 – Troubadour – Los Angeles, CA
July 04 – House of Blues – Las Vegas, NV
"Follow" Demrick: | Facebook | Twitter | Soundcloud |
Comments
comments