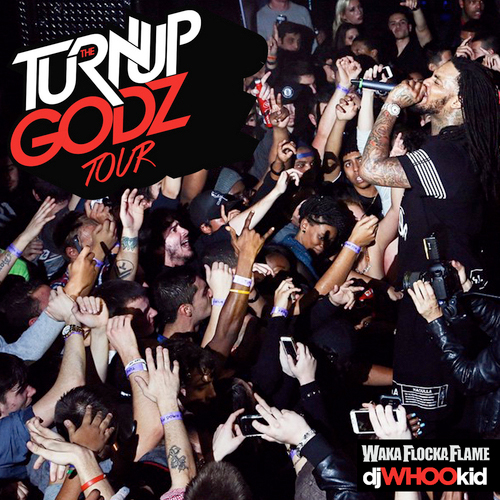 When we look back on the history of music, Atlanta rapper Waka Flocka Flame will be remembered as one of the most ground breaking artists of our time. No, I'm not on crack if that's what you're thinking. Waka helped to bring trap music and what we know as "turn up" to the mainstream with his own brand of punk rock hip hop that was driven more by energizing bass and straight forward gangster bars rather than lyrical miracle rap roots that spawned the genre. From that we've seen since he came on to the scene, everyone has followed his lead from hip hop to electronic music. Without Waka, we probably wouldn't have the sub genre of trap we know and love today. Now, Waka dives head first into the EDM world with his new mixtape "Turn Up Godz" and it's everything you expected (and more). After being featured on numerous EDM tracks and tours as a guest with the likes Borgore (Wild Out), Diplo (Techno) and Steve Aoki (Rage The Night Away), Waka has taken what he's learned and put it all to what might be the blueprint for the future of party hip hop.
This mixtape features the Brick Squad leader going in over just about every kind of EDM beat you can think of and brings his trademark energy and wild lyrics to each one. He gives us some new tracks to turn up to and even throws in some fresh remixes of his classics to round out the project. With features from, just to name a few, Machine Gun Kelly, Flosstradomus, Neon Dreams, Future, Gucci Mane, DJ Whoo Kid and even Howard Stern?!?! This project encapsulates everything you love about a good Datpiff street mixtape and crosses the boarders of music with ease.
Waka also announced a tour to go along with this new project so make sure you keep those dates circled on your calendar because if it goes as hard as it does in your headphones, the live show will be something to see. This project is so good it's almost disappointing that it's not the official album. Notwithstanding, head over to Datpiff, get that free download and turn those speakers up!
Rage On My People (SQUAD!)
Waka Flocka Flame – The Turn Up Godz Tour/Mixtape | Download |
"Follow" Waka Flocka Flame: | Facebook | Twitter | Soundcloud |
Comments
comments