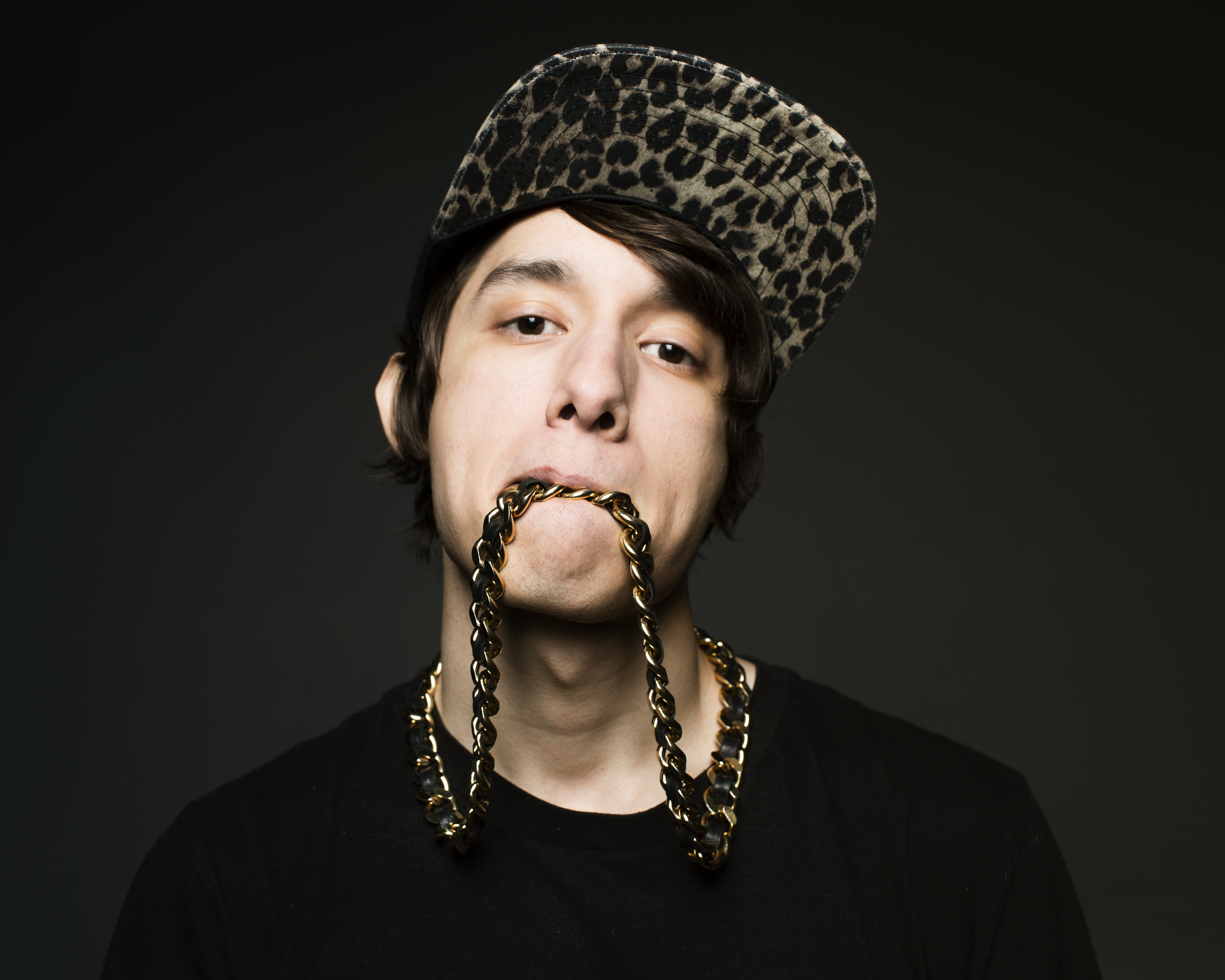 We were lucky enough to get to sit down with Crizzly after his show at The Canal Club in Richmond. For starters, let me say this was most definitely one of the most hype sets I've witnessed in a minute; the man straight throws down. One might not expect such a cool, calm & collected dude judging by how rowdy most of his music is, but Chris is a chill dude and it was a pleasure to interview him. He first touched down on the scene in 2010 and has been making moves ever since. He has dropped multiple singles and three mixtapes, titled: Crunkstep (2012), Crunkstep Volume 2: Back 2 Da Streets (2013) and Crunkstep Volume 3: Booty by Crizzly (2014). One of his more notorious originals is the track he made with Slim Thug entitled, "Certified Gz."
Crizzly-Certified Gz (feat. Slim Thug) |Download|

The vibes on the Slim Thug collab are reflective of the sound he brings to the table on most of the beats he lays down. One thing is for certain, you can expect every show of his to be one of the most live events you have ever attended. The list of festivals Crizzly has played goes on; so, you can expect to catch him this summer at big festys like Electric Forest and Ultra. If these festys aren't an option for you, don't fret! He is also in the midst of his North American tour "Real Thugz" with K Theory, Antiserum & LAXX (see remaining dates below).
I know a lot of you are probably curious what the king of crunk step is all about, so I'll get right into it!
TSS: To start it off I just wanted to say that all of us at TSS are huge fans!
Crizzly: Awesome, I love the blog.
TSS: Who was the first musician to get you interested in making music?
Crizzly: That's a tough one just because there is so many when I was growing up everything was making me want to make music but I would say one of the first people who actually made me want to open up a program or software in my computer and start making music would be this dude called Overseer. I doubt anyone really knows who he is but you probably know his songs; he had a bunch of tracks in movies, car commercials and in Need For Speed: Underground. I had that on Gamecube and like all of his songs were on there, he was just some random producer who kinda got me inspired and wanting to make weird sounds. There's a bunch of other people but he might have been one of the first plus I talked to him on Myspace a lot because he had a group that he used to message and I would freak out when he would respond to me you know Myspace was huge back then so I wanted to make a music profile and stuff so I started doing that.
TSS: I've heard lots of great things about your home base Austin, Texas it must be nice to be from such a cultured city, what's your favorite part about the area?
Crizzly: My favorite part is probably my friends just bc all my friends are there, it's cool traveling and being everywhere but home only really feels like home when you can just hit up a friend and be like "yo let's chill" all my homies are in Austin. So there's that and of course the food.
TSS: Word on the streets is that you throw a secret party called Lifted down there every Tuesday, any truth to this or would answering that question break the veil of secrecy?
Crizzly: Oh man you put me on the spot, just kidding it's totally out there I mean people know about it but I'm keeping it on the low low. It's barely promoted but I'll like tweet about it or post a picture. People just show up every Tuesday at this bar down on 6th street in Austin and 6th street is known as being the place where everyone goes downtown there's like 200+ bars in this one area and I found a spot that was willing to let us play every Tuesday and just do our thing. I barely make any money off of it I do it just because I love Austin and I love the scene and I have been trying to elevate the scene to be more aware of what's going on in music because I feel like recently it's been slacking and Austin needs to wake up because there's so much new stuff coming out now. We have an awesome team of djs out there, there's like 7 of us and we literally just go b2b2b2b2b2b2b like all night and I don't play a Crizzly set its just me and my homies up there playing tracks we want to hear. We're about to elevate Lifted to a new level and do some wild shit like collabing with some street wear company based out of Austin. We're all coming together down there and we've been sitting down actually making things happen its some next level stuff, we have a bunch of plans.
TSS: I know you've played quite a few festivals but if you had to pick which one would you say was your favorite & why?
Crizzly: Honestly each one is my favorite because each one is life changing, I go up there and I'll never forget it because festival crowds are the largest that I'll play for and everyone is going nuts and those are the biggest moments of my life. To choose one is crazy but I'll name a few there's Insomniacs EDC, Moonrise was crazy last year, Lollapalooza was life changing for sure, Ultra was nuts. There's just so many and each one is an awesome experience for me.
TSS: You probably get this question a lot but who would you like to collab with, maybe there's somebody who people wouldn't expect?
Crizzly: I always have to drop Lil B in there just in case he's listening, if you're listening based god hit me up! I just wanna be a master chef that's all so either him or right now I would really like to collab with Travis Scott I know it's probably not super likely right now. I feel like he's one of the few rappers from Texas killing it at the moment and we've had chances to meet back in the day but we never really connected. To see him blow up and seeing him out there killing it just makes me really proud of Texas. Right now I'm also working on a collab with my homeboy Crichy Crich.
TSS: Who has been your biggest influence from within the music industry?
Crizzly: A fitting one would be Drake right now because he works so hard and puts out so many records I think that's awesome. Work ethic is something that I look up to, someone who works as hard as him is definitely inspiring. He's just really good at writing lyrics, being catchy and using his voice to do melodies. If anything I'm as big of a fan of his music as I am his work flow. I've actually been jamming his most recent album "If You're Reading This It's Too Late."
TSS: I've read that pizza is kinda your thing so I have to ask, what is the ultimate pizza for Crizzly?
Crizzly: Either supreme or pepperoni & pineapple.
TSS: What is your biggest nugget of wisdom for any up and coming producers trying to get noticed?
Crizzly: Put time into your tracks because there's too many people right now who just put out tracks because there too excited to put it out. It sounds unfinished, the mixing doesn't sound good and the mastering doesn't sound good either; just take time and put that extra effort into it to make it better sounding all around. You put that little time in and that makes the track better than the track that is next to it, which could be another up and coming producer. You know? You're trying to beat someone else when you're coming up like that, you're trying to stick out from the crowd. That and being original which is the biggest thing; be original and focus on overall quality.
TSS: What's next for you, any big projects in the works right now?
Crizzly: Right now I'm just starting up my label so I can put out more tracks and actually get them out there to people. The biggest struggle of last year was working with labels and making deals and it all just fell through so I was like fuck it I'll just make my own label. Thats what a lot of people do in my position and I was told by somebody higher up whose name I won't say because I don't like name dropping but it's coming super soon. Being able to put out tracks when I'm done with them or a few weeks after because it still takes time is what I'm really excited about. I have all these unfinished projects and I'm just like thats not good enough to put out so I don't put it out, I might play it in my sets or I might not even do that so people aren't hearing everything I have. Now I can just put it out on my label and the negative feedback on Soundcloud or YouTube would phase me but I'm starting to care less. I don't even have time to read them and I feel like its becoming more known that if you have an opinion on someone else's music you're just wasting your time in general. That person made a song and it's not for you to judge, if you don't like it then you don't have to listen to it or buy it for that matter. It's not fair to hurt my fans who want to hear more by not putting out tracks because I'm afraid that they won't be good enough, I'm really tired of that feeling. Luckily for me when I was releasing stuff a lot more often I got mostly positive feedback and when I did get a negative comment I would notice because it stuck out. I put a lot of time into it and of course not everyone is gonna like it but I hate when people get force fed tracks; you know like sponsored music or radio shit where its just being shoved in your face. I don't like that feeling and that's why people would hate in the first place so for me I kinda get shy about it. I'm not the most outspoken person, I'm not loud like Riff Raff or someone. I'll put my music out and you know some people will hear it and others won't but I rely on the blogs to repost it and share it, I'm not out here trying to spam it to everyone.

Mar 14 Sound Bar w/ ANTISERUM, K Theory Chicago, IL
Mar 19 The Old Rock House w/ Dotcom, LAXX St Louis, MO
Mar 20 The Loft w/ ANTISERUM, LAXX & more Minneapolis, MN
Mar 21 The Miramar Theatre w/ ANTISERUM, LAXX Milwaukee, WI
Mar 27 Bassmnt w/ LAXX San Diego, CA
Mar 28 Hard Rock Live Las Vegas w/ Dotcom, K Theory Las Vegas, NV
Apr 01 Levels w/ ANTISERUM, LAXX State College, PA
Apr 02 SOCIAL w/ ANTISERUM, LAXX Columbia, SC
Apr 03 SoundGarden Hall w/ Dotcom, LAXX Philadelphia, PA
Apr 04 Tuxedo Junction w/ ANTISERUM, LAXX Danbury, CT
Apr 09 TEN w/ ANTISERUM, LAXX Calgary, Canada
Apr 10 The Showbox w/ ANTISERUM, LAXX Seattle, WA
Apr 11 Roseland w/ ANTISERUM, LAXX Portland, OR
Apr 12 Cozmic w/ ANTISERUM, LAXX Eugene, OR
Apr 15 KAMP'S w/ ANTISERUM, LAXX Oklahoma City, OK
Apr 16 Lakeview Nightclub w/ ANTISERUM, LAXX Bryan, TX
Apr 17 Wild West w/ ANTISERUM, LAXX Lubbock, TX
Apr 18 Alamo City Music Hall w/ ANTISERUM, LAXX San Antonio, TX
Apr 25 Grand Central w/ ANTISERUM, LAXX Miami, FL
Apr 30 Venue 578 w/ ANTISERUM, LAXX Orlando, FL
May 01 The International w/ ANTISERUM, LAXX Knoxville, TN
May 08 AVALON HOLLYWOOD w/ Dotcom, LAXX Los Angeles, CA
May 14 Slowdown w/ ANTISERUM, LAXX Omaha, NE
May 15 Lizard Lounge w/ ANTISERUM, LAXX Dallas, TX
May 22 The Chop Shop w/ ANTISERUM, LAXX Charlotte, NC

"Follow" Crizzly: |Facebook|Twitter|Soundcloud|
Comments
comments