Sometimes… it just takes one verse. Just one verse from a rapper that is so crazy that it instantly makes you a fan. It becomes that verse you can rap off the top of your head at any moment. It's that kind of verse that when you're running the AUX chord in the car you bump it loud to show off to your friends during the blunt cruise to the party. The kind of verse that makes you look back and listen to everything that artist has done and keeps you checking for every new track they drop. One verse in particular got me more than any other verse in hip hop history. As crazy as it sounds, it was a verse by Houston Texas's Crichy Crich's on the final verse of a song called "Gucci Jacuzzi".
I know some of you are thinking, "Who da fuck is Crichy Crich?" Trust me, I thought the same thing after hearing "Gucci Jacuzzi". So let's break it down for those who aren't familiar yet. Crichy Crich is a LA based MC using his wild Texas bred flow and transferring it to crazy electronic beats. Making a new sound that's breaking through nationwide as southern hip hop and experimental EDM rise in the mainstream consciousness. "Gucci Jacuzzi" is a Hip Hop/EDM hybrid track produced by trippy bass wunderkind Tincup that featured H-Town heavyweights RiFF RaFF, Lil Flip and a nasty hook from fellow up and comer Yung Elvis. Like me, it was most fans introduction to the young MC known as Crichy Crich. When that epic build comes up to that final drop, Crichy just unloads one of the most jaw dropping, head spinning, party poppin' verses you've ever heard. He rode the wobbleing bass synth and just spit the most absurdly awesome bars that just makes you go so hard you black out on the dancefloor. This was about a year since that song dropped and that verse still hits as hard as the first day I heard it.
Since then, he's been touring the country and is quickly putting himself at the forefront of Hip Hop merging with EDM both in sound, style, and culture. At a time where hip hop is becoming more EDM and EDM seems is trying to become more hip hop, fans of both genres are always looking for an artist that truly bridges the gap between the two worlds. Crichy is currently moving with Buygore (Borgore's Label) doing massive shows with big name acts and has been putting out quality bangers with a gang of killer producers (TinCup, Styles &Complete and Cuzzins to name a few). It's been a steady rise and a wild grind, but Crichy Crich is gearing up for a big run.
On the heels of his latest single "Star Struck" released on Buygore with Styles&Complete, we reached out to talk to Crichy Crichy and see where the rising MC has been, where he is and where he's going.
So crack open a Lone Star beer and roll up a fat blunt of that Rambo, cuz here's Crichy Crich BIATCH!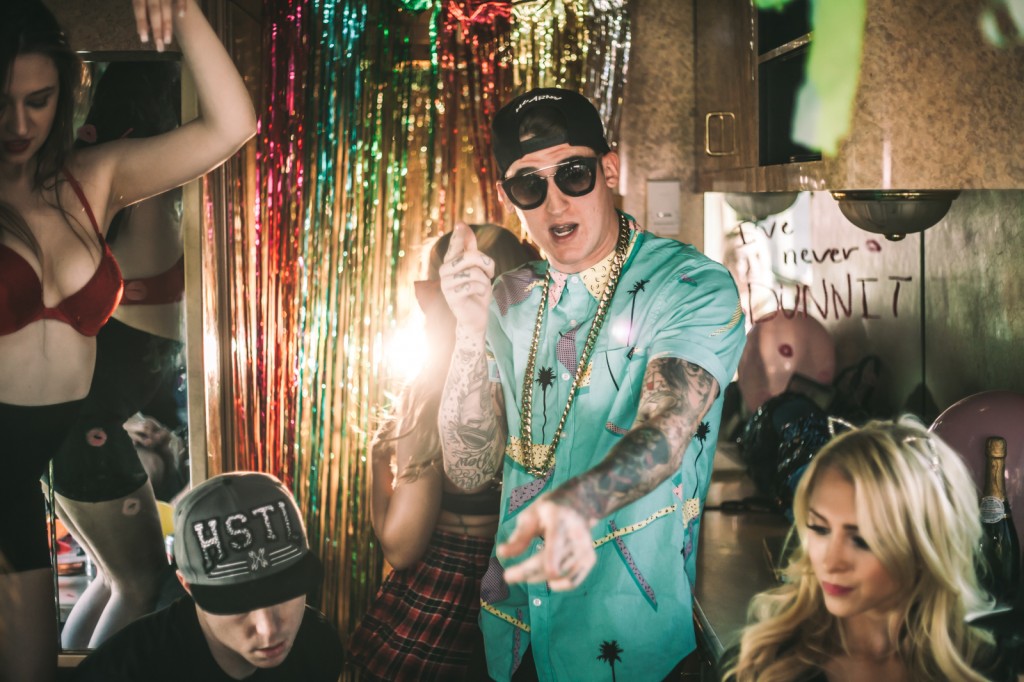 Photo From Music Video "Dunnit" with Styles & Complete Credit @stillflik on Instagram
Gucci Jacuzzi by Tincup ft. Riff Raff x Crichy Crich x Lil Flip x Yung Elvis | (3:16 Crichy's Verse)
TSS: What's good G? How is everything? See you moving around a lot and working on some big things. Thanks for taking the time to talk with us.
Crichy Crich: What up What up! Most definitely, thanks for having me!
TSS: I've done a lot of research since I reached out and you agreed to kick it with us but there's not a lot of material out on you yet. So just for the people who aren't familiar tell us a little bit about your background and who you are. Long question short, "Who da fux Crichy Crich?"
Crichy Crich: Just a dude from Houston, Tx , now living in Hollywood, who loves making music and partying heavily.
TSS: Been a fan for a minute now. I started really getting on to your stuff through your collabs with Tincup. You guys have put some serious heat out from "Gucci Jacuzzi", "Two Seat", and "Drowning" just to name a few. How did you guys link up and what's the chemistry like between you guys? Your flow just fits hits production so well. Also, you guys got any new shit on the way?
Crichy Crich: Thank ya! We actually met though the internet about a year ago. Gucci Jacuzzi was our first track that we put together and since then have put out about 5 releases together. All of them have done great. Two seat and Gucci Jacuzzi have both broke the million play mark on soundcloud, which is pretty cool. We don't have anything in the works together at the moment, but I'm sure ya'll will hear plenty more bangers from us soon!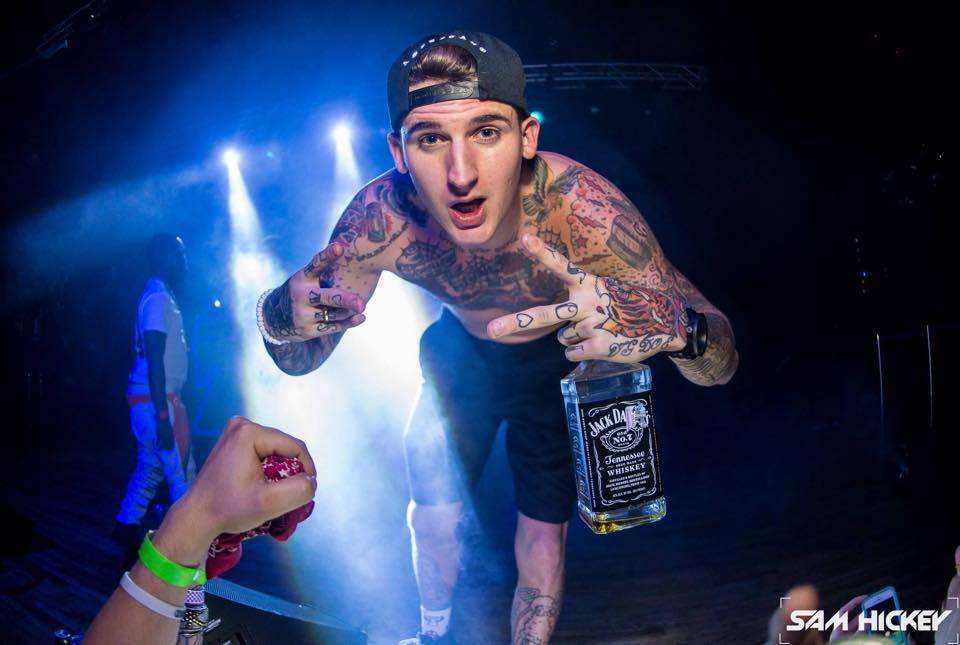 Photo Credit Sam Hickey Photography
Tincup x Crichy Crich – Two Seat |
TSS: You've been doing a lot of big shows with some big name artists and have been moving around with the Buygore crew. Shows always look turnt. Can you tell us what the road life has been like playing and working with these artists? What people can expect from a Crichy Crich live show?
Crichy Crich: Yup Yup, the Buygore squad is definitely the fam. Playing Miami at the end of the month for the Buygore pool party at WMC on the 29th. It's been awesome having support from such big names and having some of my favorite producers wanting to work with me. When you come to a Crichy Crich show you should be ready for one hell of a party. Every style and every ethnicity will usually be in there going crazy. It's all about having fun, no fights, nobody acting cool .. fuck that shit. It's just us spraying champagne, crowd surfing, girls shakin ass, and getting live as possible!
TSS: Fans have been waiting for a full body of work from you since you started buzzing. Do you have any projects in the works right now? If so when is it getting here and what can we expect on it as far as production, bars and presentation?
Crichy Crich: Right now I'm focused on singles. I can't talk about some of the things I have in the works yet, but I already have several finished tracks with some huge producers/ rappers that will be announced soon. As far as an album, that's going to be a while. Ya'll will at least get a 4-6 track EP from me soon!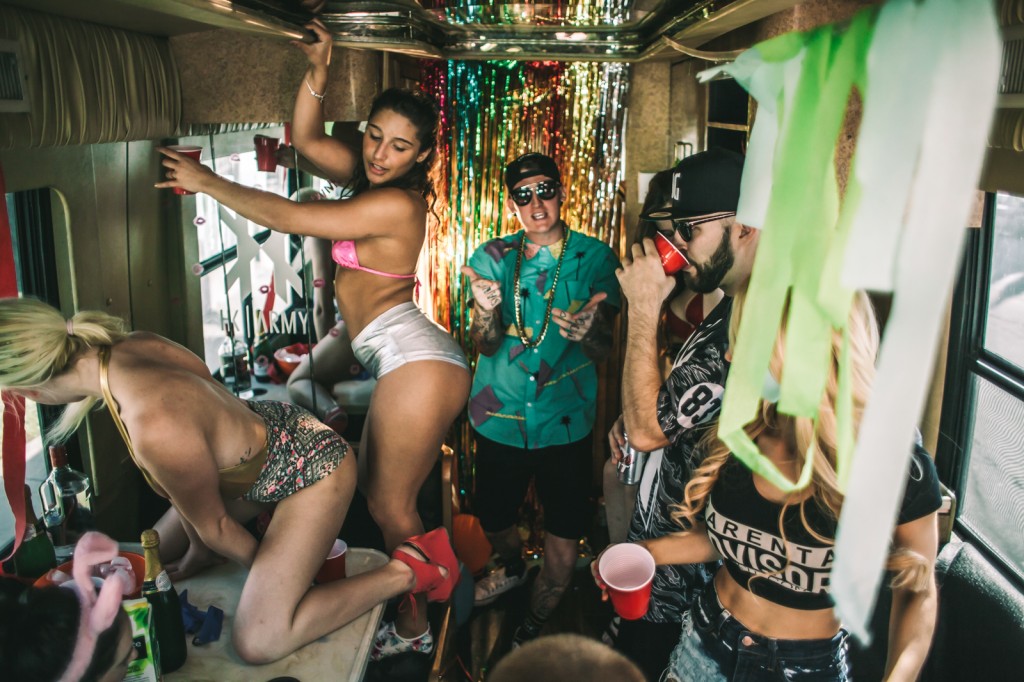 Photo From Music Video "Dunnit" with Styles & Complete Credit @stillflik on Instagram
Styles&Complete + EXSSV + Crichy Crich – Starstruck |
TSS: Houston seems like it's on the verge of a big moment in Hip Hop (If it hasn't happened already). With artists like you, RiFF RAFF, Travis Scott, Kirko Bangz and Maxo Kream starting to buzz nationwide. Houston has always had a strong DIY hip hop scene with OG's like Lil Flip, Paul Wall, Slim Thug, Pimp C and of course DJ Screw (RIP). Now it seems there's a lot of new artists coming out that are true to the H-Town style but are taking it down different lanes. What's the Houston scene like when you where coming up? What's the scene like from where you're sitting now? How did coming up in Houston influence the artist you are now?
Crichy Crich: Lil flip is actually the first Rapper who put me on. We did college tours for about 3 years straight together. The Houston scene is dope, but it's definitely a tough scene to work. It's my city and will always be my home, but I had to move out to Austin, TX to really start getting more shows etc.
TSS: How "Texas" are you doe?
Crichy Crich: Texas forever!! I grew up on Houston rap completely and I love everything about it. The majority of my shows have been in Texas, and I would say Texas State University in San Marcos definitely put me on the hardest. My homie Omar from Afterdark Entertainment pretty much runs Electronic music in Texas and owns a badass venue out there called The Marc where I've performed countless shows with some of the largest EDM acts out there.
TSS: Of course, the reason why I think you're poppin is because you've came out as the go to guy for EDM Hip Hop. Tell me what got you into electronic music and how you went about developing your sound? Who are some of the influences?
Crichy Crich: That's what I want people to think of when they think of me. My sound is completely me. It's how I feel at the time and honestly, EDM is all I want to rap on now. The crowds are the best and the energy is crazy. There's no rapper out right now that's making me want to do what i'm doing. It's really just me having fun and i'm glad so many people have come to enjoy it!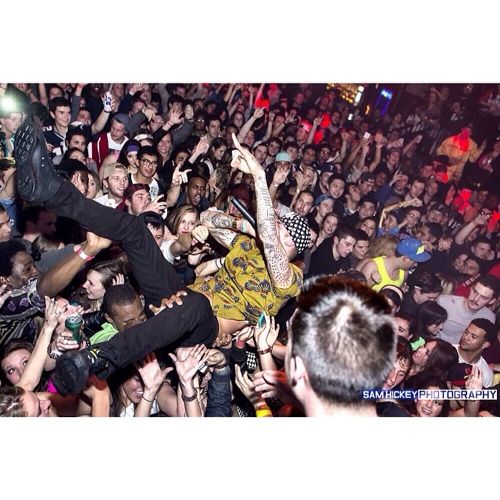 Photo Credit Sam Hickey Photgraphy San Marcos TX
CUZZINS – Xans Make Em Dance ft. Crichy Crich |
TSS: Of course none of this means anything unless you can really rap, which you clearly can. Love the track "Trip" with Hi-Rez because he's known as a heavy spitter and you held your own with him and brought him into your world a bit with the beat. What's your writing process like? Are you more write it down rapper or do you freestyle? Also how do you go about selecting beats? Any studio rituals or must haves to help the creative process?
Crichy Crich: Yes, I write everything besides the Hooks.. Many of the Hooks I just walk into the booth and freestyle it. As far as verses, I like to pick the hardest beat possible and it just flows. I usually drink in the studio and at shows.. It just gets me hype as hell haha… Oh and I like burning incense…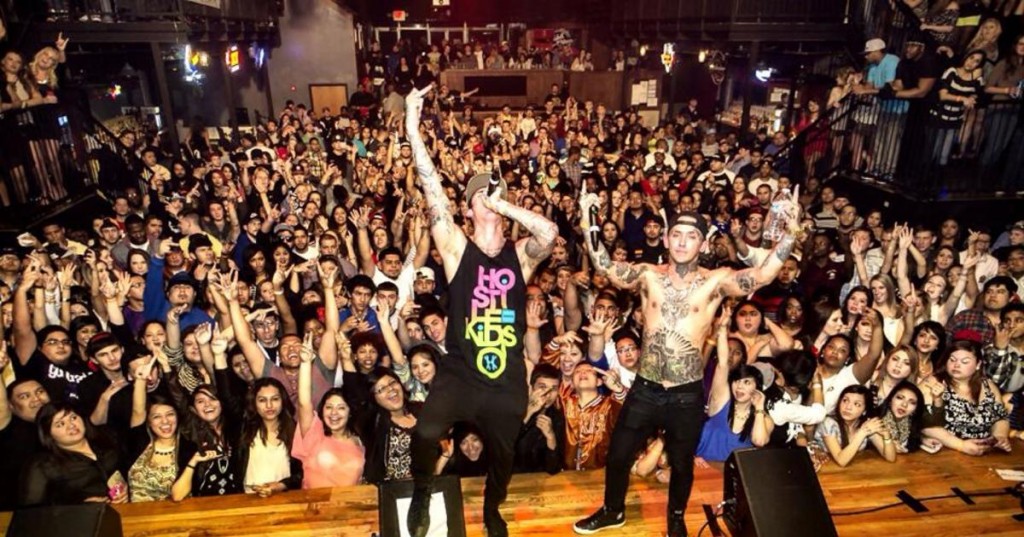 Crichy Crich x HiRez – Trip (Prod. by Tincup) |
TSS: Your lyrics are really off the wall and put you into this drug induced, crazy excessive and turnt up sort of mind space. Don't get me wrong, it's fuckin awesome. I know a lot of your fans are fans because of that. But honestly how close are your lyrics to your real life? Cuz if you're keeping absolutely 100 with your bars how the fuck aren't you dead yet? That's a lot of craziness to live through on a day to day basis? I mean what do you do to just chill out and what gets you serious?
Crichy Crich: Haha yeah, a lot of my lyrics just come off the top.. I don't even think of what to write, it just comes to me. Anyone who knows me in real life, knows how hard I party and what i've done. I've definitely calmed down a lot because if I kept at it how I was, there's a real chance I wouldn't be here today. I mainly just like to drink when I go out .. But if I can find drank (syrup) I'll never pass it up lol.
TSS: I know you're a big fan of crazy printed shirts. I saw you actually got one tatted on you. For the kids you wanna come to the show swagged up like Crichy Crich, where did you get your style from? What are the best places to grab those prints?
Crichy Crich: Cool that you brought that up. It's my favorite thing to wear hands down. Like you said, I like the shirts so much that I actually got one tatted on me haha I just like the craziest ones I see. they're all different type of brands.
TSS: What the drink of choice?
Crichy Crich: WHISKEY
TSS: Favorite weed strain? Favorite method of smoking?
Crichy Crich: I like sativas. I hate being so stoned that it makes me tired and lazy. I only smoke at night time now, after I finish all the shit I have to get done. I've become really busy so I don't have time to be stoned all the time anymore.
TSS: What's a songs you have on repeat right now? Also, who's someone you're a fan of that people would be surprised to know you like?
Crichy Crich: I fuck with Travis Scott heavy. I really jam all of his shit on the regular. I grew up on classic rock believe it or not.. you may catch me eaten shrooms in the california mountains jamming out to Pink Floyd.
Styles&Complete Ft. Crichy Crich & Carter Cruise – Dunnit |
TSS: Of course, we're all waiting for the album one day and I know you got that sitting in the back of your mind. If you could pull out all the stops on the album (Like fuck the budget all out) who would you try to get on production? Who would you try to get some features from? And just for fun, you get to book your own tour off the album and you get to bring out anyone you want as your support acts. Who do you got on the bill?
Crichy Crich: Carnage and Flosstradamus are some major ones I wanna work with.. I would also like to make my first Album fully produced by my homie Crizzly .. Me and Crizzly are real cool .. we've done several shows together and just wrapped up a new collab actually. As far as bringing a rapper with me on tour … WAKA FLOCKAAAAAA!!!!!!! He kinda reminds me of me because he just likes to party his ass off and have a great time.
TSS: What do you have to say to the doubters out there?
Crichy Crich: They all hate until you pull up in the Cotton candy bugatti with Cara Delevinge sitting shotty
TSS: What do you have to say to the fans?
Thank ya'll for everything. The fans are absolutely everything. Stay tuned because I got tons of stuff coming for you guys.. We're all one big family is how I see it. IT'S CRICHY CRICH BIATCHHH!!!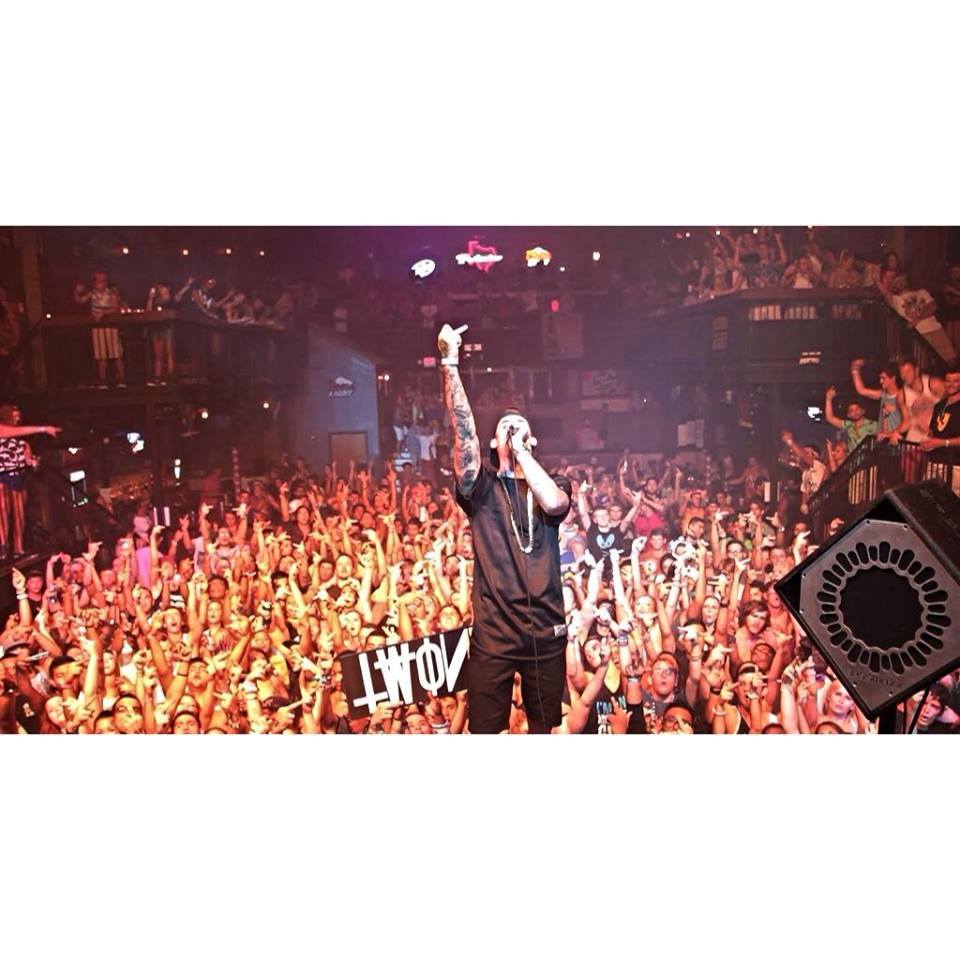 "Follow" Crichy Crich: | Facebook | Twitter | Soundcloud |
Comments
comments