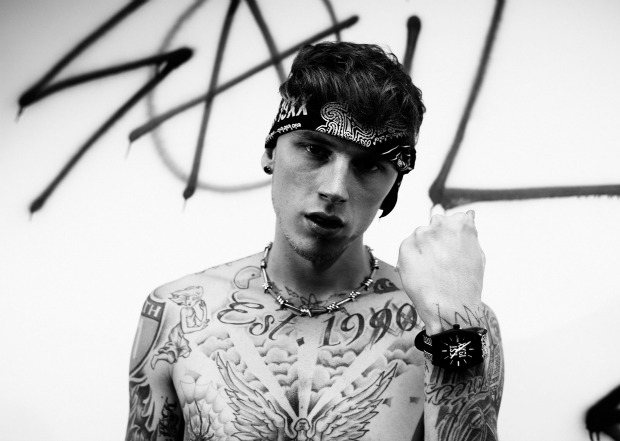 Get ready to lace up because the kid is back and in a big way. Punk rock MC Machine Gun Kelly blessed his fans with some fire in his new single "Against The World" produced by Slim Gudz.
After dropping his highly acclaimed mixtape "Black Flag" about a year ago, MGK has been playing it pretty low key in the mainstream music world outside of a few singles like "Sail" and "Wanna Ball" and features with Kid Ink and Steve Aoki. However he hasn't slowed down at all touring and even has built his own festival "EST Fest" bringing together his loyal #LaceUp fans from around the world. He's also been building an impressive catalog of acting credentials doing films like "Beyond The Lights", "Punk Is Dead", "SLC Punk 2" and just announced he would be in Showtime's future series "Roadies". That's a lot for a guy that most people would say fell off after his debut album (who's still saying that though?).
This track is the follow up to his hometown anthem "Til I Die" which did numbers I'm sure even surprised MGK himself topping a million+ hits in less than a week. "Against The World" is one of those classic MGK rise up and get on the grind bangers like "Chasing Pavements" or "Swing Life Away" that have helped him cultivate the devoted fanbase he has. Featuring beautiful piano licks that builds into a massive drop where MGK starts fire spitting his trials against adversity and finding the strength within to bring people together to fight world. This track along with "Til I Die" have MGK's name buzzing like it's 2012 again and leading into his new album, the Cleveland kid looks more focused than ever too take the game by storm.
Check out the track, grab that free downlad and TURN THOSE SPEAKERS UP!
Rage On My People
Machine Gun Kelly – Against The World | Download |
"Follow" Machine Gun Kelly: | Facebook | Twitter | Soundcloud |
Comments
comments